BSChem student is Class 2016 Valedictorian
Details

Written by JFMBaldos

Published: 12 April 2016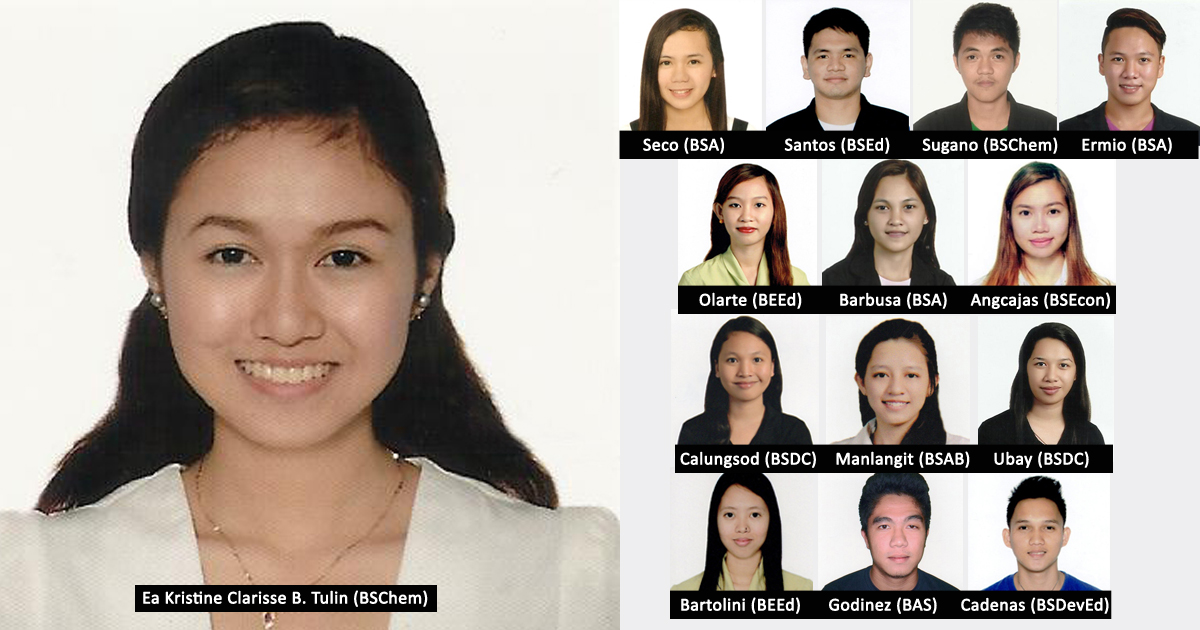 Ea Kristine Clarisse B. Tulin, a Bachelor of Science in Chemistry student from Baybay City, Leyte will lead Class 2016 with 1,054 graduating students.
Garnering a GPA of 1.207, Tulin will graduate magna cum laude and with a VSU Presidential Academic Award of Excellence with a cash award of PhP20,000.
This 20 year-old top graduate is the daughter of VSU President and University Professor Dr. Edgardo E. Tulin, and University Professor Dr. Anabella B. Tulin. She will be marching together with other 13 magna cum laude and 67 cum laude honorees.
Class 2016 graduates with Latin honors include:
Magna cum laude
Ea Kristine Clarisse B. Tulin (BSChem) - 1.207
Mari Neila P. Seco
Steven P. Santos (BSEd) – 1.275
Ryan Dave C. Sugano (BSChem) – 1.326
Jay Darryl L. Ermio
Donah Marie T. Olarte (BEEd) – 1.345
Marissa B. Barbosa (BSA) – 1.364
Margil M. Angcajas (BSEcon) – 1.383
Irish Jane N. Calungsod (BSDC) – 1.421
Juvy Mae A. Manlangit (BSAB) – 1.422
Mariane B. Ubay (BSDE) – 1.422
Nikki Rose C. Bartolini (BEEd) – 1.424
Cyrill John P. Godinez (BAS) – 1.451
Jemboy M. Cadenas (BSDE) – 1.453
Cum laude
June Carlo B. Jualo(BSChem)
Mary Jaica Maghanay (BSFT)
Merry Joy Tutor (BSBio)
Dhea Maureen D. Millana (BSDC)
Johndy O. Bertos (BSA)
Catherene G. Rota (BEEd)
Caren V. Baguio (BEEd)
Bernadeth P. Balonga (BSFT)
May Clarence T. Sanico (BEEd)
Marjorie M. Dimpas (BEEd)
Jerwin M. Javier (BEEd)
Mary Grace Z. Saldino (BSChem)
Marie Elma C. Fernandez (BEEd)
Tracy Ellice S. Omapas (BSEd)
Danilo M. Alea, Jr. (BSCE),
Krystal Kristia Mae P. Gonzales (BSBio),
Roxanne G. Juanir (BSCE),
Aljun Piano (BSEd)
Mica G. Binongo (BSA)
Rabigh F. Kangleon (BSChem)
Lorisa Joy B. Sacro (BSAB)
Jonary R. Bentulan (BSEd)
Jenilyn E. Samaco (BSEd)
Rey Gie D. Viernes (BSCS)
Christopher A. Llones (BSEcon)
Joramay L. Morales (BSDC)
Aileen Joy C. Briones (BSEcon)
Sheila Mae A. Parrilla (BEEd)
Donna C. Cuyno (BSStat)
Alanna Joyce C. Jimenez (BSChem)
Vanessa F. Israel (BSA)
Maria Connie A. Regino (BEEd)
Rhea B. Dotollo (BSEd)
Ana Antonette G. Gorme (BEEd)
Febie T. Paglinawan (BSA)
Irene P. Bestudio (BEEd)
Samie Grace I. Cadeliña (BSHRTM)
Chresterdel R. Derecho (BSDC)
Angelica B. Sarad (BEEd)
Merry Grace R. Cadungog (BSA)
Rojean Ababat (BSEd)
Kenneth Oraiz (BSA)
Karen Krisna Miralyn M. Yap (BSEM)
Altagracia R. Borigor (BEEd)
Gwendolyn J. Madelo (BSCE)
Janice A. Lazarte (BEEd)
Angelie G. Escuadra (BSEd)
Lorena Mae C. Ocares (BSHRTM)
Dalisay N. Castillo (BSBiotech)
Kris Jasmin L. Doria (BEEd)
Jovie Mariel L. Degorio (BSEd)
Arthur A. Varron (BSAB)
Jayson F. Lagapa (BSDE)
Carin M. Borja (BSA)
Angelica Mae M. Latras (BSEcon)
Cara L. Buar (BSEd)
Lenibeth G. De Jesus (BEEd)
Mark G. Lacaba (BEEd)
Darreen Lovely A. Oponda (BEEd)
Mary Joy C. Ejoc (BSAB)
Charlene G. Ocon (BSA)
Jade P. Ga (BSEcon)
Julios B. Gerosa (BSEd)
Melvince R. Martirez (BSA)
Carla C. Gallego (BEEd)
Melanie G. Larona (BSA)
The University bestows summa cum laude to graduates who earned a GPA of 1.00-1.20 magna cum laude to those with GPA 1.21-1.45, and cum laude to 1.46-1.75-GPA earners.