[FULL LIST] 2021 VSU College Admission Test Qualifiers • Alangalang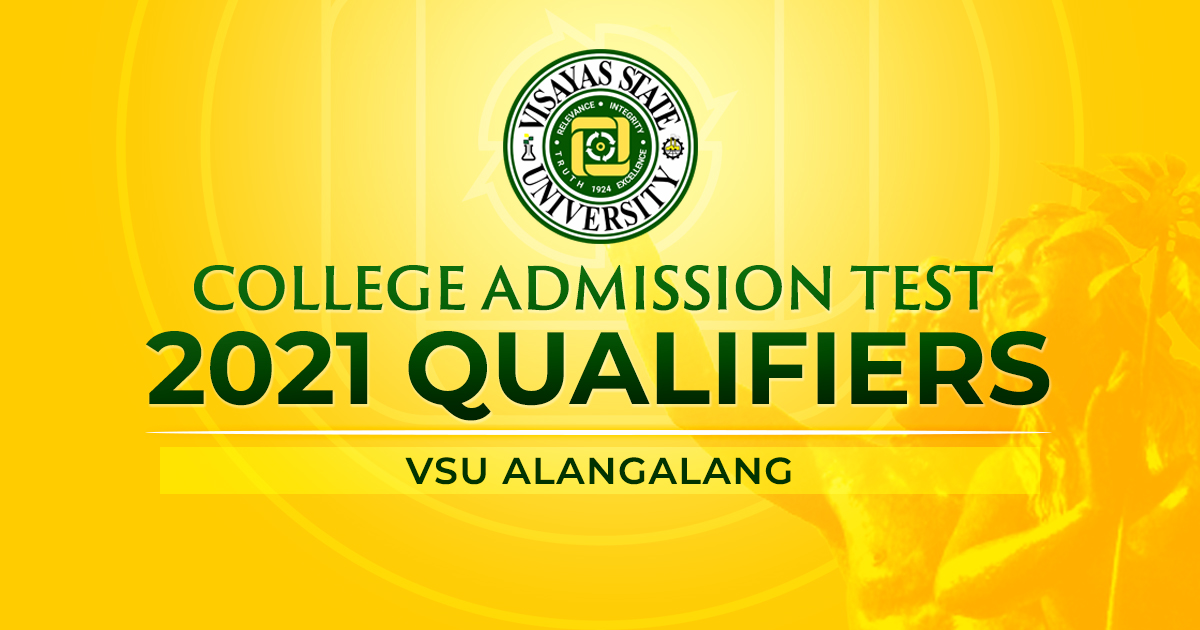 Visayas State University is happy to announce the successful conduct of its 2021 virtual College Admission Test. We have a total of 6,385 qualifiers for all campuses of the VSU system, out of 7,669 applicants who were able to take the test.
For VSU Alangalang, there are 388 who are ACCEPTED in their program of choice, while 127 more are QUALIFIED and eligible to enroll in the following programs with open slots on a first-come, first-served basis:
BS Agriculture - 21 slots
BS Environmental Science - 45 slots
Below is the full list of qualifiers for the VSU Alangalang. For the other campuses, please follow the links here:
Qualifiers should check their email inbox regularly for important information and instructions for admission and enrollment for the coming academic year.
Congratulations to all qualifiers! Welcome to Visayas State University Alangalang!
---
Bachelor of Elementary Education
ABEJO, Ritchelle
ABELLA, Cyrelle faith
ALBARIDO, Janessa
ALBERCA, Jennefer
ALBOTRA, Jhon Paul
ALBOTRA, Reena
AMEN, Ronie
ANTONI, MARIAN RUTH
ANTONIO, Jovelyn
ARANDIA, Jemina Nicole
ARANTE, Romel
ARGUELLES, Ma. Angelene
ARUTA, AUBREY
ASIS, Nicole Kate
BALANO, Ivy
BALDESCO, TEODORA
BALTAR, Carol Ann
BANADA, HANNAH FAITH
BANTULA, Dianalyn
BARGOLA, Apple
BARRAZA, Beverly
BERDAN, Rose
BINGCO, Lito
BONDOS, Jaybel
BORERES, Jacky
BROCAL, James Bernard
CAAYA, Katrina
CABUJOC, Jasmin Grace
CABUS, Michelle
CADIENTE, SHERMAINEJOY
CAGYAT, MATHEW VERL
CAIMAN, Jemarie
CAJEDA, WENNIE JANE
CAMPOSANO, Paula Mae
CAÑAN, Mildred
CANCELLER, Rosshel
CAÑEDA, Fatima sheena
CAÑON, Loucel
CANONIGO, Jan jefferson
CAONES, Ara Camille
CAONES, Katherine
CAONES, Laurence
CAPACIO, Ella Margel
CAPATOY, Jasper
CATINDOY, Arjie
CATINDOY, Ferdilyn
COLIBAO, Roxanne
COLLERA, Lerma
COLON, Cristy
CONCILLADO, Mechelle
CORSANES, Jenel
CORTON, Monique
COSTELO, Maricel
DE PAZ, Keisha Jade
DEL PILAR, Maybelyn
DIAZ, EDESSA
DIAZ, Sandy
DIVINO, Ernesto
DOGUE, Jarren
DUMAS, Ma.Cristina
EGARTA, Laiza
ENALES, Aileen
ENOVESO, ROBELYN
ESPARES, Mc 9er
ESPER, Remalyn
ESPIÑO, MAE ANN
ESPIÑO, Fatima
GARCIA, Mariel
GARIANDO, Elna
GARRATA, Harold
GARRIDO, Jannilyn Rose
GARRIDO, Ronalyn
GATELA, MARYROSE
GERILLA, Melody
GRESOLA, KRISTINE JOY
GUIMONG, Angelique
INOCANDO, NESTOR
IRLANDEZ, Lea Mae
JORDIAS, Bernadith
JORDIAS HI, GENEVIEVE
JUNTILA, Ella Mae
LABACLADO, Jeralyn
LACABE, Bernadette
LAMBERTE, GWEN KAREN
LANDRITO, James
LAURE, Anne Mae
LAURE, Lovely
LEONIDO, Famila
LIANZA, Rhea
LLAGAS, Geraldine
MACAWILE, DIVINA
MAGALE, Mary rose
MARAÑON, Christine Joy
MARAYA, April Grace
MARCHADO, May Ella Rose
MARQUEZ, Joyce
MARTIJA, Eljean Mae
MARTIJA, Lyka Jane
MATOBATO, Anthon
MECINA, Miko Arjay
MENIL, Jovelyn
MENIL, Rhenrose
MERCADO, Anna Grace Mercado
METRAN, Kiecel Marie
MILITANTE, LESLIE ANN
MILLANO, Diana
MOISES, Irene
MOLABOLA, Renndell
MONTAÑO, Mikaella Mabelle
MORFE, CJ
MURILLO, Gwyneth
NANTIN, MA JEMMA ROSE
NANTIN, Ma alma rose
NIVAL, Regine
NOMBRADO, Mariel
OLIVER, Monica
OMEGA, Briana
ORBETA, Jhon Rey
ORIOL, ROLANDO
PACE, Jessalyn
PACHECO, Melane
PAJARES, Ronalyn
PAJARES, Teresa Jane
PALAJOREN, DONNALYN
PALCON, Mary Jean
PALIN, DANESSA
PALIN, JESSA MAE
PARAUNDA, ROJAMA
PARROCHO, Ma. Michaela
PASAGUE, Ruby Anne
PASTELLERO, Angie
PEDRERO, Sandra
PERBER, May Ann
PIGAR, Benzon
PONCE, Anna Jake
PORE, Rena angeli
POSOS, Rodney
QUINTAS, Ivy Ann Leizel
RANES, Mary Grace
RELI, Angel Mae
RELI, Rodolfo
RESANO, Jerome
RESONADA, Maureen
ROBENTA, Rose Dyan
ROBITAS, Lovely
ROCA, Jona
ROCHA, Stephanie Lanlyn
ROJA, Lieandra
ROLDAN, Josiebeth
RONDEZ, Rhey justin
ROSILLO, Laili
RUNDIO, Capon
SABELA, Lemuel
SABELA, Ma. Rochelle
SANTISO, Jaya Mae
SAPASIP, Maynita
SAPINET, MEIRAMIS
SAULON, Stephany
SECURATA, Realyn
SEROY, Ma. Angeline May
SEVILLA, Anne
SISON, Lyka
SUAMER, Jea
SUSAYA, Rodnick
TAMAYO, Pamela
TAÑADA, Anamarie
TAÑALA, Angela
TANTE, Rhea
TEJONES, Joshua
TOLEDO, Gerlie
TULOD, Edwin
UKNOWN, Adrian
VALERIANO, Emmalyn
VARONA, Angel
VARONA, Rizza
VELARDE, KYLA
VELARDE, NAREZA
VERO, Godofredo
WALES, RENALD
YUBIA, Lovely
BS in Agriculture
ABORQUE, Noel
ADIZAS, Edmon
AGNER, Angelica
AGUILOS, Mark benedict
ALTIS, Jomar
ANOYA, Roxan Jane
ARCENA, Alyssa grace
BAGAS, Lea Mae
BALIDA, minda
BANADA, Christopher
BARRAZA, Vanessa
BORERES, Ian
BROCAL, Romalyn
BUÑALES, Dafnee
CADANO, Edmon
CALCES, Dayana
CAPON, Carlos Jose
CUERVO, Princess
DABLO, Rochelle
DAYATA, Greeg
DE PAZ, MARY ROSE
DELIGENTE, Hannah Shienna Marie
DELLORO, JERICHO
ELLASO, Jade
ENRILE, Rebecca
ESTALANI, Raymond
FRANCISCO, Shielamae
GATELA, Nancy
GRAVOSO, Kyla
GREGORIO, Rufa Mae
GUY, Claire Janine
HAÑALA, Morino
HORCA, Rina
JORDIAS, Patrocinia
JUDIT, Nicolyn
LACABE, Analyn
LANZA, Julefe
LARINO, JIVA FAY
LEGO, Arjean
LIPORADA, Mel Rose
LODERO, GLYDEL JOYCE
LUCBAN, Shaina Mae
MABOLO, Charlie Jay
MACABENTA, Mary Grace
MATELA, Mel Franco
MERCADER, Kenneth
MOLABOLA, Leo
NOCIDO, Marvin jake
OBALLO, Leen Marc
PALCON, Renan
PANIM, Christine
PEDRERO, Jeffrey
PELICANO, NOMER
PULGA, Ma.Athena
SABDAO, John Rex
SALVADO, Judy Ann
SAMSON, Kristine
SANTOS, Glezel Sharmy
SEGAYA, Juveen
SISTER, Chrisshelle ann
SUPERABLE, Roselle
SUSAYA, Jhon Rey
TAALA, Myla
TABIANAN, Rowena
TANTE, Romelo
TERRADO, ALVIN
TERRADO, Aljon
VILLARANTE, Myko
YODICO, Remebernadette
Bachelor of Secondary Education
ABEJO, NIKCEL
ADONIS, Precil
ALALID, April Rose
AQUINO, Kerr Luwi
ARANDILA, Jessa Mae
AREGLADO, Vilma
AVILA, EDJEMAR
AVILA, Larisa Mae
BABIANO, Julliet
BACALE, Cesar
BACIERRA, ELLA
BADIL, Bernadette
BADILLA, Jeffrey
BANADO, Remedios
BARRIO, Ailyn
BIGOY, Shyla Marie
BORER, Hanneh Jaene
BRIONES, JADE ANNE
CABANGISAN, Jocelle
CABUG-OS, Razen
CADORNA, Vergie
CAJANDAB, Angel love
CAMPOSANO, Nicole
CAONES, Jomar
CASERO, Rogelio
CATINDOY, Jomar
CLAROS, Ma. Lucia
CONDESA, JOE BEN LEO
CORRECHE, Benjie
CREADO, Cherry Mae
DADULLA, Arjay Paul
DAGANDAN, Queenbie
DAPUNAN, Mary Janice
DARIA, Christine Joy
DULA, Michael Angelo
ELONA, Grace
EMBODO, ALTON
ERIA, Edward
ERIA, Reymark
ESPIEL, Rhealyn
GABISAN, Dalyn Rose
GAMBA, Willito
GATELA, Monica
HORCA, Neil Boy
HORE, ANGEL MAE
LAMSIN, German
LANDRITO, Almina
LIPORADA, Catherine
LODERO, Jessica
LUMAPAS, Eljohn Dave
MARAYA, Janssen
MARAYA, Jilian
MARTIJA, Wein Vein
MATER, LORENZ ANDREW
MIRALLES, Mikeful
MIRANDA, Rachel
MONTEL, Malou
NIERVES, Brenda
OBERA, Leonor Ines
OLMO, Reniel
ORDANIZA, John Kenneth
PALACIO, Windy Grace
PANIS, Arjohn
PERALTA, Mark Gil
PICO, ARRA
QUIÑO, Shandie
QUINTANA, Jeanette
RAQUIZA, Glyness Jhen Kate
REGATO, RHEA
RENDON, Regie
RICARTE, Julito
ROBEL, Melody
ROGERO, SHERYLEN
ROSITE, Joshua
SALVATIERRA, Jinken Shane
SAZON, April Jane
SOLAR, LEMAR
SUSAYA, Jonathan
SUSMEÑA, Karen
TADO, Abegail
TADO, Aron Mark
TAOL, Jennebive
TERRADO, JAYLORD
TOLING, Jolina
TOREPEL, ROQUE
TUMOL, Jenny
UY, Imee
VALERIANO, Sherilyn
VALLES, JOHN IVAN
VENCITO, Rodelyn
VERGARA, Lalaine Joy
VILLABLANCA, Joylyn
VILLAMOR, Mirriam
VIÑAS, Aljun
BS in Environmental Science
ABRAHAN, Eula May hi
ALIA, Krystel Mae
AMOROTO, LAYKA MAE
ARMENIO, Sormalyn
BALASANOS, Julie Ann
BARBADILLO, MAE ANN
BARCELON, Regine
BASAS, Zyrah Kaye
CACA, Edna
CADALIN, Shaina
CAMILLER, Suzette
CATRE, Maria Lyn
CEBLANO, Ryndyll
COBALIDA, Jonas
CUEVAS, Jenny Rose
CUSTODIO, Ara Jane
DADULLA, Ursula
DE LA CRUZ, Jaymar
DETERA, Mary Grace
DINA, Joselle Kate
DUAVIS, Nidah
ESTUDILLO, Analyn
FALGUERA, Rhea
GARADO, Ralph Christian
KIDAVER, Jecille
LAURE, Ma. Lyn
LETRAN, Ma. Nathalie Kim
LOPINA, CHARLOTE
MADRIGAL, Rino
MONTAÑO, Pamela
NARGA, Miriam
OGTIP, Lovely
PRUSIA, Jeric
RAYGA, Juvy
REQUIZA, Sheca Mae
ROYO, Geisha
SABELA, Lynee
SADINO, Precious
SALAMIA, RICA MAY
SALAZAR, Laurence Samuel
SUPERABLE, MARTIN
TECSON, Ryan
TERADO, Joyce Ann
VERGARA, Pascualito
VERO, GERALYN
---
Qualifiers Eligible to Enroll in Programs with Open Slots
ABALLA, Sharmaine
ABLAN, jofehl ann
ADIZAS, Sheila Marie
ADLAWAN, Joyce
AGRES, Jocelyn
AGUIRRE, Arcelle
ALA, RICA
ALDONZA, Angela Mae
ALSOLA, Nova Mae
BALASANOS, Aiza
BALLENTES, ANGELA
BARRANTES, Shannine
BASAS, Nymwy
BLANCO638, Camille Rose
BRUSES, Jean
CABELIN, Angel Mae
CADORNA, Laiza
CADUHAY, Jasmine
CAHIMAT, AINA
CALIWAN, Irma
CAMASIN, Jovelyn
CANALES, Christina Rose
CAÑETE, Ellen
CAONES, Dimple Kaye
CAONES, Ma.Chirie Fe
CATINDOY, Norlyn
CENTINO, Edrelyn
CHAVEZ, Dylene
CHAVEZ, Roselle
CLOMA, ANNIELYN
CLOMA, JAROME
CLOR, Arlene
COLLAMAR, Cherry Ann
CONOS, Jelly Rose
CORSABA, Jecel
CORSANES, Ervin
COSTELO, Delsa Grace
COSTEMIANO, Lea Mae
DAROLE, Sharmine
DELA CRUZ, REGINE
DELECTOR, RONALYN
DENALO, Adriana Lyn
DOINOG, Jevelyn
DURANA, Jemimah
EDUAVE, Dave
ENALES, Christine
ESCOSORA, CRISTINA
ESPIÑA, Myra
EUSORES, Bonifacio
FLORES, Angel Ann
FRANCISCO, Annabelle
GABATO, Mary Ann
GALVEZ, Sherie mae
GAQUIT, Marwin
GARCIA, Geraldine
GARDON, Mary Rose
GARIANDO, MARK BRYAN
GARRIDO, Ma.Rose
GATELA, Nestia Lorette
GERMINA, Mia May
GIBAN, Darryl Joy
GUASIL, Angelene
HEMBRA, GERALDINE
HORCA, Eunice
INTINO, Jocelyn Intino
JAMORA, Arex
JOMAO-AS, Jerwin
JORDIAS, Reniel
LABORDO, Keanna Veronica
LABORDO, Patricia
LAXA, Charles Lester
LEGADA, Angel
LLENA, RUFA MAY
LOYOLA, Angelo
MANANGUITE, Arnel
MARTIJA, Kimberly Rian
MAURILLO, Jenny Rose
MILITANTE, Janine
MIRANDA, PRECIOUS ANGEL
MIRANDA, Kyla
MOLO, Jercymae Joy
MORADA, Carolina
MORBOS, Jiboy
MORBOS, Kristine Mae
MORFE, Rocelyn
MURILLO, Jade
NEGRADAS, Bede
NEGRADAS, Roxanne mae
NESUS, Maryjane
OMILLO, Machaille
OMOY, RUFFA MAE
PACLE, Key-c May
PALAGINOG, Sheila May
PARCERO, Airra Joy
PEDRERA, Ishmael
PELIÑO, Joanne
PERU, JOHN REY
PORES, Liezel Joy
QUINTANA, Ariane May
RANES, CRISTEL MAE
RAQUEL, DONNALYN
REBATO, Marjorie
SABANDO, Mike Arvin
SABELA, CLOWIE MAE
SABELA, Gina
SADINO, Cindy
SAGUIT, Christine
SALAÑO, Myla
SALAZAR, Ivy len
SALCEDA, Ri co
SALGADO, Ma.Camila
SOFIA, Roselyn
SONIT, Alyzza
TAGASTASON, Elisa
TAÑA, Ruchel
TOBIAS, JUBY MAE
TOLEDO, Kristine Mae
TORIBIO, Leoniza
UDPAO, Maribeth
URIBE, Charlie
URMENITA, Rose
VERGARA, RONA JANE
VERGARA, Raymund
VILLANUEVA, Kim Shane
VILLANUEVA, Lyka
VILLENA, CYRUS
ZABALA, MARIEL