[FULL LIST] 2021 VSU College Admission Test Qualifiers • Villaba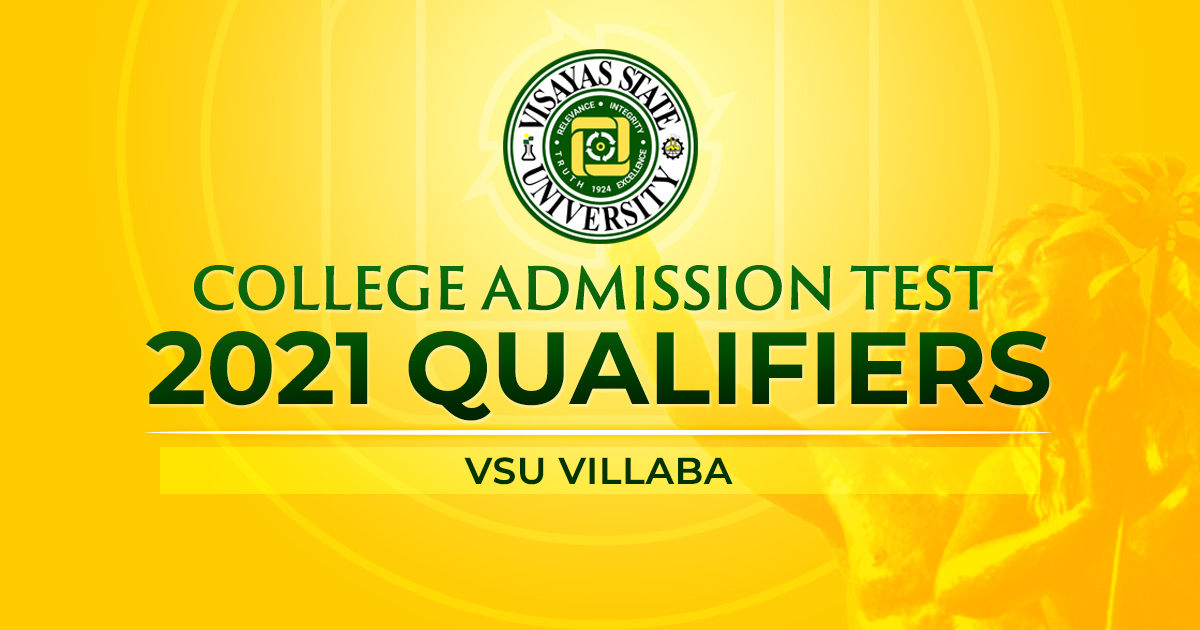 Visayas State University is happy to announce the successful conduct of its 2021 virtual College Admission Test. We have a total of 6,385 qualifiers for all campuses of the VSU system, out of 7,669 applicants who were able to take the test.
For VSU Villaba, all 343 are ACCEPTED in their program of choice.
Below is the full list of qualifiers for VSU Villaba. For the other campuses, please follow the links here:
Qualifiers should check their email inbox regularly for important information and instructions for admission and enrollment for the coming academic year.
Congratulations to all qualifiers! Welcome to Visayas State University Villaba!
---
Bachelor of Elementary Education
ABIJAY, Merry Jay
ALFORQUE, Jhon Michael
ALFORQUE, Merry Glor
ALVEZ, Ana Veronica
AMORES, Ronel
ANDO, Marie
ANISLAGON, Wiljie
ASIS, Cherie
BALORO, ma. Angelica
BARING, Emely
BARING, Rena
BARNAJA, Christine Jade
BRAGA, kristine
BUYO, Jeramae
CABANTOC, Fe
CAJES, rhandylene
CALIXTRO, Jocebel
CAÑETE, geril
CAÑETE, trecia
CASTAÑARES, Jerwin
CAUBAT, Janbie
CAUBAT, Reytmond
CONDES, christine jane
CORPIZ, Christin
COYOCA, wendelmar
DAGUEL, eljun
DE GUIA, Vanessa
DE LOS SANTOS, iemee
DOHINOG, Rey-Ann
DOLINO, phamela
DOLLER, Cristine
DORIA, jesalyn
DUAZO, Angelo
DURA, angelyn
ENAJE, Adrian
ENAJE, April
ENECUELA, marites
ESMERO, margie
ESMERO, marnhie
ESMERO, melanie
ESMERO, pearlie
ESTRERA, rojen
FERNANDO, megie
GRANADA, viviana
GULLEM, Arnel
INTIG, Karen
JUBIAR, marnie
LABASTIDA, janice
LANGCO, Zyrhamae
LASDOCE, mary ann
LIBORES, melodie
LLAGAS, llaney
MAHUSAY, Reymond
MAPULA, eleomar
MARA, ma. Lea
MARIANO, Kristel Joy
MONTERDE, reinavelle
MONTESCLAROS, rachel
NGOHO, James
NGOHO, Shenah
NOYA, NANCY
NOYA, Jessa
NOYA, Mariel
NUÑEZ, nesle
OBERO, Mylene
OFAMEN, rena rose
PAMINTUAN, april mae
PANTOMINO, Earl Wendell
PELAYO, ma. Theresa
PERALES, Jovelyn
PILAPIL, roselyn
PINO, Cristine
PINO, Rosalia
REGALA, Cristine
REQUERME, Jessie May
RUIZ, joan
SACAY, Roland
SALAZAR, Mary Jane
SARINO, Marechris Mia
SUMALO, Genevieve
TEROL, jessa mae
TORDILLO, richel
VILLARETO, christian
YBANEZ, Glesel
YUNTING , Daydee
ZALDIVAR, imoki james
BS in Agriculture
AGRAMON, Jane Marie
ALBARICO, vyll marie
AMISTOSO, Henry
AMIT, mevrose
ANDALES, jisel
AQUILES, edlyn
AQUILES, junrey
BAL, Ivy Kate
BARGULA, Monaliza
BARGULA, Prosenda
BATIS, Lyziel
BELTRAN, Jhon calleb
BENECARIO, genalyn
BENITEZ, marie lee
BERGAMO, mark raymond
BILLONES, louie
BREJELDO, arnel
BUENO, John Lloyd
BUSCAGAN, irish
CAAGAY, may
CASINELLO, charlyn
CATIONG, Cybil Gwen
COLLETA, almira
COMACAO, Jovelito
COMBATE, Nicalyn
CONEJOS, Joliner
CONEJOS, Ritchie
COSENILLO, jumar
DAHOYA, Jerome
DALAGUIT, Jerjahn
DAMAS, Joshua
DAMAS, Marjoe
DAÑO, edmartin
DAROY, christian
DAROY, evelyn
DASIGAN, James
DE LA CRUZ, kimberly kate
DE LA PAZ, jessica mae
DELOS SANTOS, Gloryhne
DOMAEL, michael
DUAZO, gerwin
ESPAÑOLA, jacob
FLORITO, lito
GENESTON, mae joy
GONATO, Bernadette
GUILLERA, April Ivy
INGHOG, ricky brian
KUDERER, johannes gerhard
LACABA, Crisia
LASDOCE, Marissa
LAURITO, Renato
LAURON, Oliver
LEBOLORA, ruffa may
LEQUIN, sarah jane
LOQUISAN, Jasper
LUAY, marjorey
MADANGLOG, Mae
MADANGLOG, day mae
MAGLASANG, jessamae
MALOLOY-ON, Lea
MALOLOY-ON, jemar
MANATAD, christer
MANATAD, juliet
MATUGUINA, mary grace
MELIANG, Maikha
MENDOZA, roselle
MISA, Kyle
MISA, morella
MONSALES, John Paul
MONSANTO, Reymon
MONSANTO, jeraldin
NAVARRO, angel
NICDAO, Junrey
NUÑEZ, Maria Sunshine
NUÑEZ, Michelle
OLIVA, melisa
ONDOS, felipe
PADILLA, Rene
PALCONITE, john paul
PARADERO, jessa
PASTOR, Sherwin
PELON, jane kate
PEPITO, Ernesto
POBADORA, alfilex
PORE, romeo
PULVERA, Mark
QUILAQUIL, Jasmine Gel
REQUIROSO, eunice faith
ROMINA, aldjayrine
ROSQUITES, Amie
ROSSEL, joedel
RUBAS, charry
SACAY, Arvin
SALABAO, Avelino Jr.
SAMPAN, analiza
SIMPAO, Shiela May
SUMAYANG, gerald
SUMILE, edgar jr
TAPERLA, Riza
TERENCIO, Rafael
TINNES, john michael
TORRE, cristine mae
TUMAMAK, jerryrose mae
VALENZONA, narciso
WENCESLAO, Jean Princes
YUZON, charles daryl
Bachelor of Secondary Education
ABAJON, venus
ABING, Alecia
ADOLFO, Jecelle
ADRIANO, anthony jr.
ALARDE, Jeandee Bell
ALBARICO, ADRIAN
ALBORO, Jamaica
ALBURO, Cherelyn
ALCANTARA, junamie
ANCIANO, Roxan
ANDO, James Andrie
ANDO, mark anthony
ANDRINO, romel
APARECE, honeylith
AQUELES, Jean
AQUILES, Michelle
ARAGON, Winlie Ivy
ARANETA, Lovely Jane
ARCENAL, Diana Jane
ARCILLAS, Jully Grace
ARNOCO, Rico
AVENIDO, iches
AYO, Gemma
AYROSA, Jenjen
BAHAY, christine
BAHAY, mary jane
BALUNAN, zsaradee
BARNAJA, Shaira Lyn
BARTE, ma. Bienna luna
BASA, jerline
BASA, orlando
BENITEZ, maricar
BIO, jhemuel mar
BITOY, Garry
BITOY, Maricel
BOLAMBAO, Melody
BRIGILDO, Ethel
BUANGJOG, jeanielou
CABARLES, JEAN PATRICIA
CAHIYANG, Rona Mae
CAINGIN, january cleo
CALIXTRO, rowena
CAMUGAO, Gemarie
CANALES, Roxcel
CAPUTOL, Khrysthyl
CAQUILALA, madelyn
CASAS, Anna Villa
CATAAG, Marjorie
CENTINO, jie mar
COMEDIA, Julieven
CONCHESA, Trisha Nicole
CONDES, Ella Mae
CONDES, Justine
CONEJOS, Mecka
CONSTANTINO, Glydel
CORPIN, jia
CREDO, Ana Rose
CUERDA, Angelyn
CUEVA, Jeno
CUEVA, Lester
CUEVA, joevel
CUEVA, stephenne ann
CUYOS, apple kaye
DAGOY, kyla grace
DAGSA-AN, Dexther
DAGUIL, jane may
DANTE, Sarajane
DAROY, maria quennie
DOMINGO, Jizza
DONAIRE, Anna Mae
DUAZO, joberth
DUJA, jill st. john
DUJA, keith christian
ELLE, Kyla
ERASMO, Jane
ESMERO, Rogelio
ESPELLARGA, Maureen
FERNANDEZ, christine mae
FLORES, Charmaine
FLORES, christian lloyd
FLORES, sheina mae
FLORITO, Clyde
GALO, Ayien
GOHIL, Renalyn
GRACE, Mari Anecita Godiva
GUBALANE, Mark Louie
GULANE, Chelsea Marie
GULANE, Mareillyn
HARANI, Emirson
HERMOSILLA, Leah
HINLONG, jaymie
INTO, Kimberly
JURILLA, Bethlehem
LEQUIN, Rachel
LUBAT, daisy
LUCEÑO, Mary Ann
LUMBAB, jonamie
MADANGLOG, Cherry
MAHILUM, jecil
MALBASIAS, Marveluz
MALINAO, Christiel Gay
MALINAO, Jheka
MAÑANITA, Clarissa
MAÑANITA, sherwin
MANATAD, Mie Ann
MANGILAYA, mea
MENDOZA, Estella
MISA, keith
MOÑER, angel racevill
NAVARRO, Vincent
NGOHO, Alfie Jane
NGOHO, Angileca
NOVELA, jogel
NOYA, Irene
OCUBILLO, Jonia Niña
OFREDO, JOAN LIZA
OMBAJEN, angelyn
OTCHISA, isidro
PACAURO, dilsamae
PADILLA, RIO
PANAL, ronel
PAÑAS, Ma.Jolina
PECOLADOS, Rosabel
POBADORA, ROWENA
POLINIO, Ronie Boy
QUIAMCO, Krishalyn
RAMOS, Elizabeth
REGAÑON, Jayrel
ROMERO, Reynante
ROMERO, mae joy
ROMERO, relyn
RUMOL, diane
SAMPAN, Rosemarie
SANCHEZ, roel
SARDUAL, maredil
SIALONGO, Ma Lia
SIASAT, Emelyn
SOLTEO, analyn
SOÑER, Rechelle
SUPERIOR, arnold
SURILLO, Catherine
SUSON, camille
TABLAC, Jayvee
TAPALES, Janet
TEROL, joan
TOLEDO, Daisy
TOLEDO, Sarah Mae
TOMADA, ayumi
TOMAMPO, Jessica
VALENZONA, cj
YATOC, julian clouie