[FULL LIST] 2021 VSU College Admission Test Qualifiers • Tolosa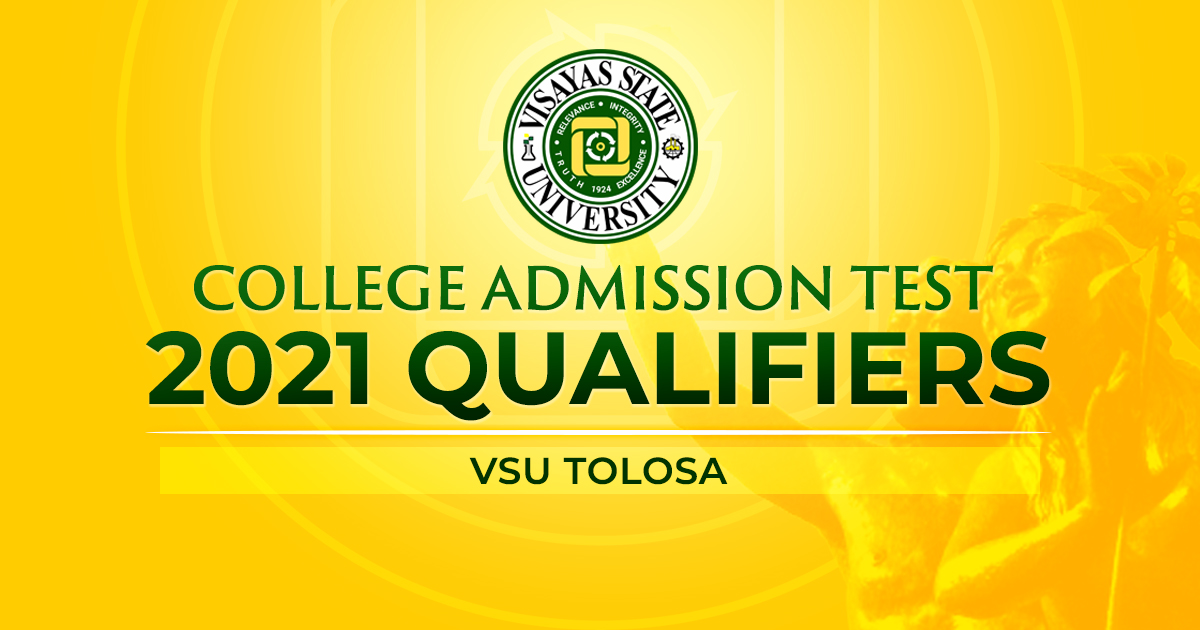 Visayas State University is happy to announce the successful conduct of its 2021 virtual College Admission Test. We have a total of 6,385 qualifiers for all campuses of the VSU system, out of 7,669 applicants who were able to take the test.
For VSU Tolosa, there are 697 who are ACCEPTED in their program of choice, while 517 are QUALIFIED and eligible to enroll in programs with open slots on a first-come, first-served basis:
BS in Fisheries - 71 slots
Below is the full list of qualifiers for VSU Tolosa. For the other campuses, please follow the links here:
Qualifiers should check their email inbox regularly for important information and instructions for admission and enrollment for the coming academic year.
Congratulations to all qualifiers! Welcome to Visayas State University Tolosa!
---
Bachelor of Elementary Education
ABANEL, Sheryl
ABRENIO, VINA
ADAP, Leah Mae
ADLAWAN, Reine Rose
ADONIS, Ethelle Mae
ADVINCULA, Katheren
AGUIPO, IMMIE
AGUIRRE, Angel
ALBESA, Rhealyn
ALDAS, Ma. Dannylen
ALDE, KIANNA
ALMADEN, Realyn
AÑALES, Julius Jake
AQUINO, Janella
ARCENA, Raesa May
ARINGINO, Judy Ann
ASIS, Everly
AVILA, PRECY MAE
BALINTONG, Kathleen Claire
BALLON, Dave Jake
BAQUERO, Kyla
BARANDA, Donna Kate
BARDALO, Hazel
BAROLA, Iramay
BAROLA, Karenjoy
BASIBAS, Engelyn
BAYLON, Rodiza
BELLEZA, Cristy
BESA, Shenna Joy
BETO, CJ Diane
BETO, Krisnel
BOBILES, Mary Ann
BOLLENA, Jubert
CABACABA, Lycel
CABELLO, LOVELY
CABIQUE, Venus
CACEREZ, Kristine
CAHIPE, Angielyn
CALAQUE, Jerynie
CALASAN, Ilien
CAMARINES, Joice Ann
CAMPIPI, Carl Manuel
CAMPOSANO, Angelica Mae
CAÑAS, Gazelle Joy
CANONIGO, Maria Thalia
CAPILI, Krestineth
CAPIYOC, REYNAMIL JEAN
CAPON, Donna Jane
CAPUTILLA, Sairel
CINCO, JANE
CINCO, Assunta
CINCO, Cyrine Joy
CINCO, Edralyn Kylle
CINCO, Erika Mae
CINCO, Rochelle
COBACHA, Airel Mae
COLARTE, Angelica
CORDERO, Kemberly
CORONADO, Marisa
COTEJAR, Alliah Maica
CREER, CYRILLE ANN
CREER, Kris
CUARTERO, Dianne Margarette
DAISOG, Merenila
DAYLO, RIA MONICA
DENAYA, Nicole Andrea
DERRO, Michelle Ray
DEVARAS, Ronalyn
DIONISIO, ANGELA
DOCDOCAN, Rufa Mae
DUMAGUIT, JENELYN
DUQUESA, Desiree
ESMERO, Erica
ESMERO, Karen Joy
FARON, Desiree
FERNANDEZ, Audrey Flor
FRILLES, CHZARINA YVONNE
FUMAR, Lyka
GABITO, Allyson
GABRIOLA, Hylene
GABRIOLA, IN
GACUS, Mary Joy
GAHATOR, RECHELLE
GARCIA, CHRIZLEY ANNE
GARCIA, MERRYGIN
GARCIA, Cristine Dimple
GARCIA, Ella Mae
GARCIA, Jennelyn
GARCIA, Jessel
HIMSON, Jayzelyn
HOLANDA, Kimberly
KEMPIS, Jomae Lina
LACBAYO, Rose
LAGAHIT, Juliana
LAGAHIT, Michaela
LAGARTO, Edmar
LAGARTO, Jerwin
LATINA, Evelyn
LAUZON, MARRA
LOYAGA, Almera
LOYOLA, Jonalyn
LOZADA, Carriel
LUMPAS, Mary Grace
MANITA, Mariel
MARAYA, Princess
MARGALLO, Rose Lynn
MARGATE, LINETTE
MARIÑO, Juliette
MELLOMIDA, Jiselle Ann
MENDIGO, Kzatrina
MENDIOLA, Abegail
MENDOZA, Jhyxle Ann
MENIANO, Maria Shina
MERCADER, Aravela
MONTEZA, Roselien
OLASIMAN, FEDELISSE ANGELI
PADEL, Renato
PALAÑA, ERLINDA
PALAÑA, MARILOU
PARADO, Chery Ann
PARIENTE, Agustin
PEDRIGAL, Evalyn
PEDROSA, Ronalyn
PERANTE, Andrea Amor
PILAPIL, ElishaColeen
POGENIO, Jereica
RAAGAS, Bernadette
RAAGAS, Ron Gabriel
RADAZA, Mariadel
RAGORO, Lyra May
RAQUEL, Lyka Jansen
REDOÑA, Kian Clarisse
REDUBAN, Jane Rose
REQUIEZ, Marez
RIVAS, Julius Yves
ROCABO, Lyan
RONDINA, Hannah Marie
SABULAO, Rutchel
SALARDA, Aloysius
SALAS, Alexandra
SANDAGAN, Lindsy
SANITA, Rochelle
SIMBORIO, Jeryme
SUDARIO, Ashlyn Yvette
SUMANGUID, Rosanna
SUMAYOD, Aj
SUYOM, MARVIN
TABUYAN, Stanley Oliver
TAGOON, Ricille Mae
TAÑA, Kayrell Jane
TANGPUZ, Cheryl
TANGPUZ, Crizbelle Donna
TANGPUZ, John Marion
TAPACION, Jesica
TAYANES, Shane Ann Marie
TIOZON, Leslie Ann
TISTON, Eliza Mae
TIZON, Jhon Carlo
TOBILLA, Aaron Kaizer
TOLIBAS, Christian
TOMES, Alyssa
TONDO, Krissia
TUAZON, Wendy
TUPAZ, Arianne
VILLANUEVA, Aubrey
VILLERO, Claire Ann
VILLONES, Novelyn
VIÑAS, Gwyneth
BS in Criminology
ABAC, Lyka Rose
ABAD, Sherly
ABADINES, Andrew
ABANCIA, JOVELYN
ABASTILLAS, Mark kenn
ABIT, Ma. Alexis
ABOLENCIA, Junrey
ABRAHAN, Eula May
ABRERA, Richard
ABRIL, Angel May Marie
ACALA, Cristian Paul
ACEBIAS, Jane Riel
ACTUB, Kastin Kaye
ADVINCULA, AALIYAH
ADVINCULA, GENEFER
ADVINCULA, Edrian Vincent
ADVINCULA, Mark
AGON, Reah Mae
AGUADO, Liane
AGULLO, Alkevin
AGULLO, Brix
ALBA, RENATO
ALBERCA, Chris Aron
ALCARAZ, Mark Anthony
ALILIS, Anthony
ALMADEN, KENTH CHARLES
ALMADEN, Irish Joy
AMERIL, MONALYN
AMISTOSO, Fatima
ANLIO, EDA
AÑOVER, Eric
ANTIVO, FRITZI FAYE
ANTOR, FLORENCE
ANZURES, Shana
APOLLO, Jhan marc
AQUINO, Joshua Brian
ARANTE, Nicko
ARGANDA, Dety Mae
ARTUGUE, Keziah Praise
ARUTA, Allien Christian
ASISTENTE, Ma. Althea
ASPIRIN, Joven
AUREZ, SHAENA MAY
AVESTRUZ, Franchess Dave
AVILA, Andrew
AYUSO, Patrick Edriane
AYUSTE, Carl Janzen
AZORES, Francis
BABIANO, Charlyn
BACLAYON, Paul Jayson
BAGASINA, Mae Ann
BAJADE, Salvador
BALAIS, Joshua Martin
BALAIS, Nicole
BALLON, Rey Audrey
BAÑAS, Rexter
BAÑEZ, KEVIN
BARAZAR, Rhenz Venar
BARBASAN, Myla
BARBOSA, Chrizaldy
BARBOSA, Jammel
BARRAZA, JORDAN
BARRAZA, Dominic
BASAS, Adelyn
BATO, Grace
BATO, Jeffrey
BAUTISTA, Gelyn
BAUTISTA, Justhin
BAUTISTA, Marielle Anne
BELLO, Rodel
BERINGUEL, Lej
BERTIS, Alejandro
BIBAR, Abegail
BIBAR, Jean
BICO, Shanyl
BIDONG, Judy Ann
BINGCO, Angel
BINGCO, Erwin
BOCO, Shennah Marie
BONGANCISCO, Marlon Rey
BOQUILA, IVAN
BORREL, John Eric
BRIONES, Jack Symmon
BUD-OY, Mark Andrie
BUENCONSEJO, Emmanuel
BULANTE, Jhon rex
CAAMIC, Mariah Shae Gloriann
CAANDE, Girlie Joy
CABANATAN, Adrian
CABANGISAN, Mikko Clyd
CABARRUBIAS, Carl niño
CABIDOG, John Dave
CABIGTING, Anthony
CABRERA, Karylle
CACAYAN, Sharmaine Joy
CADION, Angeline
CADION, angela
CADORNA, Jellian
CAHIDO, Elaiza Pearl
CAINDOY, Ace
CAJANO, Glend
CALDA, MARK JAMES
CALUMBA, Anna Marie
CAMINO, IJAY JOMAR
CAÑANES, Nick
CANDELA, Emilyn
CANDELA, Johndave
CAÑEDA, Jhonmer
CAÑETE, Alrich Miguel
CAÑONES, Shella Mae
CANTIVEROS, Jose
CAONES, Mark Christian
CAPILOS, KYLER DAVE
CAPIYOC, Mary Claire
CAPON, MICA
CARBO, May Joy
CARLOTO, Arvie Grace
CASERO, Kayla Mae
CASTIL, Carl Vianney
CASTIL, Melet
CASTILLEJOS, Daniel
CATAN, Alexander
CATANTAN, Arvin
CATAPAL, Cherry
CATINA, Maria Claudine
CHAVEZ, Maria Mila Mie
CINCO, Henderson
CINCO, Jhelian Pearl
CINCO, Niño Necos
COCHERO, Jerome
CONCILLADO, Leopoldo
CONGE, RAYMART
CORILLO, Marie Florence
CORSANES, Neil
CORSINO, Yuri
COSTA, Ferrams Gwyn
COSTIBOLO, Strawberry Shelinbel
COSTIMIANO, JAY
CREBILLO, Jhonrel
CREER, Ramil
CRISTINO, Ma. Trixie Jane
CUMBIS, Janina Marie
CURIANO, Jessie mae
CUSTODIO, Crix Jude
CUSTUDIO, Iverson
DACILLO, VIVIAN
DADACAY, John Rex
DALINO, Jude
DARANG, Jhon Ernie
DARIA, Alice
DATAYLO, John Paul
DAVOCOL, Michael Angelo
DE DIOS, Alej May
DE LA CRUZ, Gervyn
DE PAZ, Joshua
DELA CRUZ, Jelian
DELA PIEDRA, RODNY
DELICANO, Roland Niño
DELUVIO, Jaymark
DETERALA, Christian jay
DIAZ, Harley Ben Cynth
DIAZ, John Lloyd
DINGCOL, Bernardina
DIZON, Leonardo
DIZON, Niño
DOGUILES, Christian
DOLOM, Rodelito
DOREGO, Dafael
DOYOLA, Reniel dave
DUMAGUIT, JAY
DUMALAG, Rosemarie
ECLEO, EDITHA ROSE
ELONA, Carl Heavensent
EMBODO, ROSANA
ENGRACIAL, Charlie
ENOVESO, APRIL ANNE
ESQUIERDO, Janine
ESTACIO, Kariza Ashly
ESTEMBER, Angel shaira
EVANGELISTA, Mackie
FARDIÑAS, JOSHUA
FELIZARIO, Joshua
FLOYO, JANKEITH
FUENTES, Mart Carlo
FUERTES, Ela
FUMAR, Carlo
FUMAR, Liezel
GABRADILLA, Glaiza
GADIANA, Jake
GALLO, Rhia
GANDIA, CHRIS
GARCIA, Aidann
GARCIA, Jomarie
GARIANDO, Jonel
GARIANDO, Robert
GARRA, Joven
GASTONES, Elcid Josh
GATELA, Louie James
GAUSIN, Lore John
GERALDO, Ivy
GIDACAN, Shaina Mae
GOLONG, Justin
GRANADA, Jeanshey Vince
GUANTERO, Sean
GUARDAQUIVER, Vanessa
GUILLERA, Rhina Mae
HABABAG, Richelle
HIPONA, Marvie
HORCA, FRANCIS RHYX
HUNDANGAN, Desirej
IBANO, Aldwin
INDITA, Romeo
JACOBE, Julie
JADOC, Andy
JAIME, Alexander
JAIME, Faye ysobel
JUABAN, Andrew
JUNIA, Roland
JUNTADO, Jemuel
KEMPIS, Bjay
LABADIA, Franchesca
LABITAG, JAIME
LACABA, SHAINA MAE
LACABA, Abegail
LACAMBRA, Arvin
LADAN, JOHN JOSHUA
LAGAHIT, NICKO
LAGUNZAD, Richelle Anne
LAGUNZAD, Zandy Ralph Izacc
LANDRITO, Carlito jose
LAUSIN, James Karlo
LAWAAN, Jonalyn
LEGO, Val kilmer
LERIA, Dave
LERIOS, Jeffrey
LERIOS, Kim Joseph
LETRAN, Maria Nathalie Kim
LIPORADA, Bienith Miir
LIPORADA, Jeslyn
LLANO, Nathaniel
LLANOS, SHENLEE
LLEVADO, Apple Mae
LORA, Manuel
LUANGCO, Maricel
LUMBRE, ROWENA
LUMBRE, Princess
LUYA, Regine Mae
MAAT, Marvin
MACALALAG, Hezekiah
MACAYAN, Recia Mea
MADERAZO, John Mar
MAGALLANES, Leilanie
MAGAN, Lexter Nicole
MAGAYONES, NIÑO
MAGCURO, Jimboy
MAGOS, Piolo
MAHINAY, Shaira Frellene
MALBAS, Lorenzo
MALDECINO, Gelwin
MANHUYOD, Jessa Mae
MARCO, Dimple Heart
MARGALLO, Honna Jean
MARMITA, Myline
MAS, Charlie
MATILDO, Gwen Nicole
MENDOZA, MADILYN
MENDROS, Alfred
MERCADER, Jasmin
MERCADO, Mae Anne
MERCADO, Mike Christian
MERIMILLA, Grietzel joy
MIRANDA, John Ralph
MONDILLA, JEANIN LOUISE
MORANTE, Andrew Elesar
MORENO, Jessa
MULLEDA, Kitty Joy
MURILLO, Zachary
NADONZA, Daven Cris
NADONZA, Stephen
NARAJA, Aira Mae
NARGA, Jerald Lorenz
NARRIDO, Sherwin Jake
NARVATO, Jeann Grace
NOBLEJAS, Danica
NORADA, Annaliza
NUEVAS, James Hardy
OBAR, Jude Micha El
OBERA, JOE MARIANE
OBIS, Josua
OBISPO, Chaika
OBRADO, Shermaine
OCAÑA, Gennevy
OCSON, Mark Ryan
OLANOZA, Jasper
OLIMBERIO, Editho Chris
OLIVER, Jilian
OPERIO, Micaya
OPON, Honeylene
OREJOLA, James Gabriel
ORTEGA, Ryan Victor
OTERO, Job
PABRO, Joyce Kate
PABUAYA, Lemuel Paul
PACAYO, RAY MARK
PACAYRA, HERSHEY
PADILLA, Kent Howell
PADOC, Janet
PADUAL, Hartshey Mae
PAGADOR, Ma. Vina
PAJARES, Lerius Jay
PALACIO, John Mark
PALLONES, Lennonmore
PALOMERAS, JOSHUA
PANILAG, Jason
PANIS, Rodolfo
PAREDES, John King
PASAGUI, Prinze Roland
PEDERE, Carlo
PEDRERA, Maaliko
PELICANO, Ricardo
PELIÑO, JOHN REY
PEÑEDA, Angelica Jane
PEÑEDA, April Rose
PENING, Annelyn
PERALTA, Dave
PEREZ, Crizza Marie
PERMEJO, steward
PINEDA, Jetlee
PLIMACO, May Anne
PONCE, Leoni Pearl
PONCE, Mary Joy
PONTEJOS, Joanna
PORBASAS, Arwin
POTAZO, Bern Azil
PUNZALAN, Gaveriel Gerard
QUIÑONES, MARIA SIENA
RAJEL, Jerome Carlos
RAMIREZ, LIEZEL
RAMIREZ, Jessa Mae
RAMIREZ, Mark
REGAÑA, Lance Nicle
RELADOR, Charles
RELLAMA, Reymond
REQUIEZ, Gian
ROA, France Joseph
ROA, Jerson
ROBEDILLO, Marriel
ROCA, Reniel
ROCA, Ruel
ROJA, Lieandra Isabelle
ROSILLO, ANA MARIE
RUBAS, Roselle
SADIA, justine mark
SALAS, Alwyn
SALAS, Jomar
SALGADO, Hazel Ann
SARINO, Ereco
SELVIO, Janfhil
SERRANO, Hazel
SETOSTA, John Paul
SIA, Lovely joy
SOLAYAO, Lovely
SOTTO, Joram
SUMAYLO, JAZIEL MAE
SUPERABLE, Priza Pitchie
SURIA, Reyster Jake
TABERARA, Renalyn
TABURNAL, Joven
TABUYAN, Mark Elvin
TALUA, Gabriell Sam
TAMBAGAN, Angieniel
TAÑALA, Joshua
TERRORA, Jules Vincent Ceasar
TICA, Zaira Marie
TISTON, Christan
TISTON, Kaila
TOLIBAS, Argel
TOMES, Jobelle
TORNO, Adelebeatriz
TOYOK, Alexis
TRINIDAD, Jan Leo
URBANO, Sheremae
VALIENTE, Chickie Amor
VALUIS, Jonel
VELARDE, Alynna Khristelle
VENEZUELA, STEPHANIE
VENEZUELA, Khim Chynne
VERECIO, Kristine
VILLAFLOR, Pauline
VILLAMOR, RAFAEL
VILLAMOR, Robert
VILLAS, Matthew
VILLASIN, Marian Pearl
VILLENA, Mariel
VILLERO, Lance Denver
VILLOTE, Angelu
VISCA, Ronnel
YUBIA, Warren
YULO, Gerlie
ZACARIAS, Rico
Bachelor of Secondary Education
ABARCA, Nene
ADVINCULA, Mary Jules
ADVINCULA, Viggo Aevys
AGRAVA, Jec
ALA, Justine Nicole
AMARGO, John Reener
ARGANDA, Ladylyn
BABANTE, Marjhorie
BALANO, Ma. Jezil
BALASABAS, Joan
BASIHAN, Jashmine
CAGARA, CATHERINE
CAGNAN, Joann
CAJARA, Ivy Jane
CALESTERIO, Jaica
CALUMAG, Jezza Mae
CALUMAG, Joselito
CAMINONG, Joy
CANALES, Ara Mae
CANALES, Eirrean Dave
CAÑAS, Dexter
CAPITOC, Leonar
CARABBACAN, HOMER
CELESTIAL, El Jen
CELLS, Randel
CIPRIANO, DANILO
DAYOC, Analyn
DEVARAS, Judilyn
DIOLA, Reymalyn
DUAN, Princess Marie
ELIPIAN, Alvin
ENCINAS, Adeline
ERACHO, Cristine
FELICES, Lezend Roy
GABRIOLA, Grace Ann
GADUENA, Ma. Lee
GAROPIL, CRISZA JANE
GUDA, Mark John
HESIDO, KAREN MAY
HURAÑO, Niña Jan
JUDY ANN, Sosmeña
LABANAN, Florian Jade
LANZA, Carl Joshua
LARGO, Felix
LERIOS, Jeffrey
LLOREN, Leven
LOPEZ, JHON MIKE PAUL
MAHINAY, Almae Sheena
MALBAS, Tricia
MALQUISTO, Lyza
MATOGUINA, Crisanta
MEDIANO, Cherlie
MEDINO, Marjohn
MEDINO, Ronalyn
MENDIOLA, Khent
MIJARES, Wenndy
MORANTE, Jolina
NALDA, Jessabel
NALZARO, Ma. Anne Toniette
NARIO, Mae Rose
NIONES, Shiela Mae
OLIMBERIO, Maria Angelica
OMOLIDA, SAMANTHA
OÑATE, JULIE ANN
PABELLO, APRIL SANDY
PALITA, Rosyl
PALLER, CRISTY JOY
PARTOSA, Elton John
PASALO, Mariel
PAULINO, Angiela
PEREZ, Rose Ann
PERMEJO, JENY MAICA
PULGA, Alfred
PULGA, Anna Kristine
PULGA, Ma. Kristine Anne
REDOÑA, Jolina
REDUBLA, Mitzi Joy
REGULADO, Glaiza
REVANO, Angelica
RIVAS, Melanie
ROSEL, Lynard
SABANAL, Maricris
SAGAHAY, Jhomar
SALCEDA, Cherry Joy
SENADO, Dannicel Claire
SILVANO, Jade Art
SILVANO, Philip
SIMBORIO, Shane Mae
SOLIDOR, Jeanelyn
SUGBO, Ian Jorge
SUGIAN, Mariel Kaye
TAMBAL, April Joy
TAMPADONG, RACHEL MARIE
VACAL, Geralyn
VALIENTE, Shara Mae
VELARDE, Rhodavel Fae
VELASCO, Mildred
VILLA, Venus Camille
VIRAY, Bernadette
ZACARIAS, MARA
BS in Fisheries
ADONIS, Joiza
ADVINCULA, Analyn
BACO, IRENE SHANE
CAIMOY, Mikyla Trisha
CARTALLA, Justin
CINCO, John Ronald
DAYA, Nelsie
DEVARAS, Arianne Mae
DUGOS, Clarence
DUMAGUIT, Shiela Mae
ESCOBIO, Yves
GARCIA, Elizabeth
GARCIANO, Kenth Wawe
GOMEZ, Franklee
GUIRON, Jenievive
INDIC, Charina
INDIC, Josephine
LAGUCAY, Jomar
LAMATA, Airyll
MACABINQUIL, Pamela
MALATE, Dioscoro
MANDREZA, Carmi
MENDEZ, Kathy
NARAJA, MARK WILSON
OQUINA, Jessa
POMPA, JINKY
VELOSO, Jhonella
VILLALINO, Kyla Jane
VIVERO, Kimberlyn
YEPES, Clarine Mae
---
Qualifiers Eligible to Enroll in Programs with Open Slots
ABAL, Kristal jane
ABETO, Ruth Caryl
ABINAL, Ivan
ABOGADO, Michael Angelo
ABOLENCIA, Jude
ABORCA, Earl John
ABRAHAN, Brian Brylle
ABRERA, Samuel Gyle
ACALA, Jiro Jasper
ACALA, Nikos
ACIDO, Wency
ACOSTA, Albert
ADLAWAN, Junel
ADOR, Dave
ADVINCULA, Angelica
ADVINCULA, Kerbie
AGRAMON, Dennis
AGRES, Daniel
AGUIPO, Arwin
AGUIRRE, Cleford
AGULLO, Angelo Neil
ALBARANDO, Jason
ALCARDE, Jay Lan
ALCOBER, John Loyd
ALGO, Kean Gabriel
ALIDO, Julius Rvyl
ALJO, Richmond Kyle
ALMANZA, Paulo jake
ALPINO, Matthew Neil
ALVAREZ, Jovelyn
ANDRIANO, Paolo
ANIMOS, Honeylen
ANTIVO, Maria Lourdes
APEJAS, Jessa Mae
ARCOSIBA, Roy
ARGUELLES, Ayeesa
ARGUTA, MANUEL
ARROZADO, MINCHIE
ARTUGUE, Lester
ASA, Lyka
ATENTA, Melanie
AVILA, Reshell
AZORES, Cindy
BACALANDO, Matt Laurence
BACALLA, Francis Fran
BACOTO, Jake
BAEL, Richmon
BAGUNAS, Christian Jake
BAHIA, Edralyn
BALDONADO, John Kelvin
BALEDIO, Almar
BALMES, Ainie
BARANGAN, Dennis
BARBASA, Roan
BARCELON, Regine
BARQUILLA, Shena
BARRAZA, JERON
BARREDO, Ronald
BASAS, Jhordan
BASILAN, Leah
BASILAN, Niña Marie
BATO, Mark Joseph
BAYLON, Ires
BERDAN, LEMUEL
BERMODO, Jericho
BERNAL, Richfher
BERTOS, Roberto
BIEN, Jerome Nicko
BINGCO, Herman
BLONES, Shania Ashley
BOCO, ELTON JOHN
BOCO, Hilbert
BOLECHE, Jehoram
BONIFE, Niña
BRAGAS, Jasper
BRECIO, Princess Diane
BRIGOLI, Hannah
BRIONES, Carl
BUNA, Neo Laurence
CAALIM, Raffy
CABAOT, Romel
CABIDOY, Vilmarie
CABORNAY, Arwin
CABRITO, Arjhey
CABURNIDA, John Lloyd
CABURNIDA, Ronel
CAGARA, ROU RAIN FAYE
CAHAYAG, Roquesa
CAHAYAG, vicmer
CAHIDO, Divina Grace
CAIMOY, Geo florenz
CAIMOY, Jellian
CAINDOY, Reuben
CAJEDA, Jericho
CAJEDA, William Ray
CAJEPE, REALYN
CALAMAYA, EDELYN
CALCETA, Alipio
CALCETA, Mary Grace
CALLERA, John Joseph
CAMASIN, Jasty Jason
CAMINOC, Shaina Mae
CAMINONG, Jessamine
CAMISIC, Dyno
CAMONTOY, Ej Emmanuel
CAÑADA, Jonabeth
CANALES, Jhon Arjay
CANDAZA, Justin
CAÑETE, Angelou
CAÑETE, Shermae
CANILLAS, Aron Vincent
CAONTE, Shiela
CAPALARAN, JOHN RES
CAPATOY, Jerule Paul Niño
CAPILI, John Carlo
CARIAN, Kathlea
CARMENOTES, Virgie
CARTALLA, Christian
CASIDO, Kyrille Aishaine
CASTILLO, Charmae
CATAPAL, MICA
CATAROS, Alfonso
CATILOGO, Ralph
CAYOBIT, Lienard
CEBU, Jervey
CERVANTES, Merylle
CHARITA, JONIL
CHAVARRIA, John Carlo
CHAVERO, Kurt earll
CHAVEZ, Markmil
CINCO, Angel Kyle
CINCO, Danz Lawrence
CINCO, Jika
CINCO, John Lee Michael
CINCO, Jorenier Athan
CLAROS, Llenard
COBACHA, JACOB JKHAREM
COBACHA, Diana
COBACHA, Jhan Jhai
COLASITO, John Mark
COLIBAO, Francis Carl
COLIBAO, Mark Allyson
COMEO, Faustine Mae
CORNEJO, Mary Claire
CORNEJO, Rena mae
CORNELIO, GERARD
COSTORIO, Kevin
COTEJAR, Alliah Mae
CREER, Je-Mark
CUESTA, Andria Ann
CUESTA, Paloma
CUSTODIO, Shervin May
DAA, Mariel kimm
DACARA, Johnfer
DADALE, Steve Klarenz
DAGAMI, Raquel
DAGAR, Brix
DARANTINAO, Neil
DAWATAN, Kristine Mae
DAYA, Krystal Fae
DE LA CRUZ, Archie
DE LOS SANTOS, SCOTT
DE LOS SANTOS, Jay
DECENA, ANGIELO
DEGUERIO, Jay Marco
DELA CRUZ, Jilyn
DELMONTE, Lourence
DELUTE, Jet
DEQUIT, Inie
DEYNATA, Jomari
DIAZ, Lyca Mae
DILAO, Willyn
DINAYA, Rey
DIOLA, Geovanni
DOLORFO, Marco
DONAIRE, Deither
DUMAGUIT, Freddieirck
DUMAGUIT, Jake
DUMPANG, Ralph Renzo
DUNGZAL, JOHN PAUL
DUQUIATAN, Ma.cristina
ECHANO, Cris
ELARDO, Marvin
ELEGIO, Raiza Mae
ELI, JHON MARC
ELLASO, Mariella
ELONA, Alvin
EMNAS, Faith
ENALES, Carl Justine
ENTERESO, Vince Ryan
ESCOBAL, Kyle
ESCORIAL, Nicodemus alexis
ESMERES, James
ESPINA, Rico
ESPINOSA, Mary Joy
ESTUDILLO, RICA
FACTURAN, James
FALLE, Ray Vincent
FEDERIO, PAULINE
FELIAS, Glenn Timothy Joshua
FERRER, Jayson
FLORES, Paul Gerald
FRANCISCO, jean paula
FRANCISCO, Lhemar
FRANCISCO, Rojane Mae
FRANCSICO, Joshua
FULIGA, Bernard Allan
GABOR, Keneth Roy
GABRIELES, Claire Elizabeth
GADDI, ANNA MARIE
GADIN, Leny Ann
GALACIO, Marjorie
GALLANO, Jamie
GALLANO, Jeffrey
GARCIA, Ma.kassandra
GARDIOLA, Eunice
GARDOSE, Ignalyn
GARGANTILLA, Leah Mae
GARIANDO, Elna
GARIANDO, Hana Jane
GARILLO, Roland
GARRIDO, EMERSON
GARRIDO, Jefferson
GARRIDO, Jessa Mae
GATELA, Hanzel
GAY, Altizza
GAYOLA, Harold
GENOVA, Michael Angelo
GERARCAS, Bradley Mark
GERONG, Maricris
GEROY, Ira
GIL, Aldrin
GIL, Angelu
GISMA, Jasper
GONZAGA, Johnlex
GOZA, JOSUE
GUBA, MONICA
GUILLERA, ARGIE
GUYA, Aaron
HABIJAN, Gabriel Edwin
HADAP, Niño Jake
HAMOR, Emanuel
HANGSITANG, Jessamaine
HECTO, Marjolin
HERMOSILLA, Glennard
HIMZON, R Jay
HOLANDA, Kholin kay
HORCA, John Michael
IBANEZ, JOHN RAY
IGNALAN, Virgel
ILANAN, Camille
INDIC, Christine Rose
IRASGA, Ronnel
JAMORA, Jonadith
JANDOC, Mark Joseph
JAVIER, Alek Alvin
JUDIT, Mathew
JUNIA, Mary Grace
JUNTILA, Glaiza Mae
LABRADO, Sunny Boy
LACANDAZO, Christine Bell
LADAN, Delmar
LADERA, Enrico
LAGARTO, Alicia chel
LAGARTO, Edward
LAGARTO, John Raffy
LAGARTO, Rey Mark
LAGASCA, Aldrin
LAGERA, Ariel
LAGO, Richard
LAMING, Jonathan
LANDRITO, Gilbert
LASTIMADO, Devine
LAZADA, Jessamille
LEGASPI, Rica Kym
LEONA, Rienafael
LERIOS, Michael
LIBERATO, Kclyn
LIMOSNERO, Catherine
LIMOSNERO, John Meynard
LINDE, Kyle
LIRIOS, EarljohnSanti
LLAMES, Georgee kay
LLENA, MECA
LLENA, kier
LOBRIGO, MARK ANTHONY
LONGNO, Mark Kevin
LOPEZ, Ellyzelle Mae
LOR, Daisy Mae
LUMBRE, Rhealyn
LUMPAS, Christine
LUMPAS, Christy
LUYA, Raffy
MAAT, JINKY
MACANDA, Jarah Mae
MACARAEG, Kenneth
MACASAET, Neño
MACEDA, Jassy
MACEDA, Kyla
MAGOS, Shaira
MAGTABOG, Nicole
MALABA, Godwin
MALABA, Hennaro
MALATE, Benjamin Jose
MALGAPO, Noah art
MALINAO, Dea Ella Amor
MANAGBANAG, Adorlyd
MARAYA, Maurine Mae
MARCO, May Jean
MARGALLO, JHONIEL
MARTIJA, Sean Lloyd
MARTINEZ, Elvin
MASAYON, Jyra
MASUBAY, Reynald
MAUNES, elmer
MAURILLO, Hannel
MAZO, JUN PAUL
MELENCION, John Rey
MENDAÑO, Paul
MENDIGO, Reynante
MESIAS, Cedric
MIJARES, Aljane
MIL, John Robert
MIL, Kenneth
MILLANO, APRIL JOY
MINA, Vincent
MIRANDA, Edlyn
MIRANDA, Mike
MOLINA, AMAH
MOLON, MARIECRIS
MONTECINA, Eddie
MORANTE, Elaissa
NADERA, Camelle
NANQUILADA, Janrey
NARIDO, RENATO
NARIO, Jenny Mae
NARIO, Mark
NATULLA, John Michael Andrew
NAYAD, Nil Destiny
NICANOR, Francis
NICOL, John Harris
NOBLE, ANGELICA
NOBLEJAS, Elenita
NOMIO, Jerame
NORADA, Jessica
NUEVAS, MICHAEL
OBEJAS, Mayet
OBIÑA, Carl Joven
OCIER, Mickhaella
OCOP, Renalyn
ODRON, Carlo
ODTUHAN, Rey
OLAHAY, Chen-chen
OLAHAY, Jimmy
OMOLIDA, SAMUEL
OMOY, Raniel Mark
OÑATE, Geraldine
ONIDA, Maria Enrachia
OPENIANO, Rochelle
ORBETA, RYAN
ORIÑO, John Lenon
ORONOS, Ahman
ORONOS, Czarinah Anne
ORTUA, Vinard Lester
OSTACO, RALPH
OTEROS, Leanne
OYZON, Phoebe
PACALA, Ronel
PADON, Jovi
PAETE, Jaime
PAJARES, Lorens
PALAÑA, JOHNSON ROGER
PALLONES, Jasper Levi
PALMARES, Shenna Mae
PALOMERAS, Lea
PALOMO, Beame
PAMAUS, Rico
PANAL, Remegio
PARADO, Jenelyn
PATIGA, CRISTINE
PAYOT, LOREANE
PEDRERA, Charles Emmanuel
PEDROSA, CINDY
PEDROSA, Ma. Niña Cathrina
PEÑA, APRIL ROSE
PEÑACUBA, Aira
PEÑARANDA, Ailene
PEPITO, John Mark
PERALTA, Sherilyn
PEREGRINO, ROSE ANN
PEREZ, Aj clint
PEREZ, Racquel
PERMEJO, Darlin Jane
PETILLA, Crystel Jeane
PETILLA, laurence
PETILLA, Phoebe Allyza Kaye
PIAMONTE, Joebert
PIDO, Raffy
PIJA, Errol
PITA, Radelyn
PLATON, Mary Mia
PONTILLAS, Lyka
PORAZO, Jomar
PORBASAS, Ariane
PORE, Christine Jedd
POTAZO, Regine
PULMA, Emil Julius
PULMA, Ryan
PUYAT, Rusty Dave
QUILANETA, Angelyn Nicole
QUILLOTES, ARVIN
RAAGAS, John Armando
RADIGOS, LAWRENCE
RAEL, JENICA
RAINIER, Cubico
RAMELO, Reann Mae
RAMIREZ, Alwin
RAMOS, Darrren
REBATO, Joella
REDUBLA, Wenn Andrew
REGAÑA, JOYCE ANN
REGATO, Claire
REGELISA, Marjorie
RELANO, Jervey
REMITILLA, harly
REQUE, Diana
REVILLE, Roselyn
RIVAS, Mark Joshua
ROA, Sanny boy
ROBEDILLO, John lloyd
ROBEDILLO, Mhel Ann
ROBEL, Ramil
RODRIGUEZ, Jednel Marc
ROMPAL, Jenica
ROSTATA, R-IAN PAUL
ROYO, Joelbert
SABALBERINO, Rhea Mae
SACRIS, Blessel
SACURA, Johnbert
SALAMO, James Van
SALAS, Leah
SALCEDA, Rico
SALCEDO, Clint harvie
SALES, ALLEN MARK
SAMIANA, Christian
SAMSON, Rica Mae
SANCHEZ, John Lloyd
SAÑO, Rose Lyn
SARI, Mark Juvin
SARINO, Jeno
SAYAO, Bernadeth
SEMBRERO, Adrian
SENTILLAS, Jhon Edcel
SENUGAT, John paul
SEVILLA, Lany
SICOY, LOURDES GWEN
SILVANO, Rochel
SISON, Shaina Mae
SOLAYAO, Shaira Mae
SOLIVA, ROMEO
SONGALIA, Aeron
SONGALIA, Stephen
SONIT, Blademer
SORIYAO, Gerald
IGLESIA, Ivan
, Ramer
TAALA, Menche
TADO, Rey Vincent
TAMAYO, Danilo
TAN, Arlyn
TANAUAN, Shara Mae
TAÑEGA, Dominique
TANGPUZ, Jerecho
TANGPUZ, John Ivan
TANTE, JAY BOY
TANTE, Nhixon Lenard
TAPALES, Lemuel
TECSON, Angelica
TIAUZON, Jellian
TIOZON, Jacel mae
TIUSEN, Arvin John
TOMAS, Fritz Lhorenz
TOMATE, Jonnel
TONIACAO, leomar
TONIDO, Mark Joseph
TORNO, James Paul
TORREROS, Brian
TORRES, JESICCA
TRINCHERA, ABEGAIL
TRINCHERA, Kordel
TRINCHERA, Rinrose
TRINIDAD, Mark Kevin
TROTA, Arvin
TUANO, Nicolas
TUAZON, WILFREDO
TUGADO, Anne Faye
TUMANDAO, Jenieht
ULNAGAN, JOHN LLOYD
UY, Joshua Marc
UY, Myrylle
VALERIANO, FREDALYN
VALUIS, VIVIAN KATE
VERBO, Mark Andrew
VERGARA, JELLE
VERONA, Aljin
VERZOSA, JANJAN
VIADOR, Raniel
VICTORIA, Erikka
VICUÑA, Brian Mathew
VILLA, Darel
VILLALINO, cristine angela
VILLANUEVA, Janelle
VILLAS, Mabelle
VILLONES, Daisyre
VIÑAS, JOHN MICHAEL
YEPES, CECILE
YEPES, RANDOLPH
YEPES, Rodny