VSU honors student-athletes, coaches
Details

Written by AGESarmiento

Published: 20 April 2017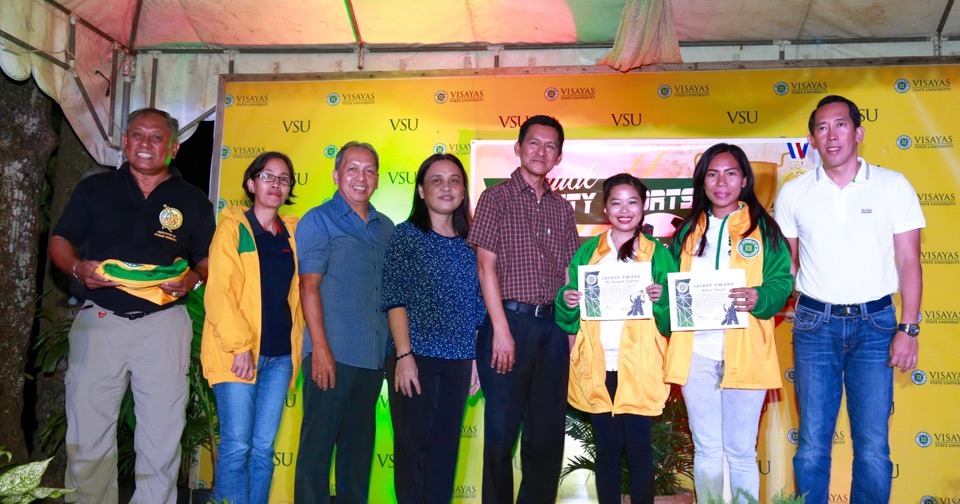 The Visayas State University, through the Institute of Human Kinetics (IHK) conferred an Award of Recognition to some 220 student-athletes and coaches of the VSU varsity program during the Varsity Sports Awards Night at the VSU Guest House, April 18.
The institute has given recognition to the athletes and coaches who represented the university during the 2016 Regional SCUAA (State Colleges and Universities Athletic Assoc.) games last October at Naval, Biliran.
IHK Director Dr. Aleli Villocino, in a speech, expressed her gratitude to the varsity members for their hardwork and dedication in bringing honor to the university. She recalled how Team VSU transcended in each of the sporting events in the regional games despite unfavorable circumstances. The VSU varsity team, she told, is at its best this year.
Here is the complete list of the student athletes in the varsity program (SY 2016-2017):
VOLLEYBALL (MEN)
Aguirre, Jisondel B.
Amith, Jb Lord B.
Arit, Lubrego
Baldo, Danilo Jr, A.
Barit, Nathaniel
Bico, Darwin Jay P.
Borci, Manuel Kenneth R.
Cortes, Christian Ryan C.
Desederio, Merwin
Lugasan, Jeffrey
Malaque, Joelito
Moncada, Neo Philip R.
Pideda, Fanny Jr.
Romo, Archie A.
Vitulla, Ellaquim
VOLLEYBALL (WOMEN)
Alico, Marianne
Berdos, Jinica Kyre
Bustrillo, Analou
Dargantes, Demelyn
Lerios, Ma. Alliona
Minoza, Diana Dawn
Quindao, Kate Cyra
Villamente,Chenlie
TABLE TENNIS (MEN)
Braga, Mark Clent A.
Castil, Joel Neil
Costillas, Jovan Matthew
Nayre, Neil
Taneo, Henry
TABLE TENNIS (WOMEN)
Abasola, Mariel M.
Angub, Cristine Jane O.
Gogo, Kathleen P.
Limosnero, Charisse Mae
Maingque, Jessica
ATHLETICS (MEN)
Almene, Charles Kevin
Boyles, Jahn Carlos
Caminong, Brian Joshua
Collo, Andrey
Declaro, Jesriel F.
Gloria, Jeffrey T.
Gollodo, Eirwynne L.
Oclinaria Rico mark
Pelle, Daniel R.
Somosot, Peter Jay
Villar, Jan Joshua
ATHLETICS (WOMEN)
Alba, Angelica
Fusio, Kaye Ann
Juntilla, Jessa Mae
Molina, Josette
Ollave, Rodith
Rio, Maria Nina Jesusa F.
BASEBALL
Cahambing, Rhys Robyn
Cruz, Jhadi
Curbita, Jecimiel
Dawa, Lemuel
Dumaguing, Lester
Gonzales, Gaspar
Gripo, Alberto
Pinote, Albert
Pinote, Jerson
Piol, Michael
Taripe, Kerr
Torrena, John Edrald
Urgel, Marlo
SOFTBALL (WOMEN)
Fiel, Dexie Jell
Franciloso, Glaiden
Mabia, Carmelita
Martinez, marianne Jusette
Pizon, Francis Mae
Remoroza, Jozen mae
Salva, Judy Ann
Tumolong, Marianelle
Tumulak, April Joy
Wagas, Mikka Ella
TENNIS (WOMEN)
Boco, Cristy
Dasian, Elgy
Dasian, Elma
Escoton, Kim Carla
Handayan, Jessa
TENNIS (MEN)
Cordero, Alejandro
Ayuban, Han Erick
Oca, Butch
Jumadas, Gerald
Gorre, Michael Anfernee
SWIMMING (WOMEN)
Aviles, Chrsity
Bullo, Christal Ray
Correos, Mary Junette
Dagitao, Jerrel Ann
Morbos, Darlyn Kristine
Panilag, Janice
Villarmino, Roseven
Ycoy , Eliza Mae A.
Ycoy, Eliza Mae S.
SWIMMING (MEN)
Bocal, Angelito
Dellera, Arid Kervan
Coles, Junrey
Loreto, Almer
Mejeca, Hernanie Jr
Ocampo, Rfee Zhaon
Reas Steven
Polistico, Chrsitopher
gatoc, Robertson
Castanas, Gian Carlo
BASKETBALL (MEN)
Albano, Haron
Asi, Ronie
Barcos, Joedel
Bulawan Rey
Cabahug, Khen Jan Rey
Chavez, Kay Marvin
Chavez, Marvin Kier
Dagclag, Faustino Sam
Laguna, James
Loreto, Arkinz
Malaque, Jonathan
Moreno, Rocky
Norona, Nhiko
Nunez, Georabien
Omalay, Anthony
Payag, Jacob
Sabando, Denmark
Santos, Stephen June
Torrejos, Joriel
BASKETBALL (WOMEN)
Alima, Jan Marinel
Amancio, Lanny E
Amarille, Almira
Cerna, Jezamie
Doguiles, Necky Marie
Dumael, Mary Joy
Escala, Jinky
Estrera, Eugie Glyde
Gasatan, Apple
Guy-ab, Amria Elena
Lopez, Nicole
Mandras, Genicyl
Moncada, Rica Loren
Pilapil, Angela
Tambole, Bernadith
DANCE SPORTS
Dedal, Junel
Limbo, Abigail
Mazo, Shiela
Obias, Svarupa Damodara
Tomines, Aljor
Vacunawa, Grace Ann
TAEKWONDO (MEN & WOMEN)
KYORUGI TEAM
Hoyle, Carl Bryan C.
Leonzanida,Genesis
Modina, Jovanne M.
Nuenoz, Blenn M.
Sorilla, Vince Cliford B.
Bonganciso, Lor Mae B.
Sadoguio, Filma
Tagol-gol, Richell S.
Rabaya, Francesca Maria C.
POOMSAE TEAM
Lina, Prince Darius A.
Notarte, Melbert B.
Reas, Jasen M.
Abenoja, Janine Quinante
Germano, Gladys Mae
Gonzaga, Cheryl Mae
Gucela, Jennifer
Maurillo, Uzziel O.
CHESS (MEN)
Cruz, William
Garcia, Christopher Diego
Tampus, Rex
CHESS (WOMEN)
Gopio, Joyce Ella
Pedrera, Hilda
Pojas, Catherine
Rondina, Mariane Jane
FOOTBALL
Bianito, Dan Kierven M.
Conde, Christian
Dela Cruz, Luigi
Gumaod, Ivan Joseph
Orevillo, Porferio
Tabada, David Winston W.
Tahanglangit, Jess
SEPAK TAKRAW
Beltran, Jerome
Cajes, Jhun Leo
Dellera, Arjano
Lopez, Joey
Macapanas, Reynante
Ormilleda, Jeffrey
FUTSAL
Bernardes, Divine Thea
Colendres, Roxanne Joy
Costelo, Lolita P.
Dalaguido, Hazel
Entuna, Vanessa Dawn
Fores, Maria Fe Teresa
Iligan, Evangel
Ligoro, Fritzil Jean
Pabilan, Paula Luz
Zapatos, Gwendale
ARNIS (MEN)
Banayag, Andry
Dagpin, Louie Jay
Dejarme, Ferdinand
Dotarot, Justine Dave
Duenas, Clyde Anthony
Fobular, Anthony
Luna, Jefferson
Montallano, Jeffrey
Nibla, Chester
Nogra, John Vincent
Olitres, Francis Rick
ARNIS (WOMEN)
Blaya, Antonette
Carza, Efefany
Dacillo, Candace Claire
Manacpo, Daniel Joyce
Nayre, Jenelyn
Ngojo, Irish
Santianez, Mary Assumptha
Tabudlong, Mary cris
Tano, Ashelle
BADMINTON (WOMEN)
Balbarino, Abigail
Caparas, Maria Regine
Fernandez, Christian mae
Retuya, Marigold
BADMINTON (MEN)
Aragon, Jaime
Astudillo, Angelo
Cabugwason, Jim, Clyde
Mamolo, Stepehn Dominic
Roa, Gerrick
Tapang, Jonel
Earlier this year, some 40 student-athletes, coaches, and officials from VSU joined the Eastern Visayas delegation in the 2017 National SCUAA Olympics at Batangas City, raking in gold and bronze medals for the region. (Read here)
These athletes were conferred with the Letter "V" Award for their achievements in the national arena.
Here is the complete list of VSU student-athletes and coaches in the national SCUAA games:

Athletes
Chavez, Marvin Kier E. - Basketball Men
Daclag, Sam Faustino A. III - Basketball Men
Declaro, Jesriel F. - Athletics (Track) M
Boyles, John Carlos D. - Athletics (Track) M
Ollave, Rodith F. - Athletics (Track) W
Molina, Jossete G. - Athletics (Track)W
Tapang, Jonel Dominic E. - Badminton Men
Caparas, Maria Regine P. - Badminton Women
Retuya, Marigold E. - Badminton Women
Gopio, Joyce Ella Marie R. - Chess Women
Pedrera, Hilda A. - Chess Women
Pojas, Catherine V. - Chess Women
Dasian, Elma C. - Lawn Tennis Women
Tagalog, Ma. Teresa S. - Lawn Tennis Women
Bocal, Angelito D. - Swimming Men
Lagitao, Jerrel Ann L. - Swimming Women
Nayre, Neil M. - Table Tennis Men
Pizon, Frances Mae - Softball Women
Notarte, Melbert B. - Taekwondo Men, Poomsae
Gonzaga, Cheryl Mae - Taekwondo, Women, Poomsae
Berdos, Jinica Kyre J. - Volleyball Women
Bustrillo, Analou V. - Volleyball Women
Dargantes, Demelyn B. - Volleyball Women
Lerios, Ma. Alliona O. - Volleyball Women
Miñoza, Diana Dawn V. - Volleyball Women
Quindao, Kate Cyra L. - Volleyball Women
Villamente, Chenlie P. - Volleyball Women

Coaches
Mr. Edilberto A. Artiga, Jr. II - Badminton Women
Ms. Mary Jean M. Sapan - Chess Women
Mr. Bryan Gapasin - Lawn Tennis Women
Mr. Andrew A. Mazo - Swimming Men
Mr. Pee Jay G. Montero - Volleyball Women
Mr. Marvin Bornias - Volleyball Women
IHK also awarded three student-athletes with the Jacket Award. The award was given to the athletes who represented the university in at least three regional meets and one national event.
Here are the "Jacket" awardees:
Tagalog, Ma. Teresa S.
Dasian, Elma C.
Bocal, Angelito D.
Rep. Jose Carlos "Boying" Cari, guest speaker, praised the athletes and their coaches for the honor they have brought not only to VSU but also to Baybay City. Cari, an athlete himself, encouraged the students to continue their passion for sports. He also assured that he will continue to support the endeavors of the university, especially in sports.
As IHK turns 41 years strong this year, the institute promises to keep on strengthening the VSU varsity program and produce more competent athletes that will conquer both local and national sporting events. The institute also wants to encourage students with skills in sports to join the VSU Varsity Team.