VSU forest advocates receive PH's highest public service award
Details

Written by Isabelle Amora

Published: 01 October 2018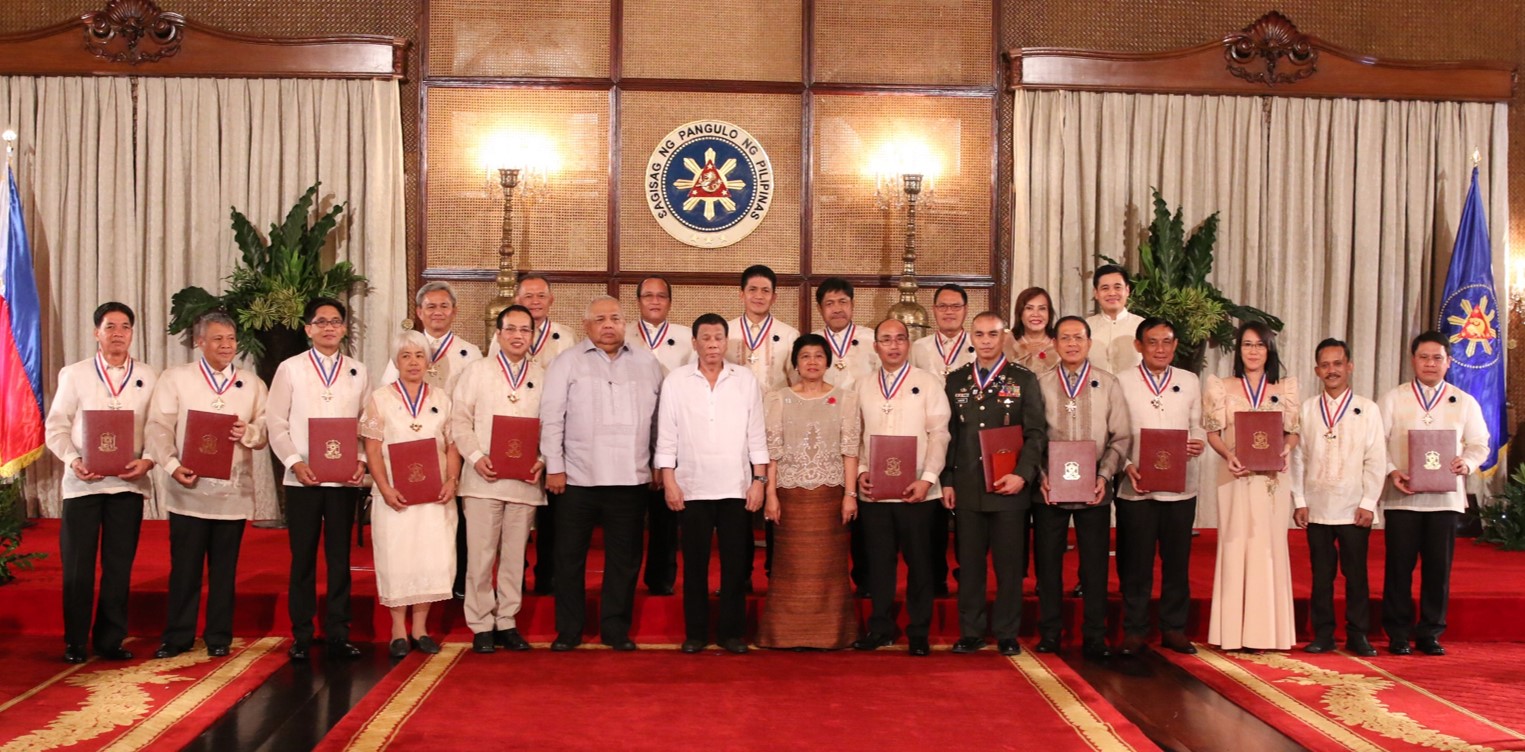 The VSU Forest Restoration and Livelihood (FoRestaL) Advocates is accorded the Presidential Lingkod Bayan Award during the 2018 Outstanding Government Workers Awards Rites of the Philippine Civil Service Commission.
The awarding ceremony was held at the Malacañan Palace, September 27.
The team, composed of VSU faculty and staff, Dr. Dennis P. Peque, Dr. Rotacio S. Gravoso, Dr. Marlito M. Bande, Dr. Henry Y. Goltiano, Ms. Elvira B. Gorre, Dr. Eduardo O. Mangaoang, Dr. Arturo E. Pasa, and Engr. Jimmy O. Pogosa, was recognized for their exceptional contributions to forest restoration and to the improvement of the socio-economic status of forest-dependent communities.
The CSC annually confers the Presidential Lingkod Bayan Award to individuals or groups for exceptional contributions that have nationwide impact on public interest, security, and patrimony.
The FoRestaL Advocates' initiatives, which began in the 1990s, include forest landscape restoration through the promotion of quality seedlings and rainforestation technologies in different parts of the country. The group's endeavors aim to address problems such as unsustainable farmers' practices, extreme poverty in the uplands and conversion of forests into other land uses.
Through the initiatives of the team, government agencies, local government units, and private sectors have adopted rainforestation practices in their own programs and projects.
The Department of Environment and Natural Resources (DENR) issued policies and regulations (MC 2004-06 and DAO 2010-11) adopting rainforestation as forest rehabilitation strategy in protected areas and strengthened regulations on the protection of forest tree seed and seedlings.
Local government units have also adopted strategies promoting rainforestation. In Camarines Sur, the provincial government provides scholarships to children of forest-dependent families adopting rainforestation. In Pilar, Cebu, rainforestation is mainstreamed as a strategy for watershed restoration.
His Royal Highness Prince Charles of Wales even lauded the reforestation strategies developed by VSU for restoring ecological integrity and biodiversity while generating livelihoods for local communities. The team's pilot reforestation project on watershed rehabilitation was recognized by the International Union for the Conservation of Nature (IUCN) as a model for forest landscape restoration.
In two decades since its establishment, the VSU ForestaL team's actions have developed more than 6,000 hectares of rainforestation farms involving more than 3,000 farmers and accredited 174 trainees on rainforestation throughout the country. The group's initiatives have also improved the livelihood opportunities of about 1,400 upland farmers through the establishment of nursery and agroforestry farms and established a state-of-the-art Tree Clonal Nursery Facility at VSU, among others.
VSU officials have also reaped the highly-coveted award in recent years: Dr. Roberto C. Guarte, Dean of the College of Engineering, in 2014; VSU President Edgardo E. Tulin in 2015; Director for Research and former VSU President Dr. Jose L. Bacusmo in 2016; and Philippine Rootcrops Research and Training Center (PhilRootcrops) Dr. Erlinda Vasquez in 2017.
In the same national awarding ceremony, the Visayas Consortium for Agriculture, Aquatic and Resources Program (ViCAARP) was also awarded as one of the Pagasa Awardees – Group Category in 2017. The consortium, headed by VSU Vice President for Research and Extension Othello Capuno, was singled out for its scientific interventions that led to the recognition of jackfruit as a high-value crop, providing livelihood opportunities to people in Region 8.
On the other hand, VSU Graduate School Dean Anabella B. Tulin was a finalist for the Outstanding Public Official or the Dangal ng Bayan Award. This award is conferred to an individual for his/her performance of the extraordinary act or public service and consistent demonstration of exemplary ethical behavior.
CSC's Honor Awards program is an annual event that recognizes government officials and employees who have displayed outstanding work performance.