VSU animal science prof, grad students join int'l summer school and symposium in Japan
Details

Written by Lolito Bestil

Published: 08 October 2018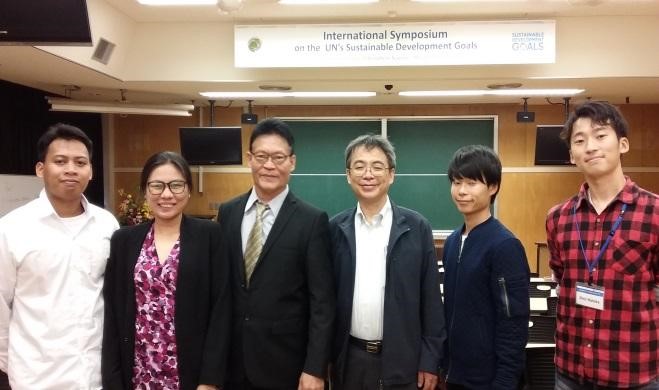 Dr. Lolito C. Bestil, Professor VI at Visayas State University's Department of Animal Science (DAS), along with two student-advisees Dr. Marjorie A. Licatan (Ph.D.) and Mr. R-Jun Frederick A. Gaspe (M.S.), participated in the 11th International Summer School in Biosphere Science at the Hiroshima University (HU), Higashi-Hiroshima, Japan.
Part of the program's design was exposing the participants to the Animal Nutrition laboratory for two (2) days in order to expand their understanding of the analysis of methane concentration from expired gas and volatile fatty acids concentration from rumen fluid distillate in ruminants. The most promising exposure was on the conduct of an in vitro digestibility trial and the donation of the required glass wares, vials and sealing equipment from HU to enable DAS to set up its own.
The summer school was spiced with field trips to atomic bomb site and Peace Memorial Park, Miyajima Island, Satake Corporation (manufacturer of rice milling equipment), Sankeien (a typical) Japanese garden, a food manufacturing company for a demonstration of a strict hygiene and disinfection procedures, and to the HU livestock farm for a show of facilities, practices, processes and systems.
The Program culminated with the International Symposium on the UN Sustainable Development Goals where Dr. Bestil keynoted Session 4, emphasizing on the utilization of farm by-products. He was supported by Mr. Masaru Matsumura, MS student in animal nutrition at HU, and Dr. Licatan (VSU).
Dr. Bestil's topic was entitled "Fight Hunger and Poverty with Goats: Developing Nutritional Supplements from Farm By-Products for Increased Survival and Performance of Pre-Weaning Kids." Mr. Matsumura's was on the "Use of Green Forage: Phytol from Plant Chlorophyll for Ruminant Nutrition", and Dr. Licatan on "Improving Animal Health Using Ginger (Zingiber Officinale Roscoe) Pulp as Dewormer".
The international summer school ran from September 26 to October 3, 2018, with funding support from the Japanese government through a JST scholarship. It was participated in by students and staff from eight partner universities in Asia. Two of which are from the Philippines: VSU and the University of the Philippines Diliman.
VSU and HU signed a Memorandum of Agreement (MOA) on Academic and Educational Exchange in 2011. Since then, there have been a lot of exchanges of students and faculty between these two universities every year, including some donations of books and equipment from HU. The two universities are looking forward to collaborating in animal nutrition research, starting with methane gas emission from livestock through DAS.