VSU civil and agri engineering programs pass Washington Accord accreditation
Details

Written by Isabelle Amora

Published: 14 February 2019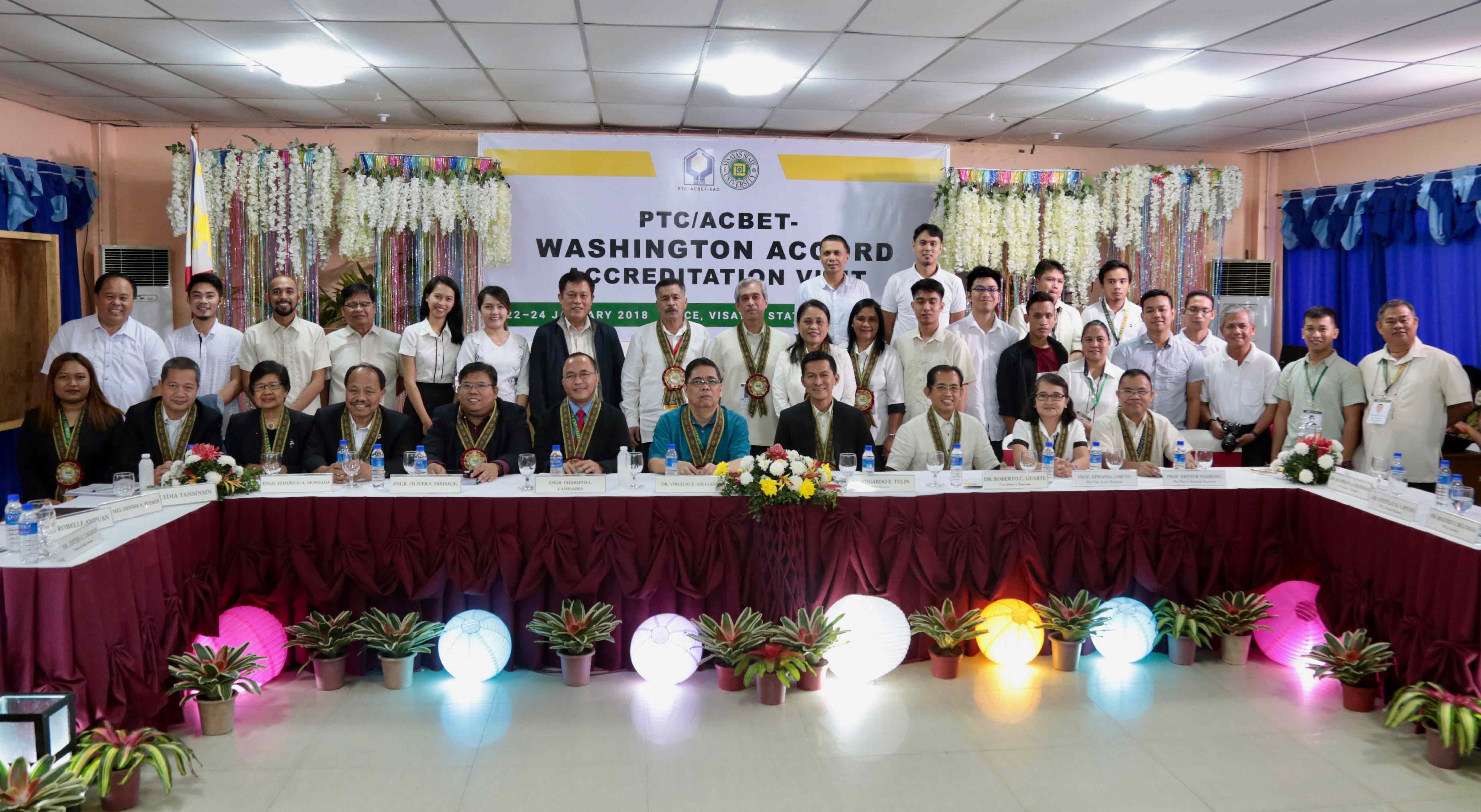 Visayas State University's undergraduate programs in Civil and Agricultural Engineering successfully passed the accreditation by the Philippine Technological Council - Accreditation and Certification Board for Engineering and Technology (PTC-ACBET).
VSU's Agricultural Engineering program is the first in the Philippines to be accredited in compliant with international standards, while the Civil Engineering program is the first in Eastern Visayas.
Dr. Roberto C. Guarte, Dean of the VSU College of Engineering (COE), expressed his pride in this remarkable development for the college and for the university.
"The positive results of the PTC-ABET accreditation give VSU and the College of Engineering the bragging rights as an institution of higher learning that offers excellent engineering programs compliant to international standards," the Dean said.
The certification opens up the international arena for graduates of these programs, being the only accreditation recognized by the Washington Accord. The treaty is an important agreement among different countries to standardize qualifications for engineering and technology fields.
Therefore, once an engineering program is PTC-ACBET certified, graduates of this course can practice their profession in any signatory country of the Washington Accord around the globe including Australia, Canada, Japan, and the United States, among others.
The accreditation, however, is based on the old curriculum of both programs. With the implementation of the new 4-Year Engineering Degree Programs, a revisit of the said programs is underway using the new memorandum order by the Commission on Higher Education (CHED), as well as to comply with the requirements of some weaknesses of the two programs observed during the first accreditation visit.
"The results of the PTC-ACBET accreditation have provided us a lot of challenges in the offering of engineering degree programs with international standards. It has also provided us the opportunities to further improve our existing manpower and facilities to continuously produce engineering graduates with international competencies," Dean Guarte added.
The College is preparing its Geodetic and Mechanical Engineering programs to be subjected in the same international accreditation, scheduled on school year 2020-2021. In addition to the Washington Accord accreditation, COE is also preparing for the ASEAN University Network Accreditation for its BS in Agricultural and Biosystems Engineering, the new name of the Agricultural Engineering program.
PTC is the only recognized organization in the country by the Federation of Engineering Institutions of Asia and Pacific (FEIAP) and is the only recognized accrediting organization for engineering programs by the Commission on Higher Education (CHED).
The PTC-ACBET accreditation was held on January 22-14, 2018 and will have a validity of two years, from academic year 2018-2019 until 2019-2020.
Read more about the accreditation: https://www.vsu.edu.ph/articles/news/11-news-obelisk/1431-engineering-international-accreditation