Two VSU grads top agricultural engineering licensure exam
Details

Written by Jamie Faith De Veyra

Published: 15 November 2019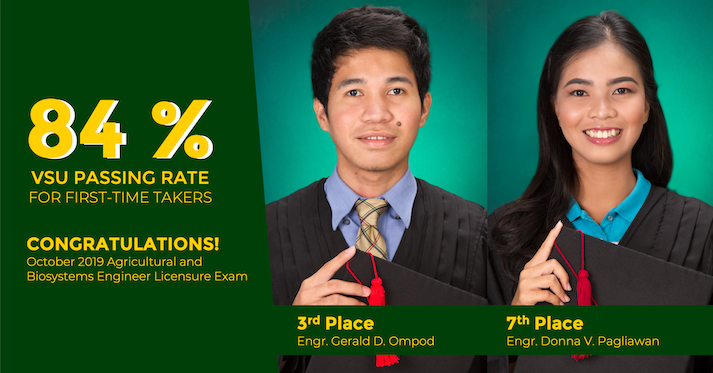 Engrs. Gerald Decio Ompod and Donna Velardo Pagliawan topped the November 2019 Agriculture and Biosystems Engineer Licensure Exam placing 3rd and 7th, respectively.
Ompod and Pagliawan topped the board exam out of 1,886 takers, where only 711 passed.
This year, the Professional Regulation Commission (PRC) announced 25 new engineers from the university. VSU registered an institutional passing rate of 73.53%, higher than the national average by at least 36%.
Leading the topnotchers is Paul Agustin Dejarlo Galanida of the University of Southeastern Philippines-Tagum with a passing rate of 82.62%. On the other hand, the University of the Philippines-Los Baños is the top-performing school with a 100% passing rate.
Meanwhile, Dr. Edgardo E. Tulin, VSU President was very delighted to hear the news. In his personal social media account, the VSU President congratulated the topnotchers and the board passers from VSU.
"This is a testament to the quality of education we offer in VSU. I'm hoping that our current students will strive harder to continuously bring honor to our dear VSU," Dr. Tulin said.
The following are the passers of the Agriculture and Biosystems Engineer Licensure Exam:
Engr. Gerald Ompod
Engr. Donna Pagliawan
Engr. John Vincent Atok
Engr. Randolf Joshua Cielos
Engr. Anthony Contridas
Engr. Dante Dagandanan
Engr. Kim Greenith Enales
Engr. Rod Luis Gonzaga
Engr. Cheene Clea Gumalo
Engr. Fatima Gumamac
Engr. Bill Chester Lelis
Engr. Romel Linao
Engr. Ariel Mangaporo
Engr. Crisilda Mazo
Engr. Jester Navarquez
Engr. Jessaville Palacio
Engr. Geliane Promentera
Engr. Ivy Rebuyas
Engr. Alvie Roluna
Engr. Austine Ruadiel
Engr. Jandel Rubillos
Engr. Liza Cris Salvacion
Engr. Marjorie Timbal
Engr. Ana Marie Ultado
Engr. Lezanro Montañez
Congratulations, Viscans!