VSU gets 80% passing for civil eng'g board exam first takers
Details

Written by Jamie Faith De Veyra

Published: 15 November 2019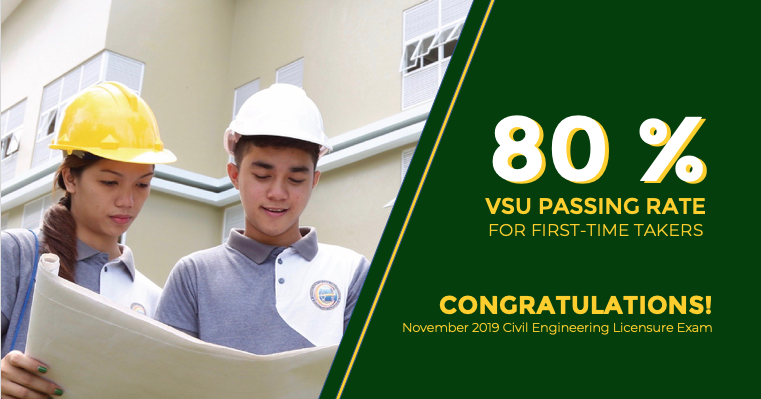 VSU got an 80% passing rate for first-time takers of the Civil Engineering Licensure Examination, topping the national average by 25%.
The Professional Regulation Commission (PRC) announced a total institutional passing rate of 71.43% for VSU after 30 out of 42 takers passed the exam this November 2019.
The new registered Civil Engineers from VSU are as follows:
Almoroto, Angelou Mae Omega
Alvarado, Bevvy Sheen Esma
Andrin, Ana Christy Tenio
Autida, Nelson Magat
Baquiro, Ryan Juano
Baylon, Romeo Jr. Bahade
Bioc, Alejandro Jr. Tajuda
Bulacan, Dyan Lorraine Cajegas
Cala, Jerome Galenzoga
Casaña, Anna Magallanes
Damicog, Marianne Linganay
Dayon, Prince Jason Varron
Degracia, Mirzi Olga Piamonte
Fiel, Dixie Jell Sudiang
Gaviola, John Christian Leorna
Gollodo, Eirwynne Larraga
Lanawan, Janah C.
Lenguaje, Romel Blorecia
Lim, Gamal Kawy Dupal
Malpas, Sean Renz Molo
Managbanag, Gio Belardo
Merin, Chara Mae Mendoza
Oca, Butch Tello
Oca, Clyde Earl Siao
Ortega, Roy Robert Mangila
Rasco, Junnie Olaco
Tamiat, Zenro Gil Padios
Tudio, Roxanne Joy Polangcos
Ycoy, Christine Giann Avila
Zamora, Dinah Marie Merino
A total of 6,510 out of 15,075 passed the Civil Engineer Licensure Examination given by the Board of Civil Engineering in the cities of Manila, Baguio, Cagayan de Oro, Cebu, Davao, Iloilo, Legazpi, Lucena, Tacloban, Tuguegarao, and Zamboanga.
This year, Carlos A. Hilado Memorial State College-Talisay was the highest performing school with a 98% passing rate.
The date and venue for the oath-taking ceremony will later be announced.