VSU calibrates office targets for 2020 performance
Details

Written by Jesus Freddy M. Baldos

Published: 31 January 2020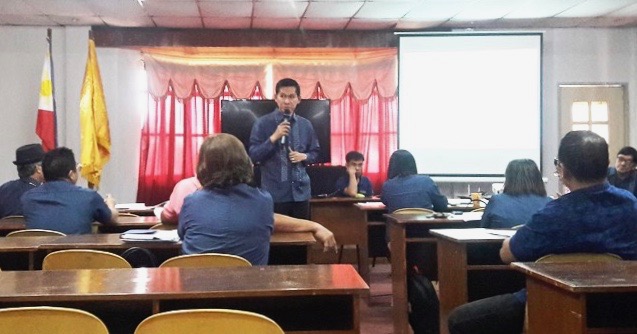 The VSU Performance Management Team (PMT) conducted the Office Performance Commitment Report (OPCR) calibration on January 29-30, 2020 at the Center for Continuing Education.
In the OPCR, offices commit to achieve targets in different areas, which will be the basis for evaluating its performance at the end of the year.
In his message, VSU President Edgardo E. Tulin emphasized that the calibration of the OPCR from different offices shall capture the overall targets of the University for the year 2020.
"We have to make sure that all units' commitments to attain the University targets shall be aligned with what is expected by the Commission on Higher Education (CHED) and the Department of Budget and Management (DBM) based on our submitted commitments," Dr. Tulin said.
He added that the University wants to ensure that the administrative units are performing all their mandated functions.
Impressed by the complete attendance from department heads and other offices, the president said that he is confident that with the guidance of the PMT the school can make the necessary changes.
"We have to look at the inputs which you might have missed in the total commitments of the University to CHED and DBM," he ended.
The calibration was also conducted to ensure that everyone is compliant with the University's Strategic Performance Management System (SPMS) which is already in place and in the institutional planning to maintain the quality procedures reflected in the VSU Quality Management System (QMS).
The PMT is composed of Dr. Remberto A. Patindol, VSU Vice President for Administration and Finance, as chairman; and other top officials: Dr. Lourdes B. Cano, Dr. Othello B. Capuno, Dr. Beatriz S. Belonias, Dr. Dionesio M. Bañoc, Atty. Rysan C. Guinocor, and Ms. Louella C. Ampac, as members.