Juliet Ceniza, NCRC-V Director, is VSU's new VP for research, extension and innovation
Details

Written by Allen Glen Gil

Published: 08 January 2021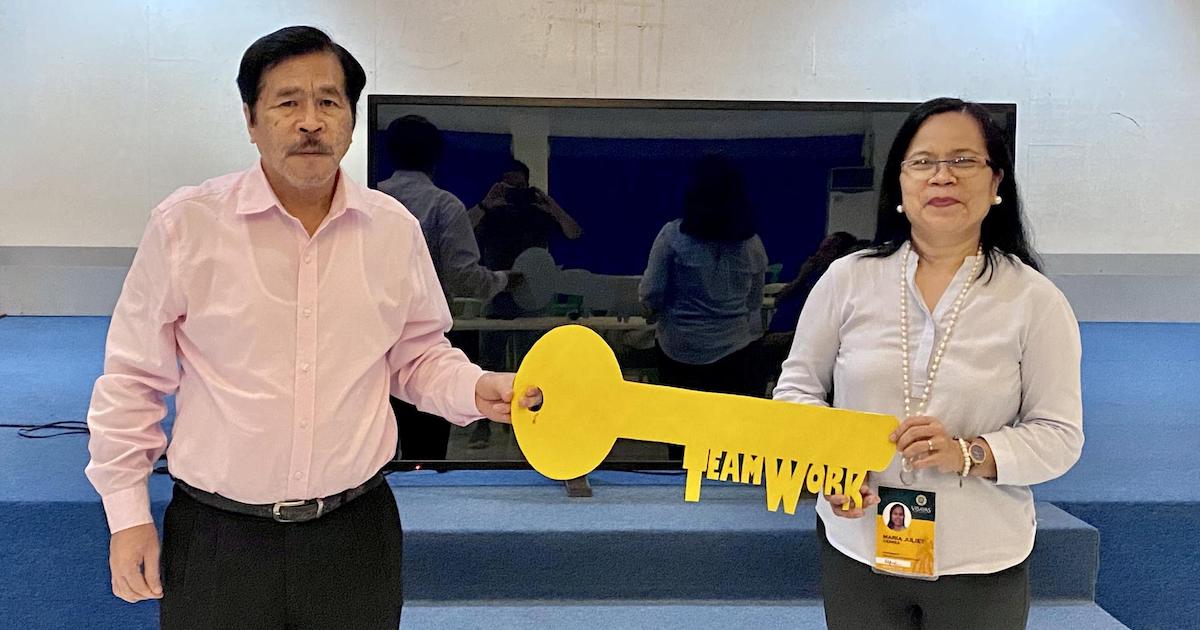 Dr. Maria Juliet Ceniza, VSU Professor and Director of the National Coconut Research Center in the Visayas (NCRC-V) has been appointed as the new Vice President for Research, Extension and Innovation of Visayas State University effective January 5, 2021.
She succeeds Dr. Othello Capuno, who served as vice president for 12 years.
Meanwhile, Associate Professor Rosa Ophelia D. Velarde is returning from study leave to the Office of the Vice President for Research, Extension and Innovation (OVPREI) as the newly designated Director for Research replacing Dr. Jose L. Bacusmo, former VSU President.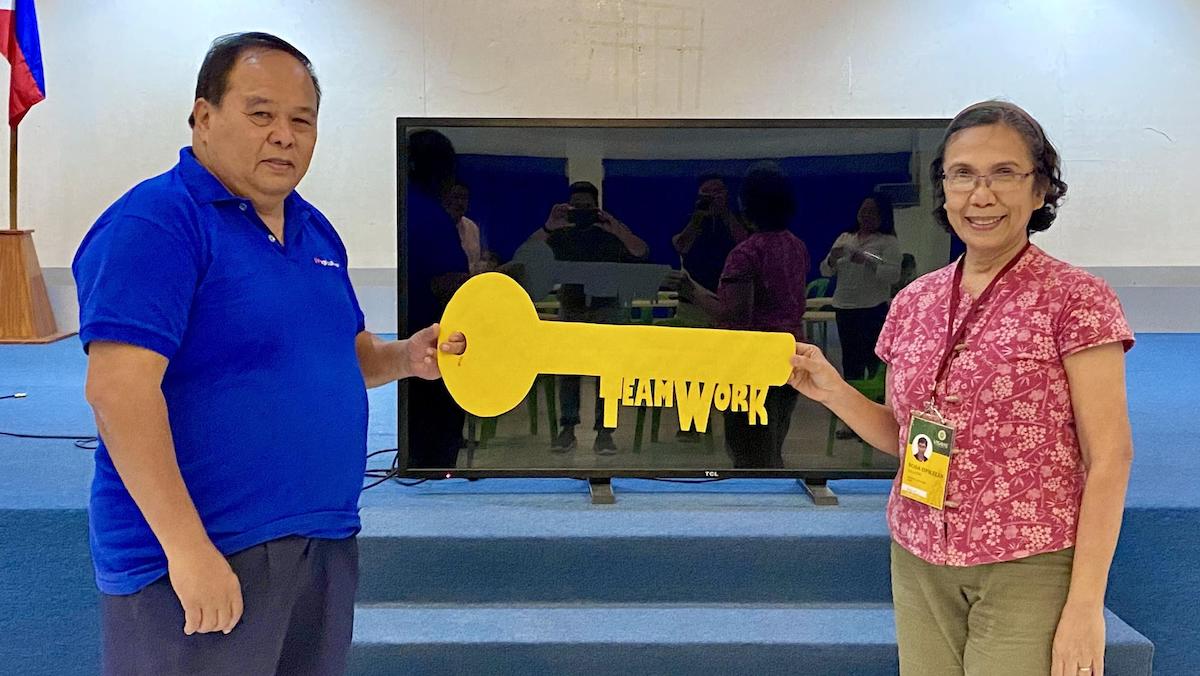 PHOTO: Dr. Jose L. Bacusmo (left) bequeaths the ceremonial key to Prof. Rosa Ophelia D. Velarde (right) after being designated as the new Director for Research.
OVPREI held a simple turnover ceremony in honor of both Dr. Ceniza and Prof. Velarde on January 6, 2021 at the RDE Hall. Dr. Antonio P. Abamo, Director for Extension, and Prof. Alan B. Loreto, Director for Innovation, along with some select staff of the OVPREI attended the event.
Dr. Bacusmo and Dr. Capuno, both set to retire this year, decided to turn over their administrative positions in advance to ensure smooth transitions at OVPREI.
Continuing the legacy in research excellence
In her message delivered right after the ceremonial turnover, Dr. Ceniza acknowledged the numerous accomplishments initiated by both Dr. Capuno and Dr. Bacusmo. She promised to continue the legacy in research excellence VSU was known for.
"We shall continue what has been started and will strive hard to pursue more innovations, results, and impact, especially to the unserviced clients and beneficiaries. We will be working with the different VSU research directors and build on what has been previously accomplished by Dr. Capuno and Dr. Bacusmo," Dr. Ceniza shared.
The new VP also said that she received the marching orders from VSU President Edgardo E. Tulin to cement VSU's stature as a research university by encouraging better research productivity, not only among VSU scientists and researchers but also among all faculty members of the university.
Dr. Jose L. Bacusmo, the outgoing Director for Research and former VSU President, said he felt that it's time for new and younger leaders in VSU to take the helm and chart new directions for the university. He also assured the newly designated officials of continued support from him and Dr. Capuno even after their retirement in public service.
"There is nothing in this world that can't be done better. Leaders replace old ones and make improvements on what was started. If the new appointees will need help, Dr. Othello and I will always be around to help", Dr. Bacusmo said.
In response, Prof. Velarde conveyed her appreciation to her former bosses, who groomed and prepared her for more challenging tasks in the future.
"Now, being designated in this new position, my commitment and dedication in serving VSU will be deeper and greater. I am glad that Dr. Bacusmo will still be there for all of us as our mentor, big brother, constant guide, and a dependable consultant", Prof. Velarde said.
For his part, Dr. Othello B. Capuno expressed his confidence in the leadership capability of Dr. Ceniza.
"I am very confident and have every trust in Dr. Ceniza that she can deliver the job very well especially because of her track record in effective research management. Although there will be more challenges in the future especially in the time of COVID-19, I strongly believe that she will achieve more because of the cooperation of the center directors and the overwhelming support from the entire OVPREI family", he said.
Before being appointed as VP, Dr. Ceniza was the Director of the National Coconut Research Center in the Visayas (NCRC-V) for 8 years, Dean of the College of Forestry and Environmental Science (CFES) for 2 years, and Director of the Institute of Tropical Ecology and Environmental Management (ITEEM) for 11 years.
Dr. Ceniza was also a recipient of the 2019 PAGASA Award under the group category conferred by the Civil Service Commission (CSC). This award is given to outstanding government employees for their extraordinary contributions to public service.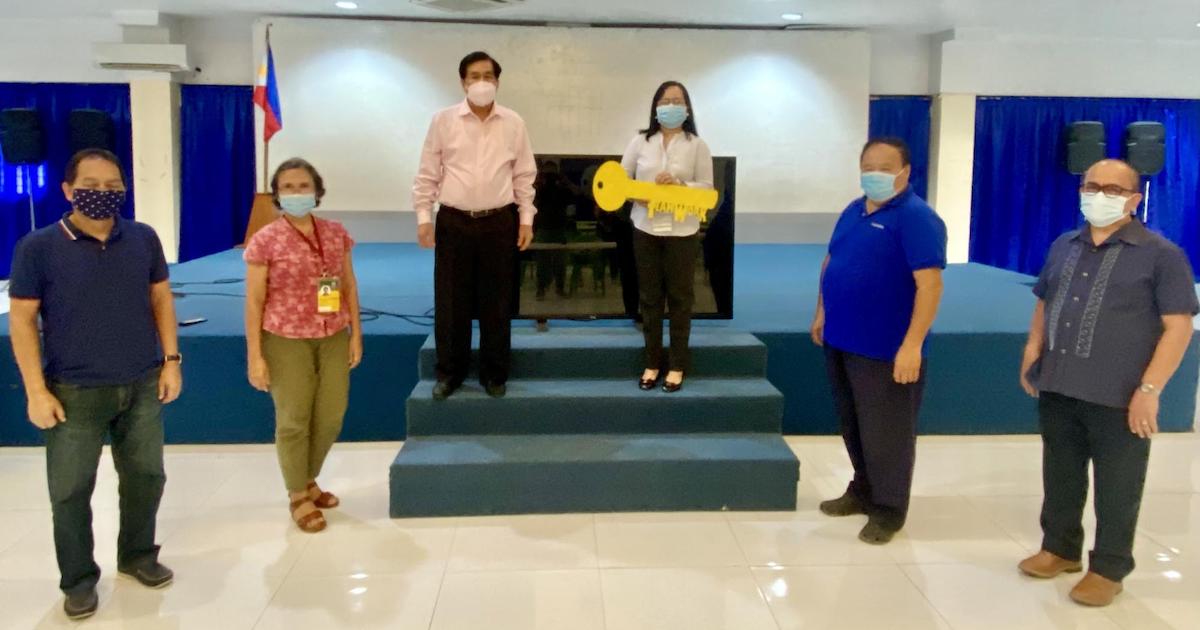 PHOTO: Key officials of the Office of the Vice President for Research, Extension and Innovation (OVPREI) pose for a photo op in a simple turnover ceremony.