Full list of 2nd dose recipients for VSU onsite vaccination program
Details

Written by Neil Bryan B. Fulache

Published: 16 November 2021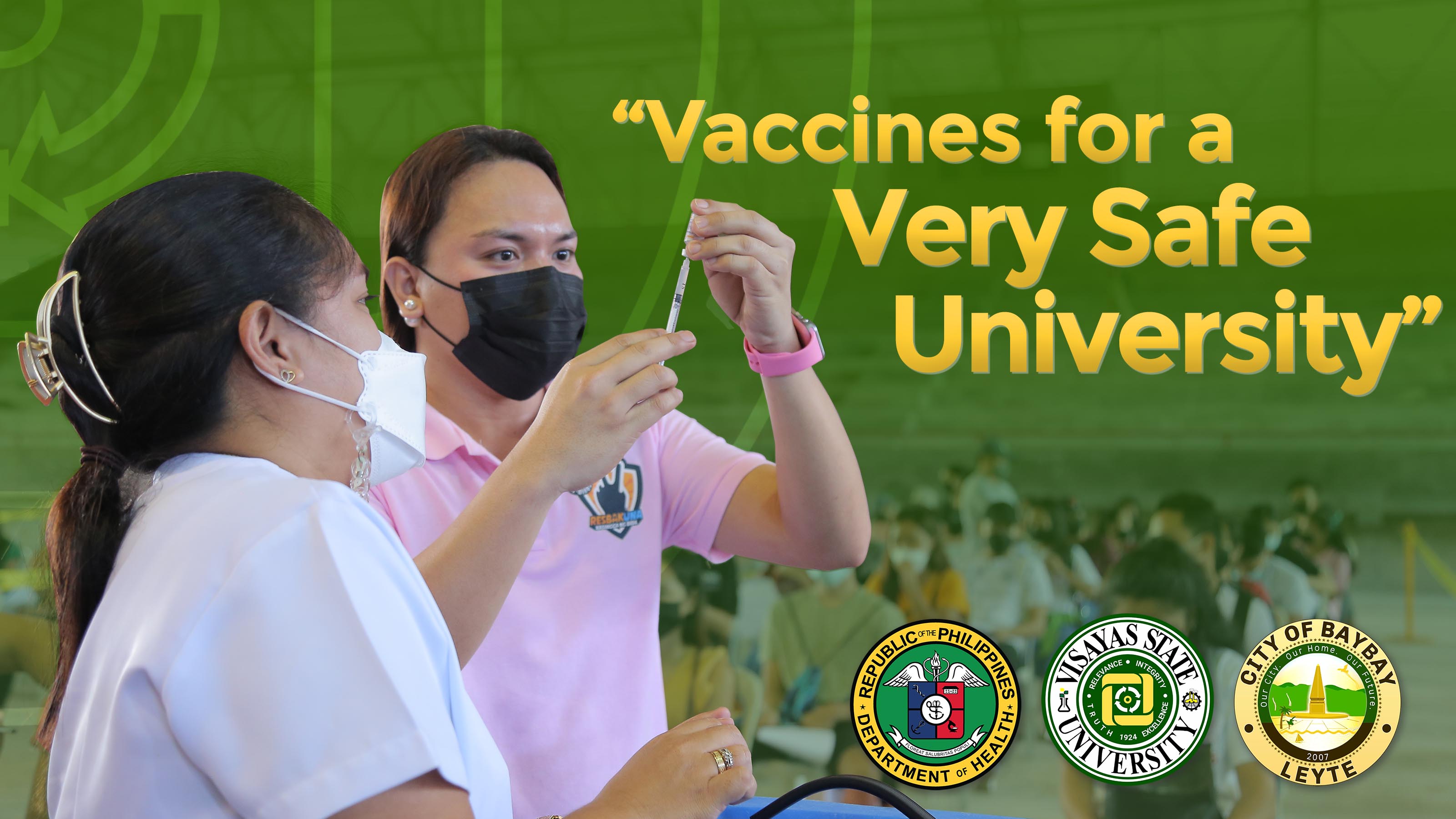 A total number of 343 Viscans from Baybay City and nearby towns will once again be allowed entry to the VSU Main Campus on November 23, 2021 for their second dose of COVID-19 vaccine as part of the school-based vaccination program of the university.
This onsite vaccination program is a joint project of the VSU administration and the Department of Health (DOH) Eastern Visayas with support from the local government unit of Baybay City, Leyte.
Their first jab was administered on October 26, 2021.
The second inoculation will be held in the same venue at the VSU Gymnatorium from 8:00AM onwards.
Just like before, VSU buses will be deployed on this date for a free transport service that will ferry students from the towns Matalom, Bato, Hilongos, Hindang, and Inopacan.
Designated schedules and pickup locations will follow these schedules:
Students from the towns of Matalom, Bato and Hilongos can go to Hilongos National Vocational School (HNVS) entrance gate for your transport pick up at around 07:30 AM.
Students from Hindang will be picked up by 07:30 AM at the Hindang Public Market.
Students from Inopacan can wait at the Inopacan Public Market for your free transport service at 07:30 AM.
We are reminding our second dose recipients to please bring your Vaccination Card and Student ID. Make sure also to wear your facemask, and bring with you a hand sanitizer or any rubbing alcohol. Please don't forget to secure your Baybay City QR pass to facilitate ease of entry in our borders.
Here is the full list of students that will be given their second dose on November 23, 2021.
Ababat, Jinky
Abayabay, Alliah
Abayabay, Alma Rejen Oh
Abela, Jessa Jules
Abela, Joseph Leeuwen Mar
Abenoja, Marjorie Ann
Abenoja, Mark Joseph
Abenoja, Naomi
Abergido, Maria Georgie
Abreu, Telesforo
Abubo, Jeffry
Ajoc, Mary Jane
Alao, Shiela Mae
Albarico, Judy Pearl
Albesa, Ana Mae
Albesa, Elea Mae
Alidro, Beverlyn Ann
Aligway, Joane Cay
Alinsob, Mary Cris
Alkuino, Cresle
Alkuino, Kristel Marie
Alkuino, Manilyn
Alloso, Jonarose
Alorro, Niño Rufino
Alorro, Rhea Mae
Amarille, Anthony
Amihan, Liezel
Amoto, Noreen Mark
Angcog, Mylin
Aniscal, Mark Ariel
Apepe, May
Araña, Jesson
Arañez, Reca Jean
Arediano, Rina Mae
Arradaza, Kyle Rosario
Asombrado, Janelle
Asombrado, Jett
Aveño, Valerie Rae
Baay, Ronafie
Bacusmo, Bernard
Balbarino, Cristian
Balbuena, Virgilyn
Bande, Belinda
Bande, Rod James
Bandiolan, Jay
Barbosa, Marvin
Barcos, Nielah U.
Barraca, Kirstine Czarina E.
Barte, Christian
Bartolini, Maria Jesusa Romela
Bartolore, Kheng Lee
Bating, Anna Mae
Bautista, Aldrian Joseph
Baylon, Andrew Joseph
Belmoro, Andria
Belonio, Jo Franz Mitchel
Beltran, Jeric Paulo
Bergado, Brooklyn
Bergado, Freeman
Billona, Dorothy Joan
Biong, Mary Joyce
Boholst, Aira
Bornias, Jumar C.
Borrero, Francisco Jr.
Boto, Alquen
Braga, Ma.Maurene
Buenafe, Valerie
Bulfa, Marlito M.
Burlas, Joannah
Cabi-ao, Jasmine
Cadiz, Renzo
Cagadas, Nolly
Caintic, Jessica
Caintic, John Alfred
Caintic, Paula Wayne
Cajes, Daniela
Calibud, Cris Lhord
Calizar, Al James
Calvo, Kenneth
Camandona, Daine Mae
Camandona, Shella Mae
Cañas, Reyjane Joyce
Cañete, Waren
Cañezo, Xaviery Ric
Carale, Jonel T.
Carillo, Victoria Jane
Casil, Sandy G.
Casilac, Laura
Casimero, Jasmine
Casimero, Jeamie
Casimero, Leyn Jun
Casimero, Maynamie
Casio, Jeur
Castanas, Casery
Castañas, Dorothy Gay
Casundo, Gerald
Casupang, Jawrence Benz
Celebran, Jacinthe
Cerna, Angel Grace
Cillado, Gabriel
Circulado, Almera
Codog, Jeneffer
Correa, Analyn G.
Cosares, Clarence James
Cotoner, Preacher John
Crestines, Lelian Mae
Cruz, Kenny
Cubian, Christine Grace
Dagoro, Joseph Virgil
Daing, Angelito
Dalugdug, Daylyn
Dapiton, Bea Nicole
Dayola, Honey Jane
Dayondon, Michelle Jane
Dela Cerna, Lyle Tristan
Dela Cruz, Missy
Dela Peña, Grace
Deluvio, Gary C.
Deluvio,Genalyn
Densing, Erika Ann
Dianon, Jamaica
Digman, Diane
Domen, Charlene
Donayre, Larabel
Dumpa, Raisahlam
Dupal, Claudine
Duro, Trisha
Escoro, Rodrigo
Escuadra, Antonie
Esplanada, Christie Rose
Etis, Victor A.
Febria, Rhianon Zara
Fernandez, Manuel
Fernandico, John Lloyd
Flandez, Angelou
Flandez, Karl Ial
Flores, Karl Edward
Fronteras, Maria Nikka
Frutas, Loeanne France
Frutas, Leo Andreo
Gabor, Michael Rhodmund
Galano, Franz Heart
Galenzoga, Gleeabel Jewel
Galvez, Zaiberth
Garcia, Ethaniel
Garciano, Jhelian
Garin, Marianne
Gentallan, Janwel Robyn
Gerobise, Myla Mae
Gianan, Neil Nicholas
Gloria, Arjie S.
Gloria, Kristine Mae
Gloria, Patricia Mae
Godines, Kaye
Gonzaga John Andrei
Gonzales, Christopher
Gonzales, Tee Jay
Gozo, Cristine Mae
Guardados, Emmanuel
Guarte, Angelica
Guevarra, Marcelo
Guinipaan, Reo Fritz
Gumapac, Shella Mae
Hallera, Angelica
Herbolingo, Franz Gabriel
Hoyumpa, Gercel Niño
Hubilla, Mary Angel
Impal, Christopher
Inot, Catherine Jill
Israel, Anthony Cris
Israel, Jude
Israel, Marcial
Jaca, Jayca Lyn P.
Jasmin, Jomar
Javier, Maria Jay-ann
Kali, Suraya
Labador, Remart
Ladic, Nerizza
Lago, Nikon
Lapesiros, Jerry Jane
Lapiz, Jenelyn
Lastimado, Sheena Marie
Latras, Santos Jr.
Lawag, Sheila
Laxamana, Daisy
Lazona, Florefiel
Lipon, Janessa
Llano, Jovani
Loberanes, Lyra Zyra
Locaylocay, John Cleo
Lopez, Sebastian
Lora, Earl Joseph
Loriaga, Miguel Angelo
Lubay, Alvin Kim
Lubay, Jennifer
Mabeza, Gerald Aiken
Magluyan, Mary Grace
Magno, Alexander
Maligro, Je-ane
Managbanag, Naome
Manatad, Renadette
Mangahoc, Lowell King
Mangubat, Patrick Kyle
Manuel, Ronalyn
Maragana, Teodorico
Martinez, Marinel
Martinez, Mark Eleazar
Matiom, Jomar
Mati-um, Antonio
Matium, Ronald
Maureal, Hiasmien
Mayaman, Charles Vincent
Mazo, Ivan Andrew M.
Mejia, Vincent
Melendres, Joyce
Mena, Cshan Mykee
Mendoza, Julio Cesar
Menorias, Mark Angelo
Merto, Crisha Kaye
Miclat, Mark Laurence
Modina, April
Modina, Justin Kays
Morales, Joel A.
Moreno, Jan Luziel
Murella, Christopher Lemuel
Napiere, Rico Jomer
Navarroza, Lance Y.
Naya, Roy
Nopal, Fatima
Nopal, Katherine Joyce
Noronio, Gio
Notarte, Hannah Jean
Nudalo, Ray M.
Nuñez, Ella Marie
Nuñez, Jaym Valiant
Nuñez, Molley Venice
Ocares, Riza Mae
Ocoy, Jessa
Oliva, Cristy M.
Omega, Evan Gelie
Omila, Christopher
Oquias, Mae Verlyn
Oquias, Mie Angelie
Oquias, Warren
Oquias, Wendy
Ordiz, John Mitchell
Orellano, Mary Virgilin
Orge, Justine P.
Osmeña, Serge Anthony
Pacate, Aira Kate
Pacate, Lovely Joy
Pagalan, Jan Andre
Palermo, Rhuie Alpha
Palero, Stanley Franz
Pangan, Deborah
Pantoja, Kenneth Kim
Parado, Niño Carl
Pasayloon, Mhea
Pastoril, Fretzie Mae
Pastoril, Zoe Mae
Pelicano, Christy Marie
Pepito, Darly Mae
Pepito, Rechel
Perero, Ronnalyn
Pernites, Mark Joseph
Piloton, Janine Kale
Piscos, Kenneth
Poliquit, Aga
Poliquit, Alexis
Poliquit, Arne JR.
Pona, Debien D.
Pono, Elisa
Pono, Roland
Posas, John Lester
Posas, John Rey
Prieto, Aileen
Puzon, Merycris
Quimco, Jay
Quirol, Ken Alphonse Brian
Ramirez, Leander
Rebollos, Rose Angel
Repizo, Rhocel
Reyes, Jerome
Ricalde, Elea Joy
Roa, Kyle
Roca, Richie
Rodriguez, Jordan
Romero, Junna
Roque, Fernando
Rosales, Cris Mark
Roxas, Mezillah
Rubio, Rhea Mae B.
Saavedra, Aira Marie
Sacmar, Monica
Salabao, Sweet Millane
Salapi, Rica Marie
Saleres, Jelliebeth
Salubre, Lilia Joy
Salubre, Ranil L.
Salubre, Ruel
Saludaga, Alejandro
Sanchez, Karylle
Sanchez, Kayla Korina
Sanchez, Lyra Jooly
Sanchez, Sharmin
Santiago, Reggevien L.
Sarsonas, Queen Cristine
Seriño, Sherilyn
Serohijos, Yvonne
Solano, Romel
Son, Miraflor
Soria, Franz Aldrin
Sudaria, ED
Tabudlong, Janine Kaye
Tabudlong, Vin Diezelle
Tambis, Maricar
Tan, Lyda Marie
Toledo, Edgar Jr.
Torno, Archie
Toyong, Donalyn
Truya, Edcel
Truya, Kyla Catherine
Tudio, Sheena Mae
Tugonon, Jessie Jr.
Tumaob, Max Jr.
Tumulak, Jerome
Tuyan, Wella
Tuyan, Wenalyn
Urgel, Eliseo
Valenzona, Lialenue
Valle, Doren
Vega, Daniela
Veloso, Jhun Carlo
Veloso,Kenneth March
Verano, Warlito
Villacarta, Mon Bryan
Villacorta, Amy
Villaluz, Shellamie
Vitualla, Danilo Jr.
Vitualla, Jean Ann
Ycong, Danielle
Yu, Joyce Marie
Zabala, John Eric