President's Notes: Daghan kaayong salamat, Senator Pia S. Cayetano
Details

Written by Edgardo E. Tulin

Published: 12 December 2022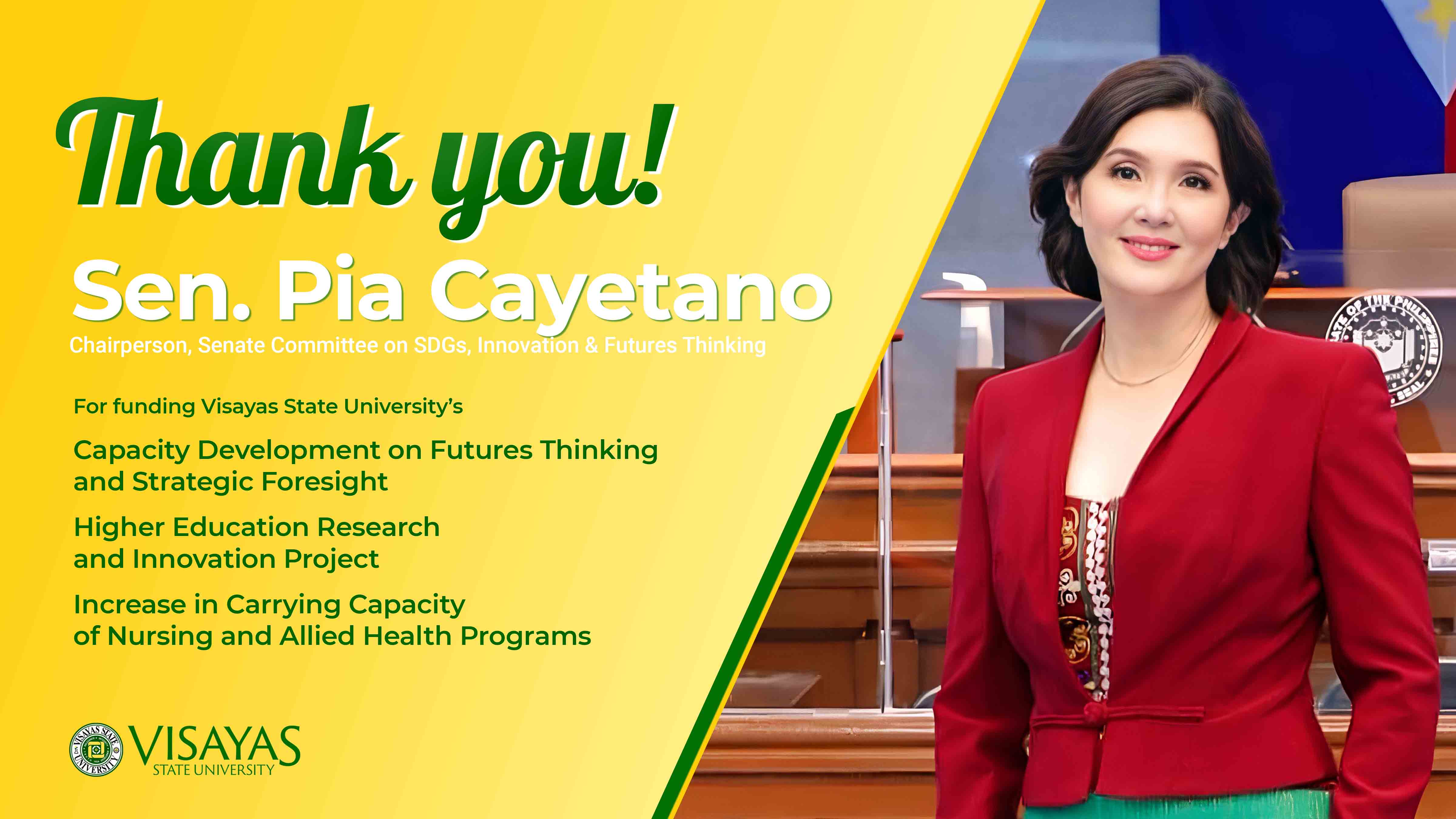 The Visayas State University community continues to be grateful to Senator Pilar Juliana (Pia) S. Cayetano for always supporting our university in our collective pursuit of internationalization and research excellence.
Our good Senator helped us Viscans to fund three important projects for this year that include continued capacity development for Future's Thinking and Strategic Foresight, higher education research and innovation project, and increasing our carrying capacity to accept more students for our very own nursing program including allied health disciplines.
The first project banks on our capacity to develop strategic action plans that will make us realize and implement our future aspirations for VSU to be a national green university that will also mainstream sweet potato and jackfruit as a national commodity that will hopefully result in better economic conditions here in our home region of Eastern Visayas.
The second project is about solidifying VSU's stature as one of the few research universities in the country by engaging in high-impact research projects that include but are not limited to biotechnology, material science, and even nanotechnology. This funding support will surely be vital in the operations of our newly established Advanced Research and Innovation Center (ARIC), which is touted to become the regional research and development hub of our region.
The third project is very important in preparing our region to prepare for health-related problems like the next pandemic. With VSU's College of Nursing becoming the best nursing school in Eastern Visayas because of its consistent 100% passing percentage for the last 7 years, increasing the carrying capacity of this program will surely help in augmenting the number of professional nurses not just in the region but also in the entire country who serves as one of our main frontliners during medical emergencies and other crises.
Aside from nursing, this same project is vital for our other allied health programs like biotechnology, biology, and chemistry, among others which are pre-medical courses that can allow our students to pursue medicine after completing their undergraduate degrees.
The establishment of the VSU College of Medicine is also now on its way and has been subjected to a third reading at the Philippine Congress, thanks to the combined efforts of Leyte 5th District Representative Carl Nicholas C. Cari and Baybay City Mayor Jose Carlos L. Cari. The funds provided by the Office of Senator Pia S. Cayetano will surely be of great help in making VSU the first state university in Eastern Visayas to offer a medical degree very shortly.
Because of all these, we at VSU will always be grateful to the good Senator for always supporting the many projects and programs of our university. We are also excited to work with her on many other community development projects and science-related programs that will help boost the economy of Region 8.
Mabuhay po kayo, Senator Pia S. Cayetano ug daghang salamat sa imong wala'y pu-as nga pagtabang kanamo dinhi sa VSU!