DAR, VSU sign P2.6-M agreement for agri-extension project
Details

Written by Jose Alsmith L. Soria/DAR-8

Published: 03 October 2013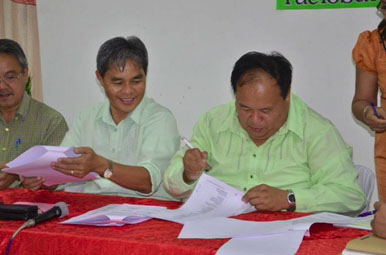 The Department of Agrarian Reform in Eastern Visayas (DAR-8) and the Visayas State University (VSU) formally sealed on September 17, 2013 an agreement to work together in transforming selected agrarian reform beneficiary organizations (ARBOs) in the region into viable agri-entrepreneurs by signing the PhP2.6-million contract.
For the next 12 months, VSU will provide some 22 ARBOs in the provinces of Leyte, Biliran, and Southern Leyte engaged in "Rice Productivity Enhancement" as well as "Cassava and Sweet Potato Production" the market-oriented agri-technology and agri-extension services so that agrarian reform beneficiaries (ARBs) can maximize the productivity of their awarded lots and engage in agri-related enterprises.
Areas covered by this collaboration are in Naval, Biliran; Dulag, McArthur, Mayorga, Julita, and La Paz towns in Leyte province; and Silago in Southern Leyte for "Rice Productivity Enhancement"; while Inopacan, Hilongos and Matalom towns, all in the province of Leyte, are into "Cassava and Sweet Potato Production."
Regional Director Eliasem Castillo, who signed the contract for DAR, disclosed that the agency is tapping professional service providers (PSPs) from state universities and colleges (SUCs), civil society organizations, and private institutions to enhance the capacity of ARBOs on agri-extension and agri-enterprise development under the Agrarian Reform Communities Connectivity and Economic Support Services (ARCCESS).
According to Castillo, VSU is the second PSP his office has engaged with this year in the implementation of the ARCCESS project in the region.
ARCCESS was introduced by Agrarian Reform Secretary Virgilio De los Reyes to effectively implement the Program Beneficiaries Development component of the Comprehensive Agrarian Reform Program (CARP) by transforming ARBOs into viable agri-entrepreneurs thru the provision of the right support services.
In May, Castillo added, DAR entered into an agreement for the same purpose with the East-West Seed Company, Inc. for areas engaged in vegetable production.
President Jose L. Bacusmo, who signed on behalf of VSU, thanked DAR for entrusting the project to VSU and committed to deliver more than what is stated in the contract.
He added that they are happy to work on this project because rice production is the main concern of the farmers, and the farmers are the main concern of the institution.
Some 6,772 farmers, both ARBs and non-ARBs who are members of the 22 ARB organizations, will be benefitted by this partnership.
Early this year, these organizations were provided with the necessary farm equipment based on the recommendations of the SUCs commissioned by DAR to conduct the needs assessment and design assessment.
Among the common service facilities provided to them were: threshers, hand tractors with implements, mechanical transplanters with seeder conveyor, combined harvesters, and flatbed dryers.
Castillo is optimistic that this collaboration would greatly contribute to the National Year of Rice Program of the Department of Agriculture and help attain rice sufficiency at least in the region.