VSU celebrates the advent season with thanksgiving mass and candle lighting ceremony
Details

Written by JFMBaldos

Published: 14 January 2014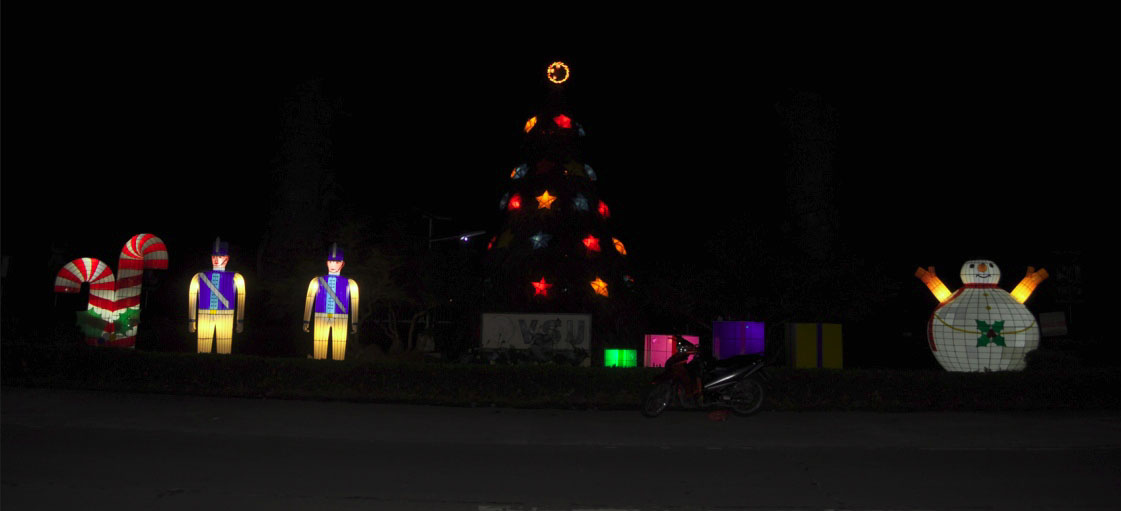 The destruction caused by Super Typhoon Yolanda did not hinder VSU community to celebrate annually the advent season. Though the celebration this year was quite different from the previous years wherein there were fireworks displays, the occasion salvoed with a thanksgiving mass officiated by Rev. Fr. Brian C. Flandez, Co-Pastor of the Holy Spirit Parish, and a candle lighting ceremony on December 17, 2013.
Rev. Fr. Flandez also offered a short prayer for the souls of the departed VSU student, employees, and children of alumni who are victims of the typhoon: Miss Jeanette Capisnon, freshman BS in Agricultural Engineering; Ms. Cassandra Richeld Ausa, part-time instructor of VSU-Tolosa; Ms. Rosita Royo, retired instructor of VSU-Villaba; son and daughters of Pingol and Quieta family (Ms. Mega Quieta, Ms. Avril Quieta, Mr. Luis Ronvic Quieta, and Ms. Cedes Quieta); and the daughter of Mr. and Mrs. Eduard/Luchie Zabala—Grace Ann Zabala, and all the victims of the said calamity.
Fr. Flandez also blessed the colorful Christmas symbols that adorned the main entrance of the lower and upper campuses as the main switch was turned on for the spectators to appreciate and experience that Christmas is still in the minds and hearts of the Viscans.
The celebration was spiced up with some Christmas songs rendered by the VSU Choral Ensemble under the baton of Maestro Jesus Freddy M. Baldos, Administrative Officer V of VSU's Information Office, which include Carol of the Bells, Kumukutikutitap, Kasadya, and the 12 Songs of Christmas (Medley), with the finale song "Lollipop"; and a pop dance by the U Mobs, a group of male student-dancers.
One of the highlights of the celebration was the Christmas message of the VSU President, Dr. Jose L. Bacusmo. (Please see the full manuscript of his message.)
The occasion was clinched with a get-together and snacks among VSU students, faculty and staff, and other spectators.