VSU choir and 5 IRRI-Landbank scholars entertain "Yolanda" victims in Tacloban
Details

Written by JFMBaldos

Published: 06 March 2014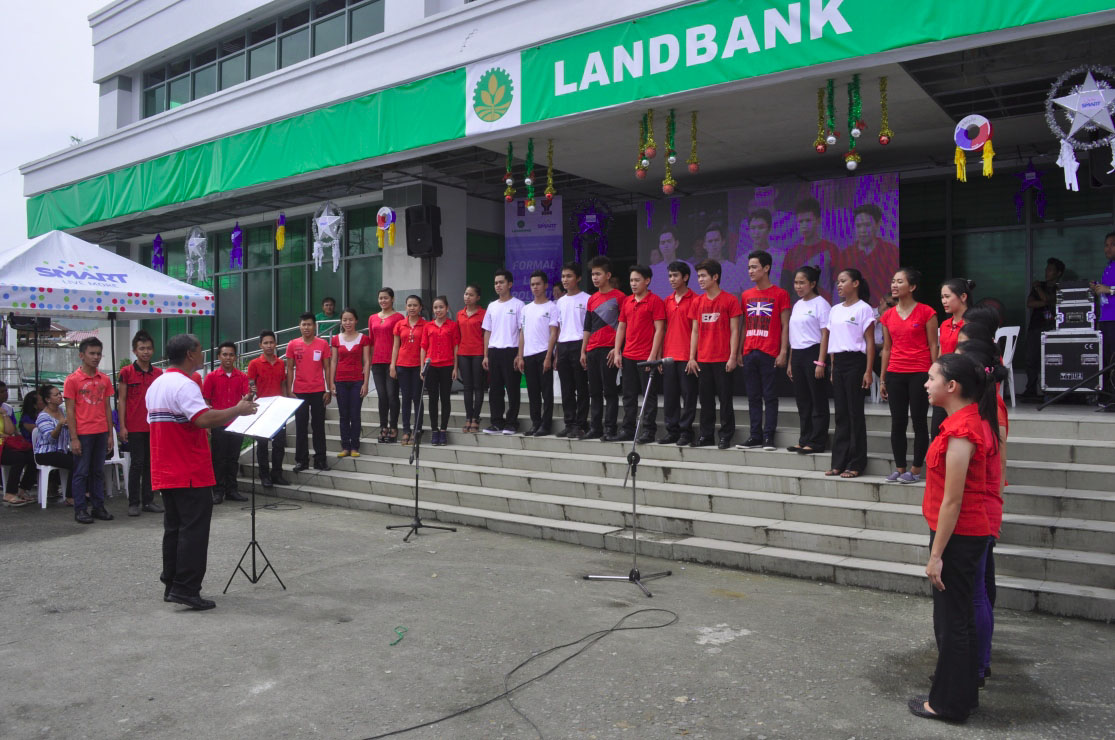 The VSU Choral Ensemble members, together with the five IRRI-Landbank scholars at VSU, under the baton of Mr. Jesus Freddy M. Baldos, entertained the super typhoon 'Yolanda" victims as they sang Christmas songs during the launching of the Mobile Cash Transfer System on December 23, 2013 at the Land Bank of the Philippines (LBP)–Tacloban.
The group was invited by the LBP President and CEO Gilda Pico who directly contacted Prof. Manolo B. Loreto Jr., Dean of Students, to let the VSU Choral Ensemble sing during the said occasion. The choral repertoire consisted of four songs entitled "Kumukutikutitap", "Kasadya", "Carol of the Bells", and the "Twelve Songs of Christmas Medley" that really entertained the audience and allowed them to feel that Christmas is on the air despite the calamity that stroke the area.
The launching ceremony enabled the initial beneficiaries who are employed in emergency clean-up schemes in typhoon-ravaged areas to receive a new Samsung mobile phone, a SIM with initial PhP30 airtime load, and a Landbank ATM cash card.
The mobile cash transfer system is a cash transfer system through cell phones that will make cash-for-work payments safer and faster in which the eligible participants included those enrolled in the cash-for-work program of the Department of Social Welfare and Development, civil society, and UN agencies in areas affected by Typhoon Yolanda.
The pilot mobile phone payment was made possible through a partnership between the United Nations Development Program (UNDP), LBP, and telecommunications firm Smart Communications.
Present during the launching program were Tacloban City Mayor Alfred Romualdez, LBP President and CEO Gilda Pico, Smart Communications and Philippine Long Distance Telephone Company Chairman Manuel Pangilinan, UNDP representative, and DSWD representative.
Aside from Prof. Manolo B. Loreto who joined the group, Ms. Chona A. Brit, Scholarship Coordinator and Guidance Counselor, was also present.