The leaders molded at VSU
Details

Written by ELTBestil

Published: 26 May 2016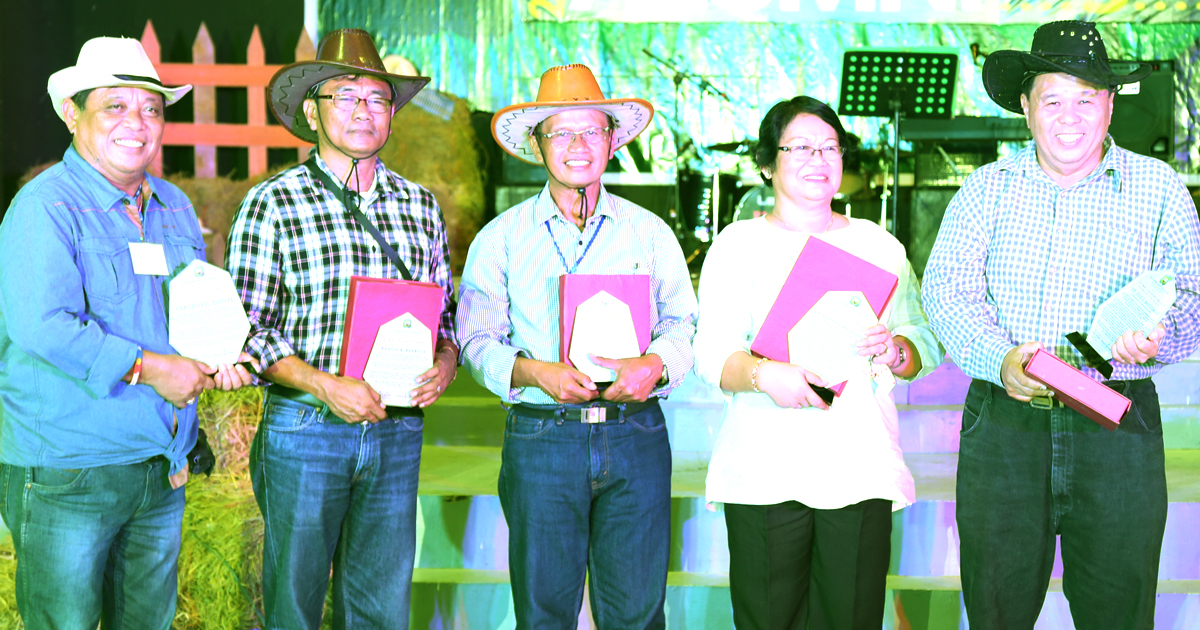 The VSU Alumni Association Inc. (VSUAAI) recognized six outstanding alumni of the university who have an exemplary track record in leading various institutions.
Alleviating poverty nationally, internationally
Dr. Dindo Campilan, a graduate of then Visayas State College of Agriculture, had led several international organizations before he became the current Regional Director for Asia of the Centro Internacional de Agricultura Tropical (CIAT), a Colombia-based non-profit research and development organization dedicated to reducing poverty while protecting natural resources. Dr. Campilan leads its regional research portfolio covering cassava value-chains, forage-livestock systems, and agriculture systems and landscapes.
At the International Potato Center, Dr. Campilan served as regional leader for South-West-Central Asia, regional science leader for sweetpotato in Asia, and regional partnership program leader for Users' Perspectives with Agricultural Research and Development (UPWARD). Not only that, he was a senior visiting fellow in advanced research management at the Australian Centre for International Agricultural Research (ACIAR), and affiliate scientist with the International Rice Research Institute (IRRI) and International Crops Research Institute for the Semi-Arid Tropics (ICRISAT).
An Agronomy major who graduated in 1977 has provided job opportunities to a hundred people as Chief Executive Officer of the Green Horizon Agri-Product (GHAP). Claudio Donal has also organized the Manuel Guianga Multipurpose Cooperative, a CDA-registered group of banana growers in Brgy. Manuel Guianga, Tugbok District in Davao City.
As Green Horizon's CEO, Donal has provided housing for his employees as well as scholarships and educational plans for their children.
Leading government agencies
Dr. Isabelo Montejo was also recognized for his exemplary achievements as Regional Director of the Department of Environment and Natural Resources (DENR) in Region VII. Under his administration, the region became the nationwide lead in the implementation of the National Greening Program and the Community-Based Forest and Mangrove Project. Under his leadership, the Buhisan Watershed in Cebu was restored and is now protected.
Montejo is also the head of the International Model Forest Network in Asia. As proprietor of the Four J & I Agribusiness company, he has provided employment to 37 individuals in poultry and organic farming enterprises in Argao, Cebu.
The current Regional Manager of the Philippine Coconut Authority in Caraga region is also a VSU alumnus. Engr. Ramon Barbosa has ushered the region to become the leader in coir fiber industry in the country. Coir fiber is the thickest of all commercial natural fibers which is highly useful in making durable geo-textiles.
He was recognized by the Department of Agriculture in 2013 for his efforts in promoting, improving, and sustaining the coir fiber processing in the country, especially through his design of a mobile decorticating machine. A coconut farm owner, Engr. Barbosa has also helped provide income to farming households from his coconut-falcata plantation.
Improving the academic landscape
Dr. Editha Magallanes had served as Vice President for Administration and Finance, Vice President for Academic Affairs, and Director of the Farmers Training Center before she became the President of Capiz State University from 2008 to date.
Dr. Magallanes is actively involved in forging linkages with international institutions, research in many high-value commodities, and extension projects. Owing to her commendable accomplishments, Dr. Magallanes was given the Dangal ng Bayan Award from the Civil Service Commission in 2012, the Asian Education Leadership Award during the World Education Congress in Singapore, and the Best Researcher Award, among other recognitions in the same year.
In the same streak of honor, former VSU President Dr. Jose Bacusmo was commended for his accomplishments in research and administration. Under his leadership, VSU was regarded as a "big brother", a model for other academic institutions in terms of running an agriculture, forestry, and natural resources consortium. Not only that, VSU became the only member of the Department of Science and Technology-Science Consortium in the Visayas, and the only pioneering institution with an Agri-Technology Business Incubator in Region VIII.
It is no wonder how he got the Pantas Outstanding Research Administrator Award, a prestigious award from the Philippine Council for Agriculture, Aquatic, and Natural Resources Research and Development (PCAARRD).
For the first time, the VSUAAI recognized outstanding VSU alumni during the 2016 Grand Alumni Homecoming.