Onboarding Schedules and Program of Main Campus Colleges • 1st Semester SY 2020-2021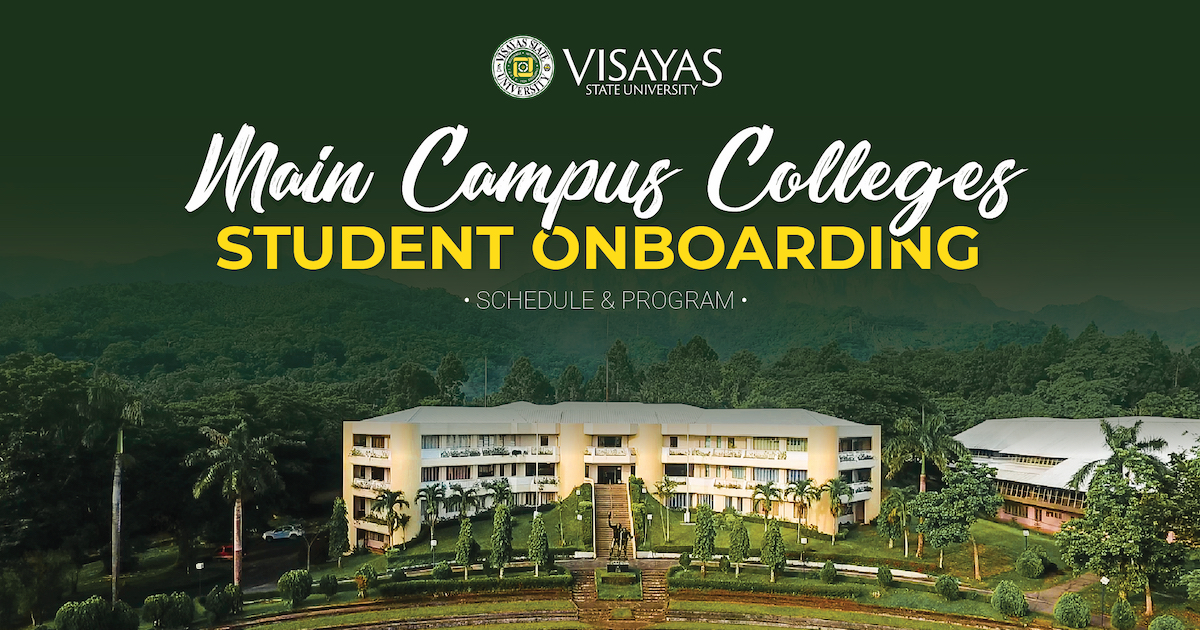 Hello, Viscans in the Main Campus!
We are just done with the University Student Onboarding Training and the Orientations for our Component Colleges!
Next week, we will have your college onboarding so please take note of the following schedules so that you'll be guided on the time of broadcast for your respective colleges. All these broadcasts will be available on our official Facebook page.
Week overview
Program of Activities
The program for every college onboarding training is found below. Please feel free to read them ahead to guide you on what to expect next week.
Day 1 • August 24, Monday
College of Agriculture and Food Sciences
Time
Topic/Activity
Presenter/In-Charge
09:00 AM
Introductory videos (VSU ads, national anthem and house rules)
c/o University Integrated Media Center
09:10 AM
Message from the College Dean and Introduction to CAFS
Dr. VICTOR B. ASIO
Dean, CAFS
09:30 AM
Department of Agronomy (DA)
Dr. ULYSSES A. CAGASAN
Head, DA
09:45 AM
Department of Agricultural Education and Extension (DAEEx)
Dr. HENRY Y. GOLTIANO
Head, DAEEx
10:00 AM
Department of Animal Science (DAS)
Dr. JULIUS V. ABELA
Head, DAS
10:15 AM
Department of Horticulture (DoH)
Dr. ROSARIO A. SALAS
Head, DoH
10:30 AM
Department of Pest Management (DPM)
Prof. JESUSITO L. LIM
Head, DPM
10:45 AM
Department of Plant Breeding and Genetics (DPBG)
Mr. ROMMEL M. GARRIDO, JR.
Head, DPBG
11:00 AM
Department of Soil Science (DSS)
Dr. SUZETTE B. LINA
Head, DSS
11:15 AM
Department of Food Science and Technology (DFST)
Dr. LORINA A. GALVEZ
Head, DFST
11:30 AM
Department of Development Communication (DDC)
Dr. CHRISTINA A. GABRILLO
Head, DDC
11:45 AM
Menti Interactive Game
Dr. VICTOR B. ASIO
Dean, CAFS
11:55 AM
Open Forum
Ms. MAE CLAUDINE M. GICA
Moderator
12:25 NN
VSU Hymn
c/o University Integrated Media Center
College of Nursing
Time
Topic/Activity
Presenter/In-Charge
02:00 PM
Introductory videos (VSU ads, national anthem, and house rules)
c/o University Integrated Media Center
02:10 PM
Introduction to the College Administration
Dr. JOEL REY U. ACOB
Dean, CoN
02:20 PM
Brief College History and Vision, Mission, Goals and Objectives (VMGO)
02:30 PM
Job Opportunities
02:40 PM
Departmental Policies on Academics, RLE and Grading System
03:40 PM
Menti Interactive Game
03:50 PM
Open Forum
Ms. MAE CLAUDINE M. GICA
Moderator
04:20 PM
VSU Hymn
c/o University Integrated Media Center
Day 2 • August 25, Tuesday
College of Engineering and Technology
Time
Topic/Activity
Presenter/In-Charge
09:00 AM
Introductory videos (VSU ads, national anthem, and house rules)
c/o University Integrated Media Center
09:10 AM
Message from the College Dean and Introduction to CET
Dr. ROBERTO C. GUARTE
Dean, CET
09:30 AM
Department of Agricultural and Biosystems Engineering (DABE)
Engr. ELDON P. DE PADUA
Head, DABE
09:50 AM
Department of Civil Engineering (DCE)
Prof. EPIFANIA G. LORETO
Head, DCE
10:10 AM
Department of Geodetic Engineering (DGE)
Engr. JUZTINE JANE L. REBUYAS
Head, DGE
10:30 AM
Department of Mechanical Engineering (DME)
Engr. JUNDY R. CASTIL
Head, DME
10:50 AM
Department of Computer Science and Technology (DCST)
Prof. WINSTON M. TABADA
Head, DCST
11:10 AM
Department of Meteorology (DMet)
Engr. DANIEL C. LOR
Head, DMet
11:30 AM
Menti Interactive Game
Dr. ROBERTO C. GUARTE
Dean, CET
11:40 AM
Open Forum
Ms. MAE CLAUDINE M. GICA
Moderator
12:10 NN
VSU Hymn
c/o University Integrated Media Center
College of Veterinary Medicine
Time
Topic/Activity
Presenter/In-Charge
02:00 PM
Introductory videos (VSU ads, national anthem, and house rules)
c/o University Integrated Media Center
02:10 PM
Message from the College Dean and Introduction to CVM
Dr. SANTIAGO T. PEÑA, JR.
Dean, CVM
02:30 PM
The CVM Departments (Basic, Clinical and Paraclinical)
02:40 PM
The CVM Degree and Academic Curriculum
03:00 PM
Job Opportunities and Successful Graduates
03:10 PM
College and Departmental Policies of CVM
03:30 PM
Menti Interactive Game
03:40 PM
Open Forum
Ms. MAE CLAUDINE M. GICA
Moderator
04:10 PM
VSU Hymn
c/o University Integrated Media Center
Day 3 • August 26, Wednesday
College of Education
Time
Topic/Activity
Presenter/In-Charge
09:00 AM
Introductory videos (VSU ads, national anthem, and house rules)
c/o University Integrated Media Center
09:10 AM
Message from the College Dean and Introduction to CoEd
Dr. BAYRON S. BARREDO
Dean, CoEd
09:35 AM
Bachelor in Early Childhood Education (BECEd) Degree Program
Dr. ROSARIO P. ABELA
Associate Professor, DTE
09:55 AM
Bachelor in Elementary Education (BEEd) Degree Program
Ms. LOUISA MARIE ANDRADE
Instructor, DTE
10:15 AM
Bachelor in Secondary Education (BSEd) Degree Program
Dr. JOEL MABALHIN
Head, DTE
10:45 AM
Bachelor in Physical Education (BPEd) Degree Program
Mr. DENNIS CERNA
Instructor, IHK
11:05 AM
Bachelor in Culture and Arts Education (BCAEd) Degree Program
Dr. CHARIS LIMBO
Director, IHK
11:25 AM
Menti Interactive Game
Dr. BAYRON S. BARREDO
Dean, CoEd
11:35 AM
Open Forum
Ms. MAE CLAUDINE M. GICA
Moderator
12:10 NN
VSU Hymn
c/o University Integrated Media Center
VSU Integrated High School
Time
Topic/Activity
Presenter/In-Charge
02:00 PM
Introductory videos (VSU ads, national anthem, and house rules)
c/o University Integrated Media Center
02:10 PM
Welcome Message
Dr. BAYRON S. BARREDO
Dean, CoEd
02:20 PM
Introduction to VSUIHS and the Faculty and Staff
Dr. SHALOM GRACE C. SUGANO
Principal, VSUIHS
02:40 PM
The VSUIHS Learning Continuity Plan
03:00 PM
Guidelines in Implementation of Distance Learning
Dr. CHRISTY M. DESADES
Instructor, VSUIHS
03:20 PM
Student Assessment and Monitoring, and Online Class Policies
Ms. SHEERWINA MAE BALOTITE
Instructor, VSUIHS
03:40 PM
Psychosocial Support Services
Dr. CHRISTY M. DESADES
Instructor, VSUIHS
04:00 PM
Anti-Sexual Harassment Program of VSU
Dr. MARIA AURORA TERESITA W. TABADA
Head, VSU Gender Resource Center
04:30 PM
Open Forum
Ms. MAE CLAUDINE M. GICA
Moderator
04:50 PM
VSU Hymn
c/o University Integrated Media Center
Day 4 • August 27, Thursday
College of Forestry and Environmental Sciences
Time
Topic/Activity
Presenter/In-Charge
09:00 AM
Introductory videos (VSU ads, national anthem, and house rules)
c/o University Integrated Media Center
09:10 AM
Message from the College Dean and Introduction to CFES
Dr. DENNIS P. PEQUE
Dean, CFES Dan
09:40 AM
Department of Forest Science (DFS)
Dr. ANGELICA P. BALDOS
Assistant Professor, DFS
10:10 AM
Institute of Tropical Ecology and Environmental Management (ITEEM)
Dr. MARLITO JOSE M. BANDE
Director, ITEEM
10:40 AM
Menti Interactive Game
Dr. DENNIS P. PEQUE
Dean, CFES
10:50 AM
Open Forum
Ms. MAE CLAUDINE M. GICA
Moderator
11:20 NN
VSU Hymn
c/o University Integrated Media Center
College of Arts and Sciences
Time
Topic/Activity
Presenter/In-Charge
02:00 PM
Introductory videos (VSU ads, national anthem, and house rules)
c/o University Integrated Media Center
02:10 PM
Message from the College Dean and Introduction to CAS
Dr. CANDELARIO L. CALIBO
Dean, CAS
02:30 PM
Department of Biotechnology (DBiotech)
Dr. MA. THERESA P. LORETO
Head, DBiotech
02:50 PM
Department of Biological Sciences (DBS)
Dr. ANALYN M. MAZO
Head, DBS
03:10 PM
Department of Liberal Arts and Behavioral Sciences (DLABS)
Dr. JETT C. QUEBEC
Head, DLABS
03:30 PM
Department of Mathematics and Physics (DMP)
Dr. EUSEBIO M. LINA
Head, DMP
03:50 PM
Department of Pure and Applied Chemistry (DoPAC)
Prof. JACOB GLENN F. JANSALIN
Head, DoPAC
04:10 PM
Department of Statistics (DStat)
Mr. VIRGELIO M. ALAO
Head, DStat
04:30 PM
Menti Interactive Game
Dr. CANDELARIO L. CALIBO
Dean, CAS
04:40 PM
Open Forum
Ms. MAE CLAUDINE M. GICA
Moderator
05:00 PM
VSU Hymn
c/o University Integrated Media Center
Day 5 • August 28, Friday
College of Management and Economics
Time
Topic/Activity
Presenter/In-Charge
09:00 AM
Introductory videos (VSU ads, national anthem, and house rules)
c/o University Integrated Media Center
09:10 AM
Message from the College Dean and Introduction to CME
Dr. MOISES NEIL V. SERIÑO
Dean, CME
09:35 AM
Department of Business Management (DBM)
Dr. NILDA T. AMESTOSO
Head, DBM
09:55 AM
Department of Economics (DoE)
Dr. SALOME B. BULAYOG
Head, DoE
10:15 AM
Department of Tourism and Hospitality Management (DTHM)
Prof. VENICE B. IBAÑEZ
Head, DTHM
10:55 AM
Institute of Strategic Research and Development Studies (ISRDS)
Dr. LILIAN B. NUÑEZ
Director, ISRDS
11:15 AM
Menti Interactive Game
Dr. MOISES NEIL V. SERIÑO
Dean, CME
11:25 AM
Open Forum
Ms. MAE CLAUDINE M. GICA
Moderator
11:55 AM
VSU Hymn
c/o University Integrated Media Center
VSU Graduate School
Time
Topic/Activity
Presenter/In-Charge
02:00 PM
Introductory videos (VSU ads, national anthem, and house rules)
c/o University Integrated Media Center
02:10 PM
Message from the GS Dean
Dr. ANABELLA B. TULIN
Dean, GS
02:20 PM
Graduate School Degree Offerings and Staff
Graduate School Facilities
Employment Opportunities Offered to Graduate Students
Future Directions of the VSU Graduate School
03:20 PM
The VSU Graduate Faculty
Dr. CATHERINE C. ARRADAZA
Secretary, GS
03:50 PM
Graduate Student Extracurricular Activities
Ms. WENIFREDA T. OCLINARIA
Staff, GS
03:50 PM
Menti Interactive Game
Ms. RHEA JENNY OGALESCO
Staff, GS
04:00 PM
Open Forum
Ms. MAE CLAUDINE M. GICA
Moderator
04:30 PM
VSU Hymn
c/o University Integrated Media Center