VSU to host virtual civil service month celebration
Details

Written by Allen Glen Gil

Published: 02 September 2020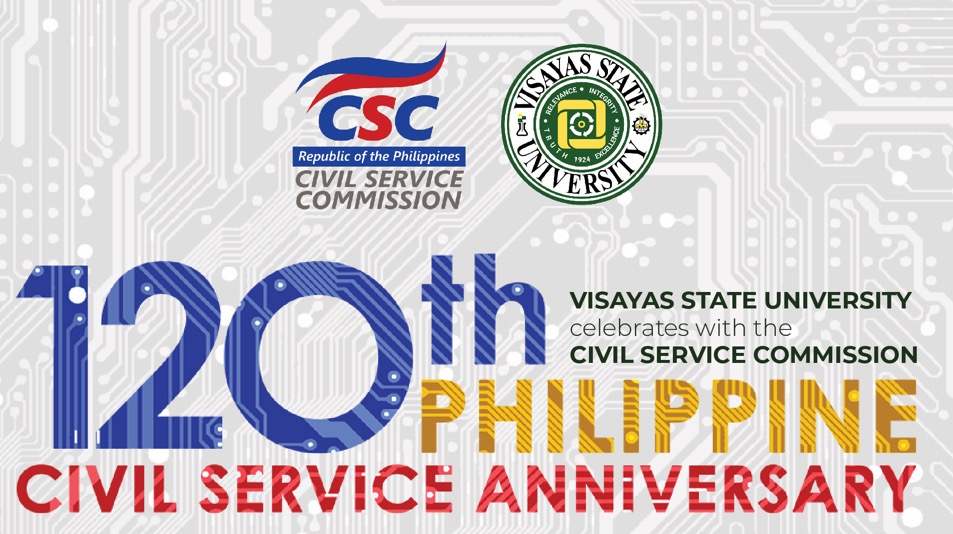 Visayas State University (VSU) will join the entire country in celebrating the 120th Philippine Civil Service Anniversary (PCSA) with the theme "Public Sector Age of Digital Transformation" all throughout the month of September.
The Linggo ng Lingkod Bayani Campaign kicks off the month-long event which involves the publication of promotional materials in support of the works and achievements of the Civil Service Commission (CSC).
To adapt to the new normal, VSU will be conducting the 120th CSC Anniversary Virtual Opening Program on September 7, which will include an inspirational message given by the CSC Chairperson, Alicia Dela Rosa-Bala. The said program will highlight the introduction and the oath-taking ceremony of the newly promoted/hired heads, faculty members, and administrative staff of the university.
In the third week of September, VSU will be spearheading a webinar series on health and wellness for the university's faculty and staff. This will be directed by the University Services for Health, Emergency, and Rescue's (USHER) very own Dr. Elwin Jay V. Yu and Dr. Merry Christl Supnet-Guinocor.
The university will also be participating in the CSC Online Job Fair on September 18 which will offer job vacancies for the Civil Service Commission's Manila Office and several open positions in the VSU Main Campus.
Visayas State University will then close the Civil Service Month by conducting the Virtual VSU Family Day and Culmination Program on September 25. The main feature of the Culmination Program will be the recognition of faculty members and administrative staff who achieved the Loyalty Award for their longtime service and unwavering dedication to the university.
The program of events for the Civil Service Month is shown down below:
| | | |
| --- | --- | --- |
| DATE | EVENT | OFFICE IN-CHARGE |
| September 1-6 | Linggo ng Lingkod Bayani | University Integrated Media Center (UIMC) |
| September 7 | 120th CSC Anniversary Virtual Opening Program | Office of Director for Administration, Human Resource, and Development (ODAHRD) |
| September 14-18 | Webinar Series on Health and Wellness | University Services for Health, Emergency, and Rescue (USHER) |
| September 18 | Civil Service Commission (CSC) Online Job Fair | University Integrated Media Center (UIMC) |
| September 25 | Virtual VSU Family Day and Civil Service Month Culmination Program | Office of Director for Administration, Human Resource, and Development (ODAHRD) |