EVSU officials benchmark VSU's HR management program
Details

Written by Jesus Freddy M. Baldos

Published: 05 March 2020
Eastern Visayas State University (EVSU) President Dominador O. Aguirre, Jr. and some of his officials visited the Visayas State University for a benchmarking activity on February 12, 2020.
VSU President Edgardo E. Tulin officially welcomed the team to the university alongside Dr. Remberto A. Patindol, VP for Administration and Finance, and Dr. Lourdes B. Cano, Director for Administration and Human Resource Development.

Dr. Aguirre is optimistic that VSU will be able to help EVSU in developing its own Strategic Performance Management System (SPMS) and be accorded with PRIME-HRM maturity.

"We are here to conduct benchmarking activity hoping that we will learn a lot from this engagement and for VSU to guide us on how we can go about it on getting a passing mark to this PRIME-HRM accreditation," he told.

The EVSU President acknowledged VSU's success in trailblazing HR practices in the region.

"We know for a fact that the PRIME-HRM component is a very important aspect for the transformation of a university and VSU is the champion here in Eastern Visayas," Aguirre said.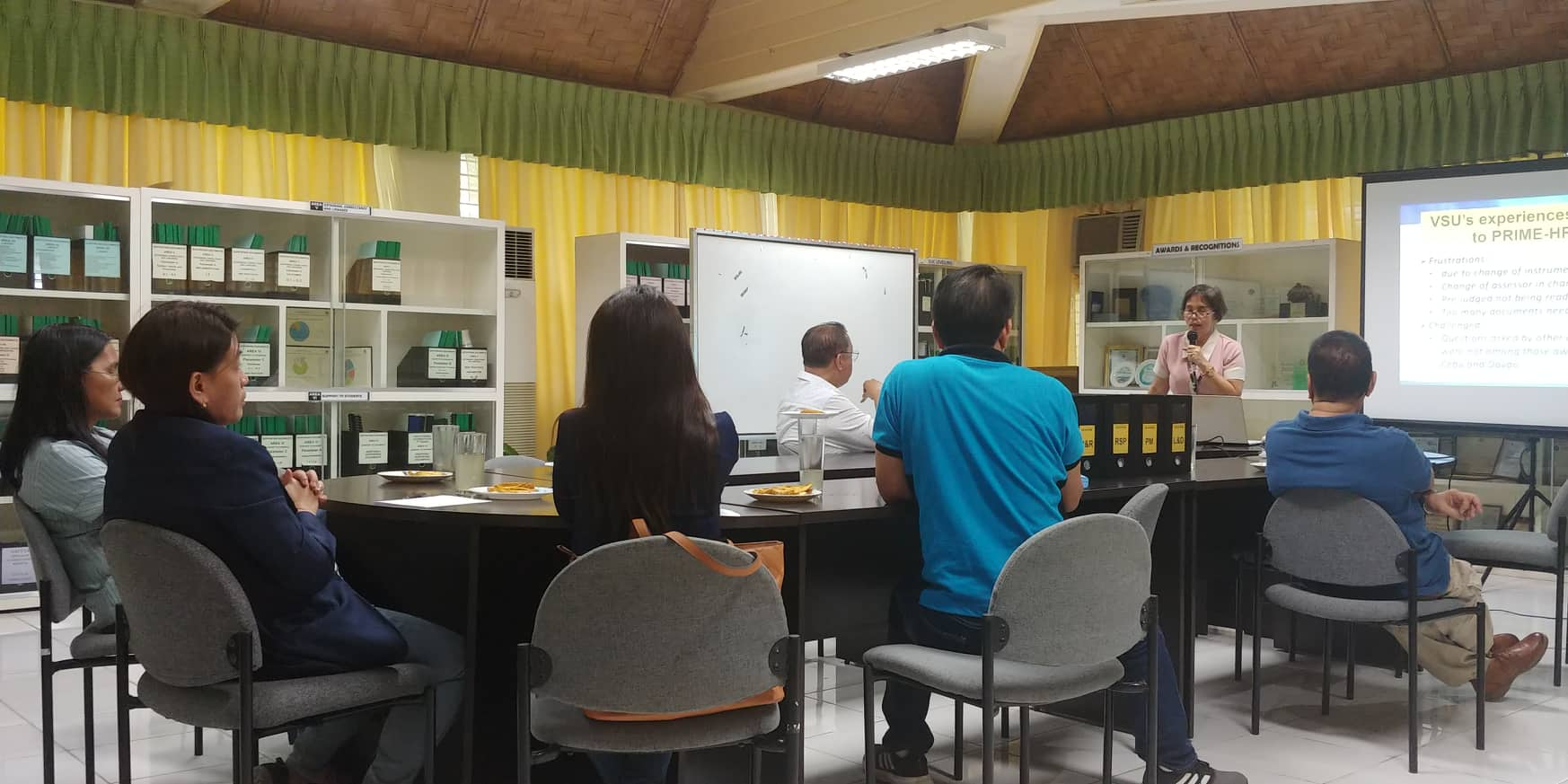 Through Dr. Lourdes B. Cano, VSU imparted some of its best practices and learnings in crafting the SPMS which earned the university the PRIME-HRM Bronze Award by the Civil Service Commission.

"We went through difficulties and hardships along the way… to achieve our goal of having the award under the PRIME-HRM. But our labor was not in vain because of the concerted efforts of the VSU constituents which resulted in the realization of our goal," she shared.

Dr. Cano also relayed strategies on how EVSU should effectively articulate their own HR processes' experience and knowledge that would fit the PRIME-HRM lense. Likewise, she suggested how the university should efficiently operationalize the SPMS as a planning tool for organizational effectiveness.

During the activity, the visiting team surprised Dr. Cano with a cake as an advance present for her birthday the following day.

The EVSU officials who came with Dr. Aguirre were: Dr. Felixberto E. Avestruz, VP for Administration, Finance and External Affairs; Dr. Analyn C. Españo, University/Board Secretary; Joselito T. Eclipse, OIC of Human Resource Management Office; and Maricel C. Planes and Aida N. Ballais, both HRMO staff.

EVSU's visit came shortly after a similar benchmarking activity by the University of Science and Technology of Southern Philippines (USTP) on February 06, 2020.