Viscans bag top places in Int'l Essay Competition for Nursing Students
Details

Written by Allen Glen Gil

Published: 07 September 2020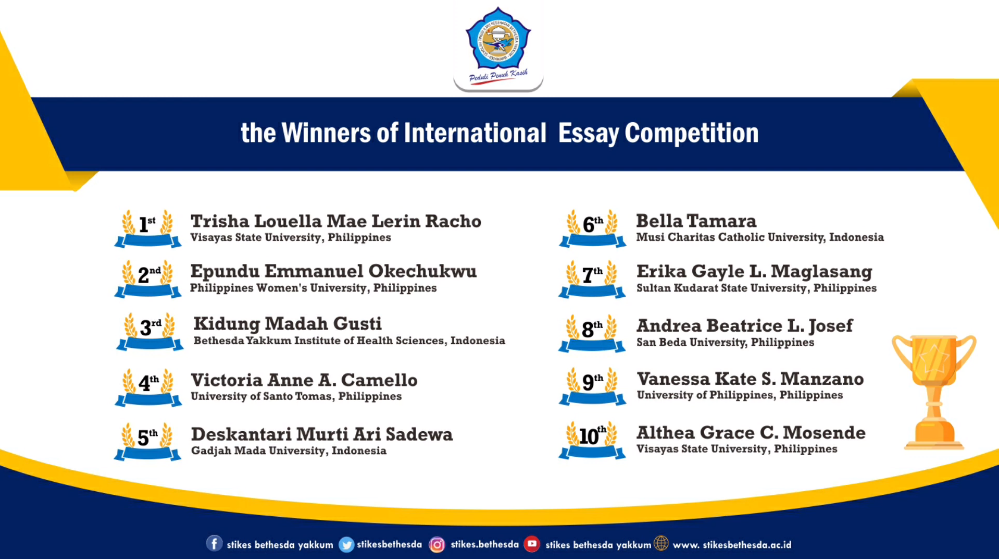 Trisha Louella Mae L. Racho (BSN-1) and Althea Grace C. Mosende (BSN-3) bagged the first and tenth place, respectively, during the 'International Essay Competition' for undergraduate nursing students last September 1, 2020.
The essay competition was hosted by Stikes Bethesda Yakkum, an Indonesia-based university, in celebration of their country's freedom month with the theme "COVID-19: The Reveal of the Real Kind of Nursing".
Racho and Mosende eventually bested out 59 other entries from Canada, Indonesia, Myanmar, Nigeria, as well as participants from other prominent universities in the Philippines such as the Philippines Women's University, University of Santo Tomas, San Beda University, and University of the Philippines, with Racho earning the top spot.
The Visayas State University (VSU) College of Nursing, headed by its dean Dr. Joel Rey U. Acob, lauded the two nursing Viscan winners.
"On behalf of the faculty of the College of Nursing and the VSU system, my warmest congratulations to the winners and participants in bringing home the bacon," Dr. Acob said.
Dr. Acob further shared how important it is to support and empower young students towards regional development, mutual understanding, and collaboration in ASEAN.
"As we traverse this new normal, embedded to it is embracing opportunities to collaborate, share, and care not just into our own pedestal, but also more so to our neighboring culture. Supporting our young people in this kind of endeavor is a manifesto of the VSU College of Nursing's contribution to the university's global recognition and in strengthening the ASEAN integration," he added.
The international event was launched last mid-July and was open to all undergraduate nursing students from all over the world.
For being the competition's first placer, Racho shall receive 150 USD and a certificate from Stikes Bethesda Yakkum, together with the second and third placers.