CALL FOR APPLICATIONS: VLIR-UOS International Training Program 2023
Details

Written by Visayas State University

Published: 14 February 2023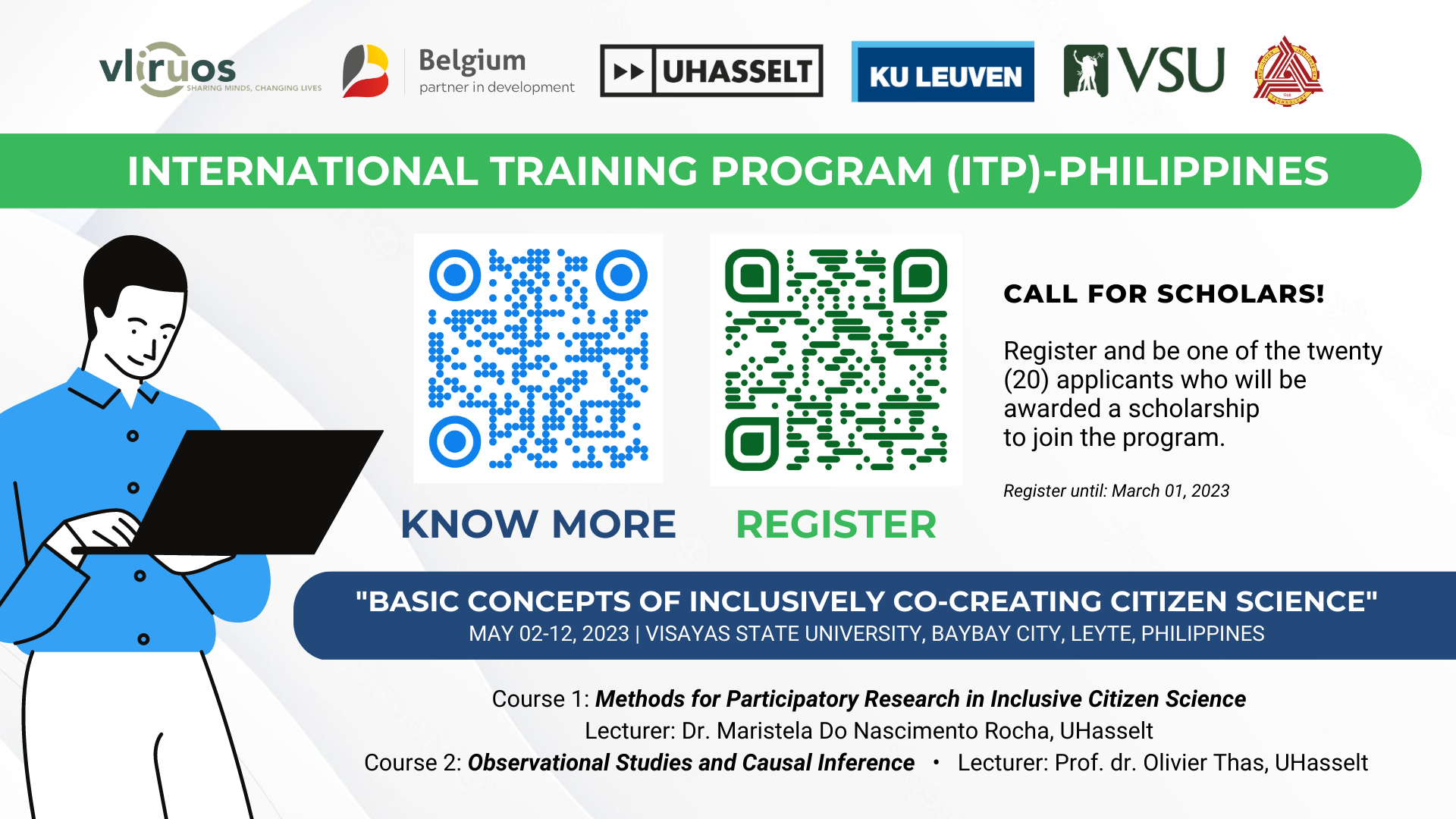 The Universiteit Hasselt (UHasselt) - Belgium in collaboration with the Visayas State University (VSU) and the Mindanao State University-Iligan Institute of Technology (MSU-IIT) is bringing the "2023 International Training Program (ITP)" to the Philippines.
The ITP project is a four (4) workshop series that will run from 2023 until 2025 and is funded by the Flemish Interuniversity Council–University Development Cooperation (VLIR-UOS). This year's workshop entitled "Basic Concepts of Inclusively Co-Creating Citizen Science" will be held in the scenic campus of the Visayas State University's flagship campus in Baybay City, Leyte from May 02 to 12, 2023.
With notable professors and researchers from UHasselt, the ITP workshop will run for two consecutive (2) weeks at VSU. It will commence with an intensive course on "Methods for Participatory Research in Inclusive Citizen Science" to be headed by Dr. Maristela Do Nascimento Rocha, UHasselt Postdoctoral Researcher in the initial week.
The second week will be led by Prof. dr. Olivier Thas, UHasselt Biostatistics Professor with his lecture-workshop on "Observational Studies and Causal Inference".
This three (3) year program of the VLIR-UOS is under the grant awarded to Prof. Dr. Thomas Neyens, Assistant Professor of Biostatistics at KU Leuven and UHasselt for his ITP project named the "Co-CiPhil: Co-Creating Environmental Citizen Science Capacity in the Philippines''. The ITP projects are systematic integration of global perspectives to create a supportive, inclusive, and networked learning environment where professionals acquire transversal skills and state-of-the-art knowledge on sustainable development. This enables them to become experts and critical global citizens who are motivated to act as change agents in their network.
The VSU Department of Statistics (DStat) is the direct component of the ITP project in the Philippines along with the MSU-IIT. A similar international training workshop from the same project called the "International Course Program (ICP) South Workshop" was also held at VSU in May 2022.
CALL FOR SCHOLARS
In line with the program, VLIR-UOS will award twenty (20) registrants with scholarship grants for the two-week workshop including airfare, food, and accommodation (up to a reasonable amount).
Another 10 slots are open for those who are willing to pay for their own expenses. To know more about the program and the sponsorship, read the details here: INTERNATIONAL TRAINING PROGRAMME.
Be a program scholar! Register now for an unforgettable workshop experience.
To apply, fill out the registration form at this link: ITP Workshop 1 Registration. Registration will be closed on March 01, 2023, Wednesday (17h00 PST). The names of the scholarship grantees will be announced on or before March 8, 2023.