Statistics count to attain development goals—VSU Statistics dep't
Details

Written by ELTBestil

Published: 11 October 2016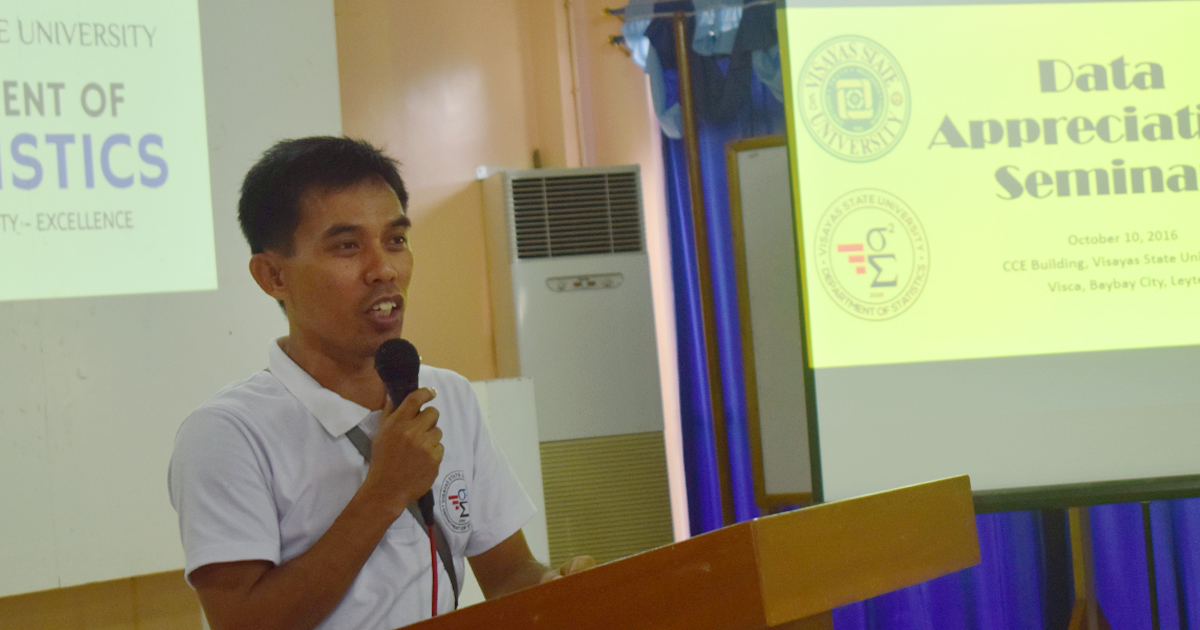 The fulfillment of the sustainable development goals needs relevant statistics, said Dr. Norberto Milla, head of VSU's Department of Statistics (DepStat), during the Data Appreciation Seminar, October 10, in celebration of the 27th National Statistics Month.
Dr. Milla promoted the use of statistics in crafting development programs and research activities to Statistics students and VSU faculty and staff. Quoting the mandate and functions of the Philippine Statistical System, Dr. Milla urged for using and developing technical and robust data and creating data in different levels of aggregation to better reflect the real situation of the country.
Supervising Statistical Specialist Sheryl Ann Jamisola of the Philippine Statistical Authority (PSA) in Leyte disclosed the results of the most recent census and surveys conducted in the country.
PSAs estimates in Region VIII, excluding Leyte, showed an increase in employment rate from 95% in June 2015 to 95.5% this year. The labor participation rate or the number of people who are either employed or actively looking for jobs from June 2015 to June 2016 grew from 59.6% to 64%. More people are thus, getting employed or actively looking for jobs.
However, the underemployment rate also grew from 27.6% to 31%. This means that this year, more workers are highly skilled but working in low-paying jobs.
Jamisola also showed Region VIII's Gini concentration ratio (GCR) which is used to measure income inequality. The ratio takes values from 0, which implies complete equality, to 1, which implies complete income inequality; the closer to 1, the higher is the income inequality in a region. Region VIII's GCR pegged at 0.48, one of the highest GCR values in the country.
Besides showing such data, PSA-Leyte also tried to address civil registration concerns with Engr. Felimon Garcia Jr. Issues regarding misspelled names or misidentified sex, among other concerns, were tackled during the seminar.
October is National Statistics Month (NSM) by virtue of Presidential Proclamation No. 647 signed by then President Corazon Aquino in 1990. DepStat spearheads the NSM celebration at VSU through activities including a series of motivation seminars for a career in statistics, and an inter-highschool statistics quiz show on October 29.