Amaranth Executive Editor is selected in a prestigious journalism fellowship
Details

Written by Miguel Bebita

Published: 19 November 2023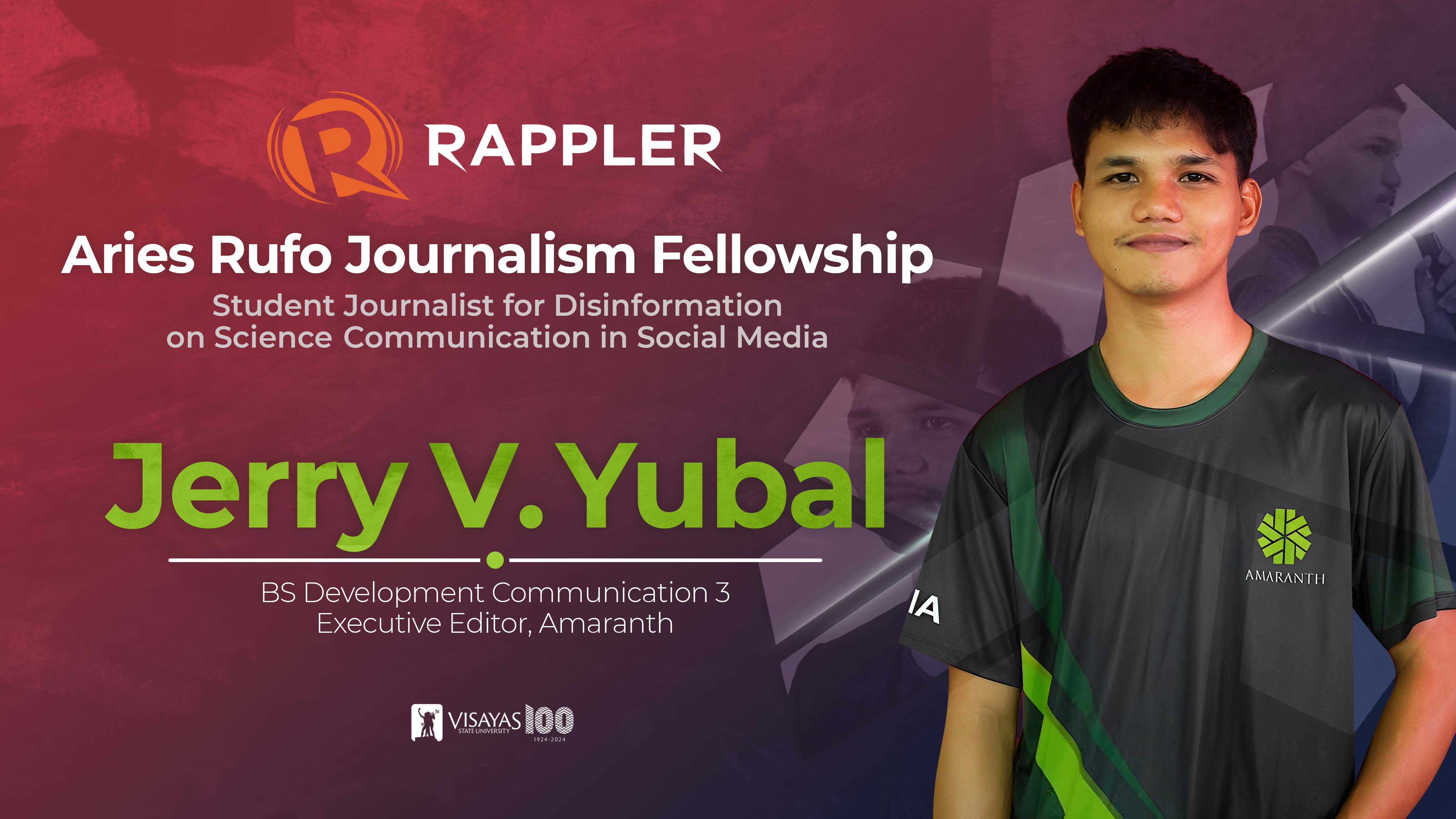 Out of several campus journalists nationwide, Amaranth's Executive Editor Jerry V. Yubal made the cut to the Aries Rufo Journalism Fellowship—a national training program named after a veteran and multi-awarded investigative journalist who wrote for Newsbreak and Rappler on various issues, such as the church, judiciary, politics, and elections.
This fellowship is jointly spearheaded by Rappler and the Journalism for Nation Building Foundation (JNBF). The country's top social news network announced Yubal's selection along with other campus journalists from different universities together with the selection of currently working and career journalists who are either freelancers or employed by a media organization whether in print, television, or online.
The current Amaranth Executive Editor is a junior Bachelor of Science in Development Communication (BSDC) student who hails from the town of Leyte, Leyte.
He will join four other campus journalists from all over the Philippines in the fellowship's mission to be equipped with tools to combat disinformation in local and international spaces.
As part of the fellowship's perks, Yubal together with four other student journalists will undergo a series of training sessions by Rappler senior editors and other key members of the research and data teams of the digital media company to help the fellows understand and address disinformation and do public interest journalism.
Further, the fellowship's grantees will also discover more about social media, technology, and disinformation as they will do research and write stories about fact-checking and digital technology that will provide information relevant to their communities.
Yubal will receive a PHP6,000.00 monthly stipend during the length of the fellowship, which will run from November 20, 2023, to March 2024.
In an interview, Yubal expressed how he intends to use the skills he will acquire in the fellowship to overcome the challenges that face journalists, especially in today's social and political climate.
"This opportunity will allow me to gain experience and insights from experts themselves and be able to impart it to my fellow campus journalists, not just in Amaranth. This will be like a way for me to bring out the best in myself so that I can also bring out the best out of others," the executive editor said.
This is the first time that the said fellowship was opened to students. Joining Yubal in the campus journalist category are Chris Burnet Ramos from The Communicator of the Polytechnic University of the Philippines (PUP), Lance Arevada from Matanglawin of the Ateneo de Manila University (ADMU), Brian Jay Baybayan from The Papyrus of the Mindanao State University - General Campus City (MSU-GenSan), and Jed Nykolle Harme from the Eamigas Publication of the Aklan State University (ASU).
For local and career journalists, the selected fellows include Wenilyn Sabalo of SunStar Cebu, Joseph Ben Deveza of Xavier University - Ateneo de Cagayan, Ivy Marie Mangadlao of Mindanews, Rowel Montes of Sunshine Online News, and Gerardo Reyes, Jr. of Palawan Daily News.
Along with the Aries Rufo Journalism Fellowship, Rappler and JNBF also announced the selected news organizations fellows of the #FactsMatter Fellowship for ASEAN journalists. These include Igg Maha Adi of Green Press Indonesia, Jonathan James Meadley of Laotian Times, and Fiona Tan of Mothership Singapore.
As part of the fellowship, Yubal is expected to fly to the Rappler Headquarters in Pasig City for an extensive two-day training workshop to be held on December 15 and 16, 2023.