Announcements
#VSUCineEuropa19 | Filmfest Entries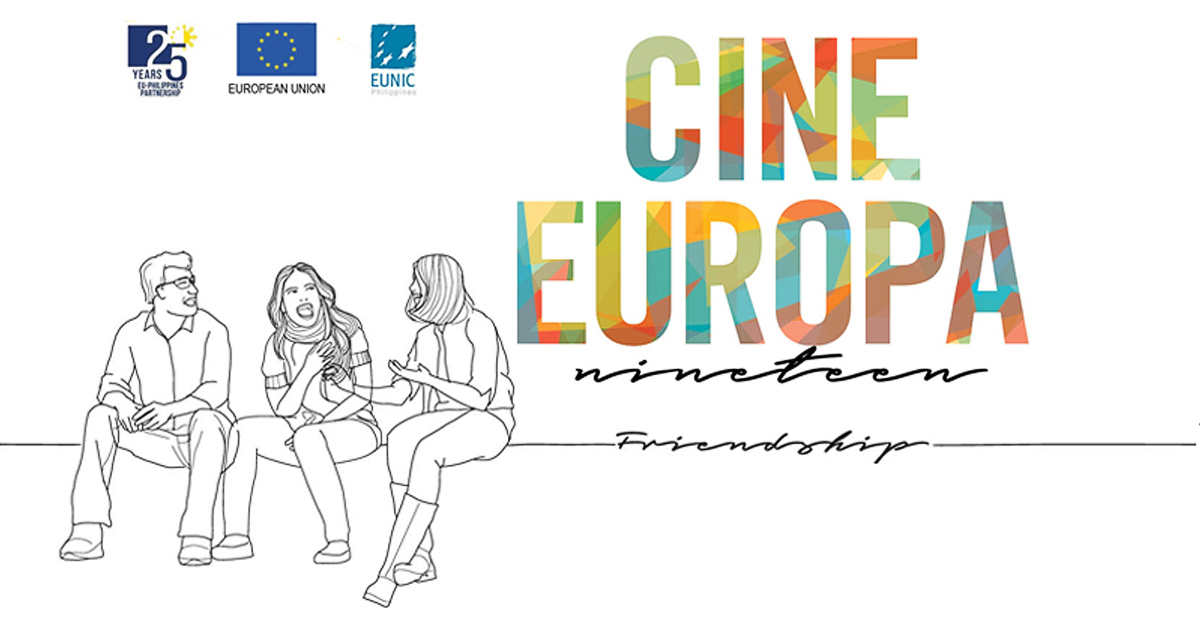 Cine Europa 19 will start screening in VSU at the Center for Continuing Education from November 7 to 12, 2016. This year, Cine Europa will feature films that tackle 'friendship' from 17 European countries. Here are the filmfest entries that you should not miss:
Read more ...
Join the Inter-High School Statistics Quiz Show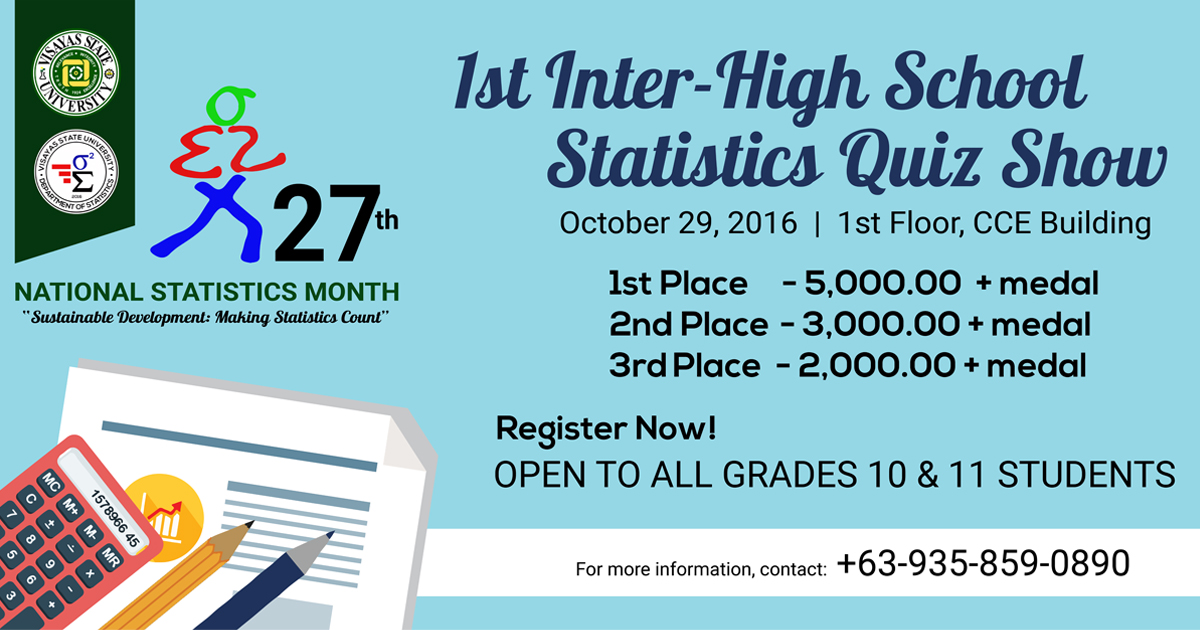 VSU's Department of Statistics invites you to the 2016 Inter-High School Statistics Quiz Show on October 29, 2016. This event will test your knowledge of basic and applied statistics and your awareness on the importance of statistics in society! Join now and win prizes!
Read more ...
Midterm Exam Schedule 1st Sem SY 2016-2017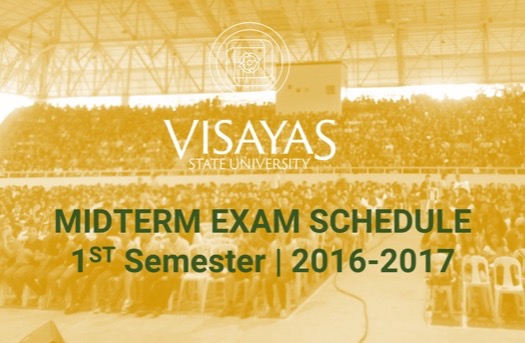 Midterm Exam, 1ST Semester 2016-2017-By SUBJECT by visayasstateu on Scribd
CHED re-opens graduate education scholarships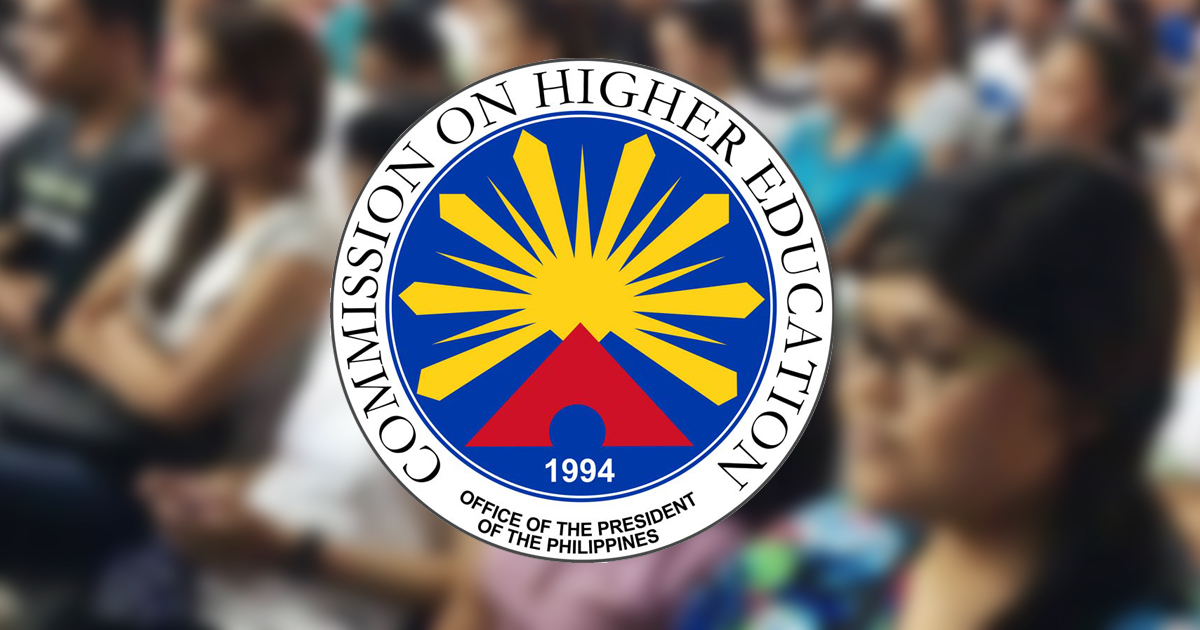 The Commission on Higher Education (CHED) re-opens nominations for graduate education scholarships for the second semester SY 2016-2017. CHED has developed an online nomination portal to provide a simplified avenue for nominees to submit documentary requirements.
Application and other forms can be obtained from Ms. Connel Antipaso of the Office of the Vice President for Instruction. You may also send an email to This email address is being protected from spambots. You need JavaScript enabled to view it. requesting for the e-forms. Use "CHED nomination forms" as the subject of your email.
Below is the online nomination process chart for your reference.
Online Nomination Process Chart by visayasstateu on Scribd
VSU Library Notice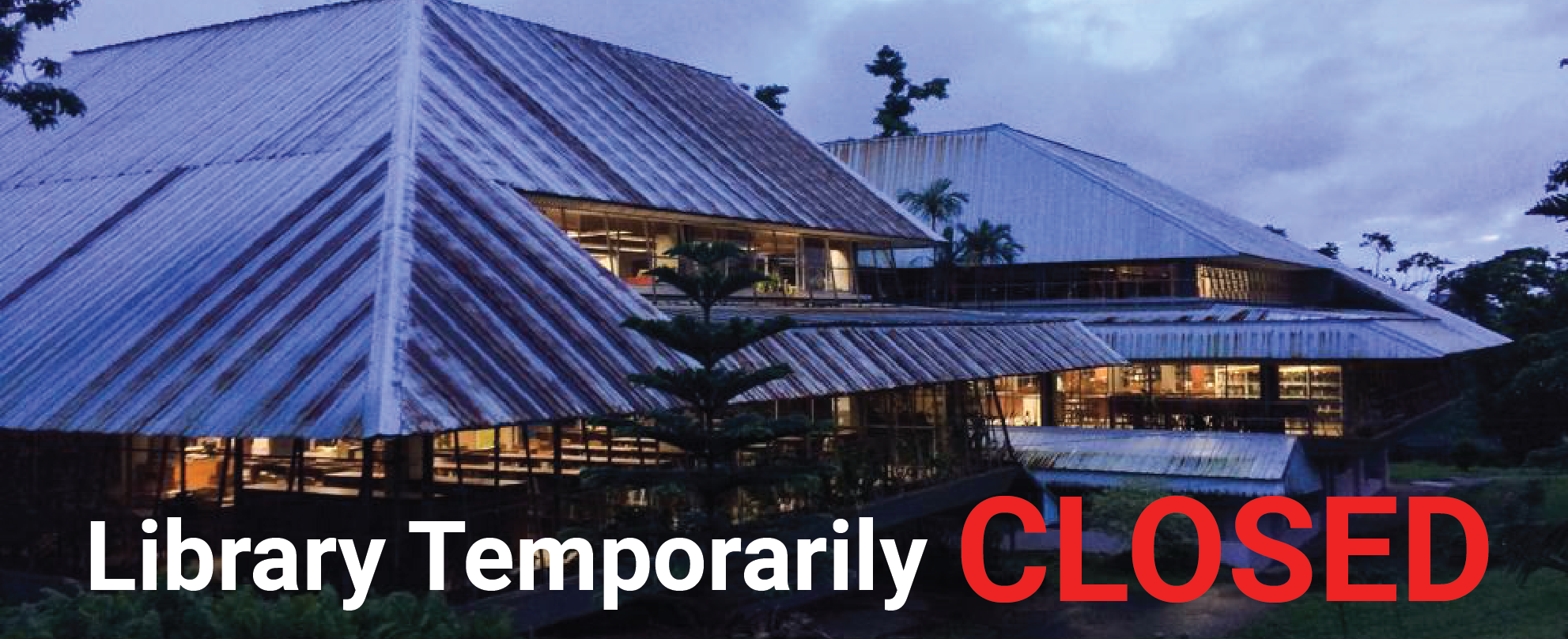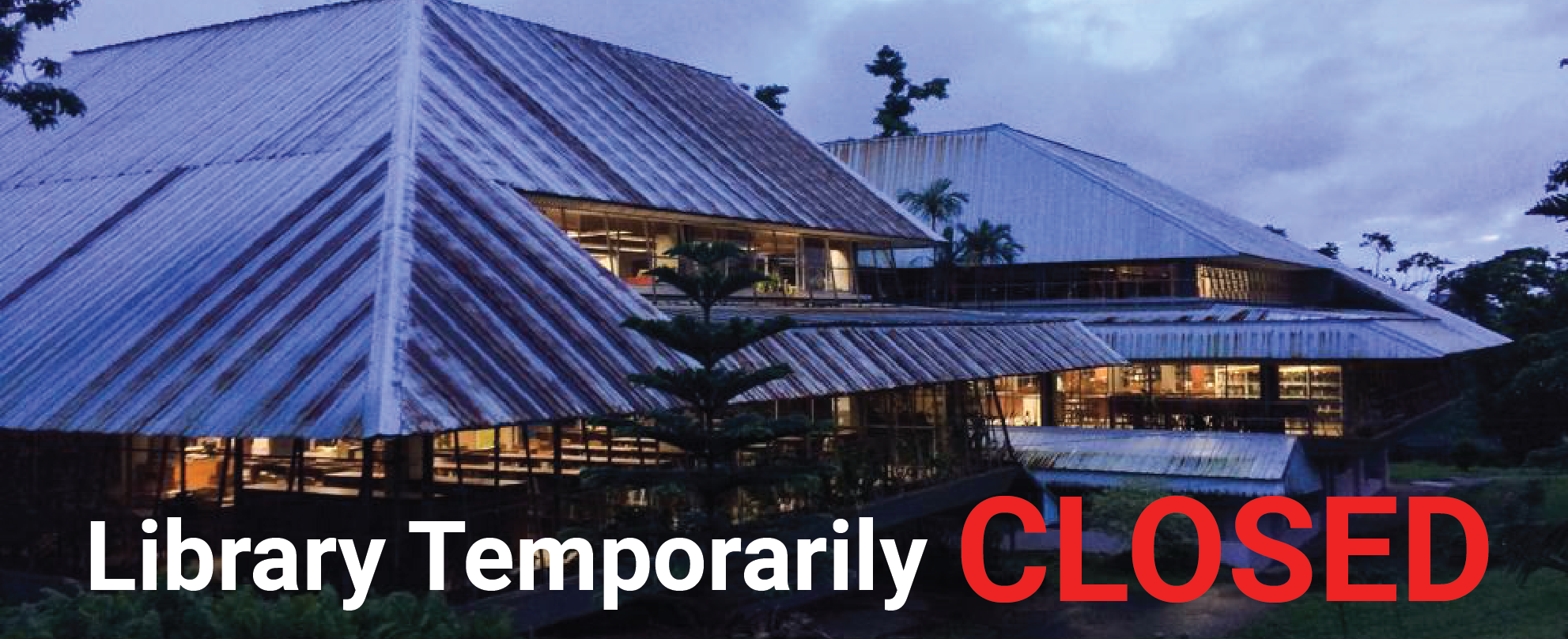 (Photo: Ana Quilicot)
Notice: Closed
All library services will be temporarily suspended.
The public is advised that the VSU Library will be closed on Monday, August 22, 2016 until further notice to facilitate the transfer of books, equipment and furniture to the new building persuant to OP Memo No. 197 Series of 2016.
The Chief Librarian
#VSUAnniv | Fun Run 2016 Results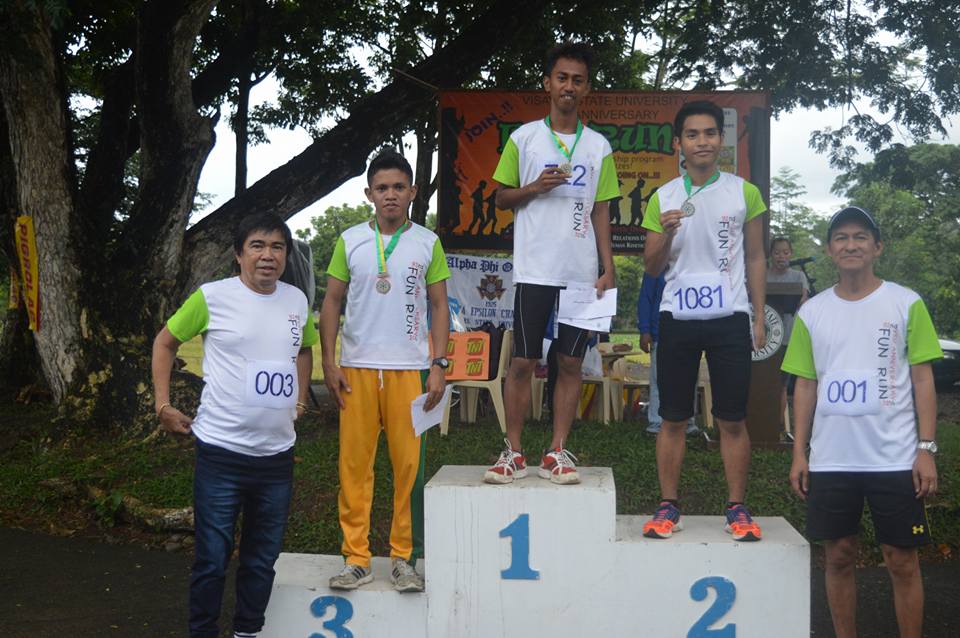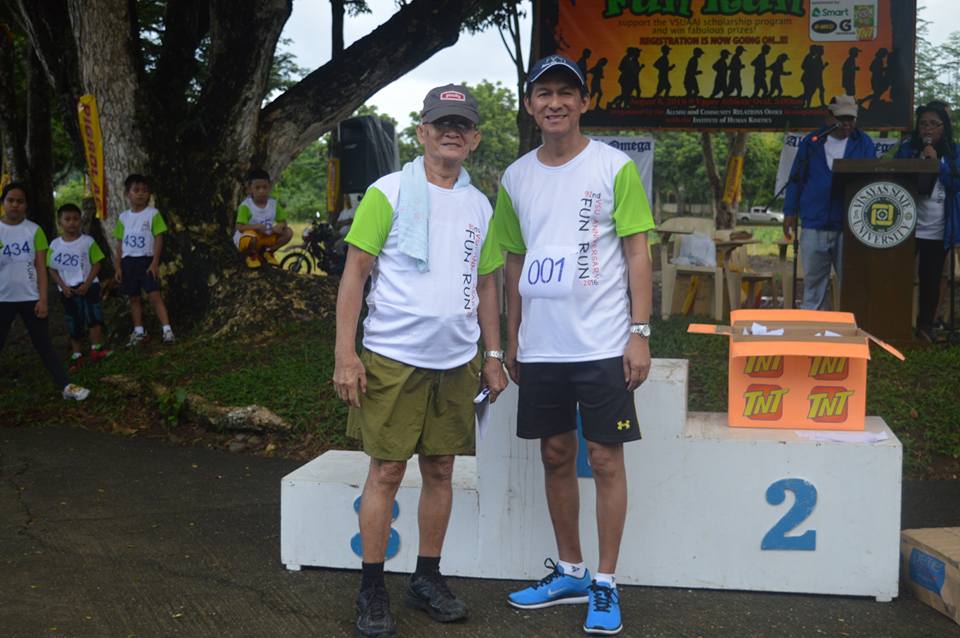 Nenito Sales, 76, is the oldest partcipant who competed against 1,210 runners during the Fun Run 2016 at the VSU Upper Grounds on August 06. VSU President, Dr. Edgardo Tulin (right) honored Sales (left) as the oldest registrant of this year's activity. Here are the results of the recently concluded event:
Faculty, Staff, Alumni & Friends Category Final Results
Men's Division
Rank 1: Leonardo Lacostales (Runner #031)
Rank 2: Ronald Vios (Runner #092)
Rank 3: Gregorio Daga Jr. (Runner #322)
Women's Division
Rank 1: Noriebelle Bacusmo (Runner #090)
Rank 2: Dalisay Roca (Runner #089)
Rank 3: Merry Joy Gennaccaro (Runner #088)
Students Category Final Results
Men's Division
Rank 1: Ocier John Orland (Runner #722)
Rank 2: Eirynne Gollodo (Runner #1081)
Rank 3: Francisco Elan Jr. (Runner #1080)
Women's Division
Rank 1: Rodith Ollave (Runner #1083)
Rank 2: Josette Molina (Runner #1084)
Rank 3: Jayca Lou Jaca (Runner #643)
Children's Category
Girls' Division
Rank 1: Abigail Porter (Runner #008)
Rank 2: Lala Maru Sucayre (Runner #006)
Rank 3: Alyssa Jane Porter (Runner #003)
Boys' Division
Rank 1: Klyde Lucas Miraflor (Runner #010)
Rank 2: Johannsen Paulo Gapasin (Runner #033)
Rank 3: Keen Aaron Arenano (Runner #015)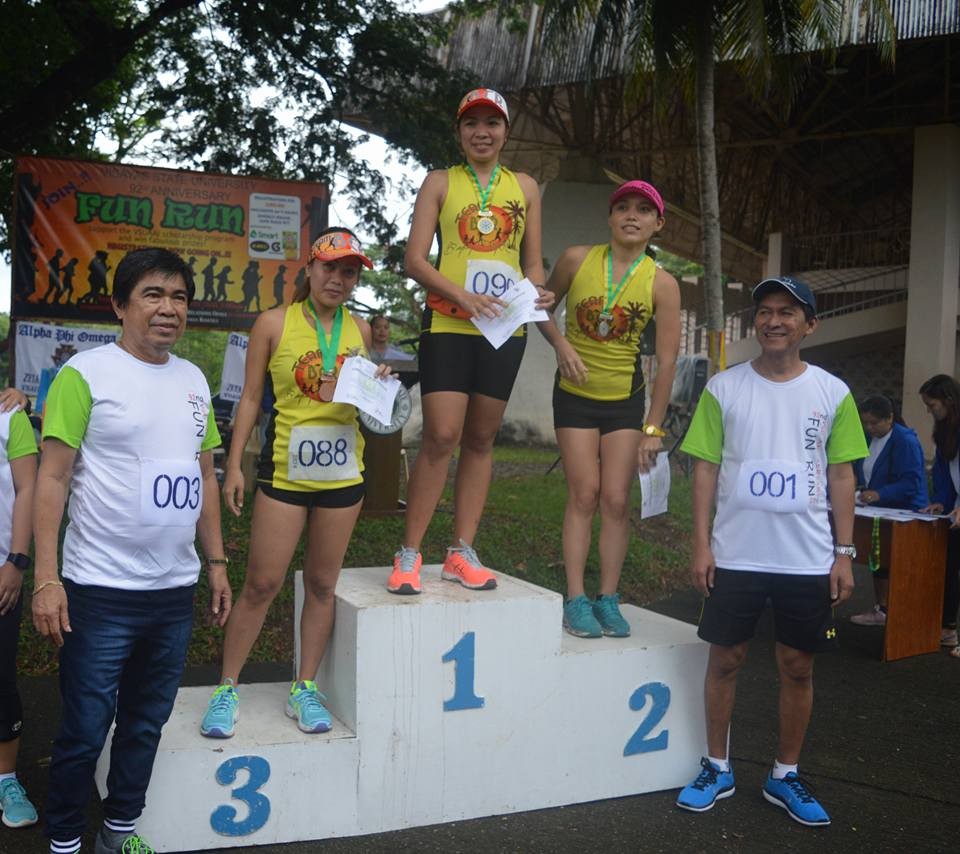 Fun Run 2016 Special Awards
First to Register: Shiela Lemos
Most Enthusiastic Participant: Jeffrey Lloyd Cagande
Youngest Runner (2 years old): Mohan Meilys Aure-Flores
Oldest Runner (76 years old): Nenito Sales
Sexiest Runner: Merry Joy Gennaccaro
Most Participated Family
(1) Relevo Family
(2) Cagande Family
(3) Aure Family
PARTICIPANTS
Category A - VSU Faculty/Staff, Alumni & Friends: 246 (Female), 209 (Male) = 455
Category B - VSU student College/HS/SHS: 476 (Female), 231 (Male) = 707
Category C - Elementary/Children: 27 (Female), 22 (Male) = 49
Total Number of Runners: 1, 211
Subcategories
Announcements circulated within the College of Education.