On the opening of classes this school year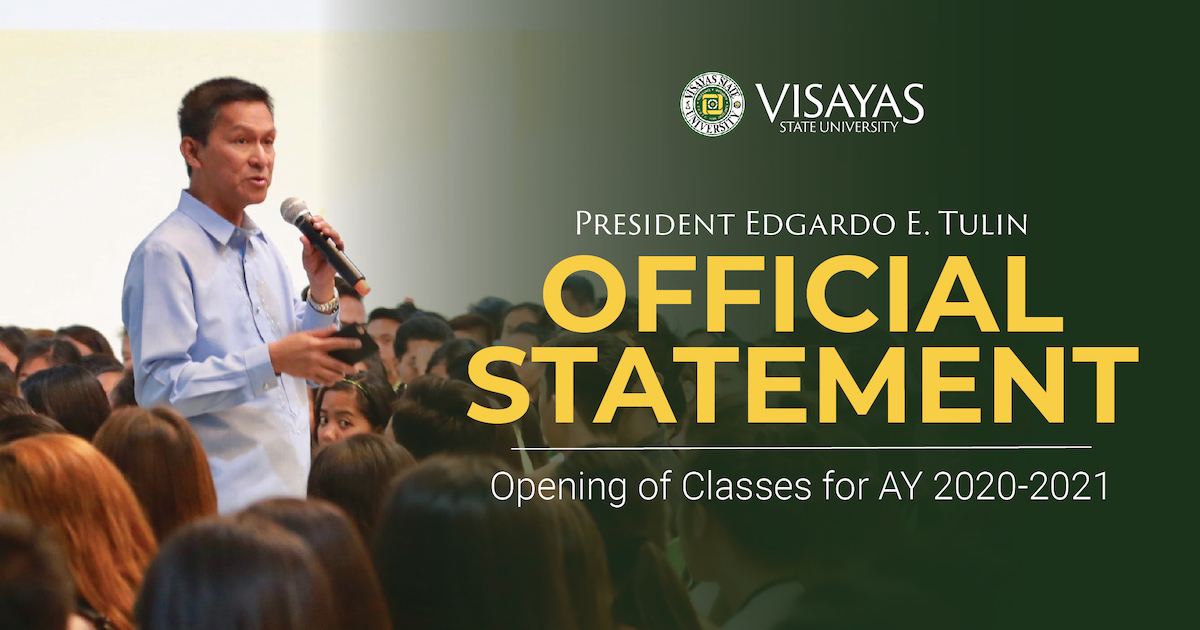 Official Statement of President Edgardo E. Tulin
Good day, my dear Viscans.
In the past months, we have been hard at work in preparing for this semester of "flexible learning" in the face of the threat of COVID-19. We have made great strides in our preparations, which included setting up virtual classrooms at our e-Learning Portal and preparing printed instructional materials for everyone who needed them. What's more, we have made all printed materials free of charge.
We have also successfully conducted our first-ever purely online enrollment for the main campus and for VSU Tolosa; while we did "remote" enrollment through online forms, text, and our Facebook pages for our component colleges in Villaba, Alangalang, and Isabel.
In the past weeks, we conducted a series of onboarding programs both for our faculty and all of you, (13,000 students), to make sure that we are all on the same page in terms of what's going to happen this semester—on flexible learning, our online and offline modalities—and to answer all your concerns.
All of these for one goal: No Viscan Left Behind.
Our faculty have spent the past months in researching, rethinking, and redeveloping their class materials to suit both the online environment of virtual classrooms and the printed format.
The content is ready. However, we do not want them delivered to you in a rushed manner which may sacrifice the quality which VSU is known for.
Purchasing millions worth of materials for printing, like paper, ink, and the things we use for binding is a daunting task for the offices that are in charge of procurement. We have standard government procedures to follow in making all these materials available for reproduction and binding as soon as possible.
Part of the development of our instructional materials is a strict process of review, both in grammar and content, at the departmental level. VSU respects the intellectual property of knowledge workers, and we set the example against plagiarism and infringement of other people's intellectual property rights. Because of this, our faculty authors need a little more time to revise their work so we can offer you the best, original content to learn from.
To bind, package, and deliver them is also another challenge. The VSU Printing Press has been working with our departments so they can reproduce and bind their own materials, to distribute the work of producing the thousands of IMs we are preparing for you.
With the full support of our administrators and the partnerships forged with different LGUs and SUCs, the university has developed and arranged a complex system of collation and delivery, of IMs, to make all these happen for you.
Because of these challenges, the University Administrative Council and the Board of Regents have decided to move the opening of our classes for this semester to October 5, 2020.
With this little time allowance, we can do the finishing touches to deliver the VSU brand of superior, quality education to you, wherever you are.
Our opening of classes will be such perfect timing too: October 5 is World Teachers' Day 2020, a fitting tribute to all the educators around the world who are trying their best to make education happen even in this pandemic.
Thank you for your understanding.
Please do keep in touch and keep posted for updates from our official channels. Though far apart, we're here for you, your Very Supportive University.