#NoViscanLeftBehind | FAQ on the VSU E-Learning Environment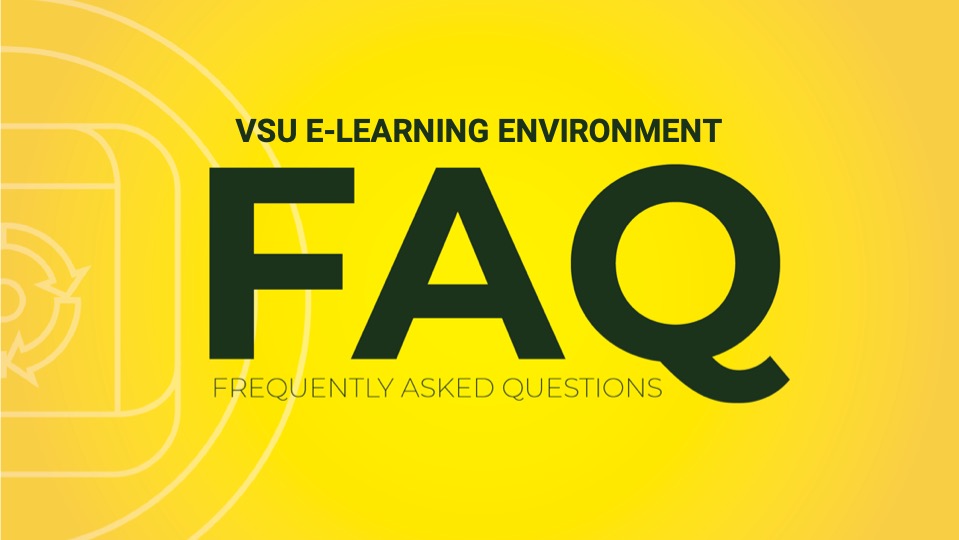 What is VSUEE?
VSUEE stands for the Visayas State University E-learning Environment. It houses the virtual classrooms of the university. Once you receive the VSUEE account, you can use that to log-in to the eLearning environment.
I have chosen printed modality, why am I given a VSUEE account?
All officially enrolled students of Visayas State University are given the VSUEE accounts. All students, regardless of the type of modality, can have the privilege to enter the virtual classrooms of the courses they have enrolled in.
I have chosen printed modality, am I allowed to log-in to the virtual classroom of my enrolled subjects?
YES. It is even encouraged that you visit the virtual classrooms because some online materials are there that are not included in your printed modules. But rest assured that printed modules and virtual classrooms have the same learning content and evaluation criteria for grading. Only the modality is different.
I have not received my VSUEE accounts yet. Why?
Among the reasons are:
You have provided an invalid email in your portal, mostly typographic errors.
You have provided an inactive email account already because you have forgotten the password.
You just recently changed your MyVSU student portal account's current email address.
Your account was not successfully created because of unrecognized characters upon account registration.
Account has not been created because you belong to 2nd batch qualifiers or you are a late enrollee.
Your account was accidentally missed out upon the bulk registration for all the campuses of the university.
I received the VSUEE account. But log-in is invalid.
Among the reasons are:
Typographical errors (wrong spelling, case sensitivity, etc.)
Autocorrect in smartphones when typing.
Your account has a problem recognizing special characters in your name.
I have logged in successfully. Pero, I don't have subjects in my dashboard yet.
Your instructors are still in the process of uploading the course users and contents to their different virtual classrooms. Please be patient. Sooner or later, you will be enrolled to your enrolled courses before October 5, 2020, when classes will officially start.
Where can I send my queries?
Send emails for your VSUEE concern to

This email address is being protected from spambots. You need JavaScript enabled to view it.

.
Always include your student ID number and your full name when making inquiries, or simple follow-ups.
What is the difference between VSUEE and the VSU Student Portal?
VSUEE houses virtual classrooms. Lessons and quizzes and exams are posted in this portal. VSUEE is accessed at https://elearning.vsu.edu.ph.
VSU Student Portal contains or will contain all your courses and grades upon your enrollment to VSU until you graduate. MyVSU Student Portal is accessed at https://my.vsu.edu.ph/.
Can I still change my email address in my student portal?
YES. Send a ticket to VSU Helpdesk at https://support.vsu.edu.ph/. Fill up the necessary information to update your email account in your MyVSU student portal.
Can change my email address in my VSUEE portal?
YES. Just log in to the VSUEE portal with your username and password then update your profile.