GIS Month 2022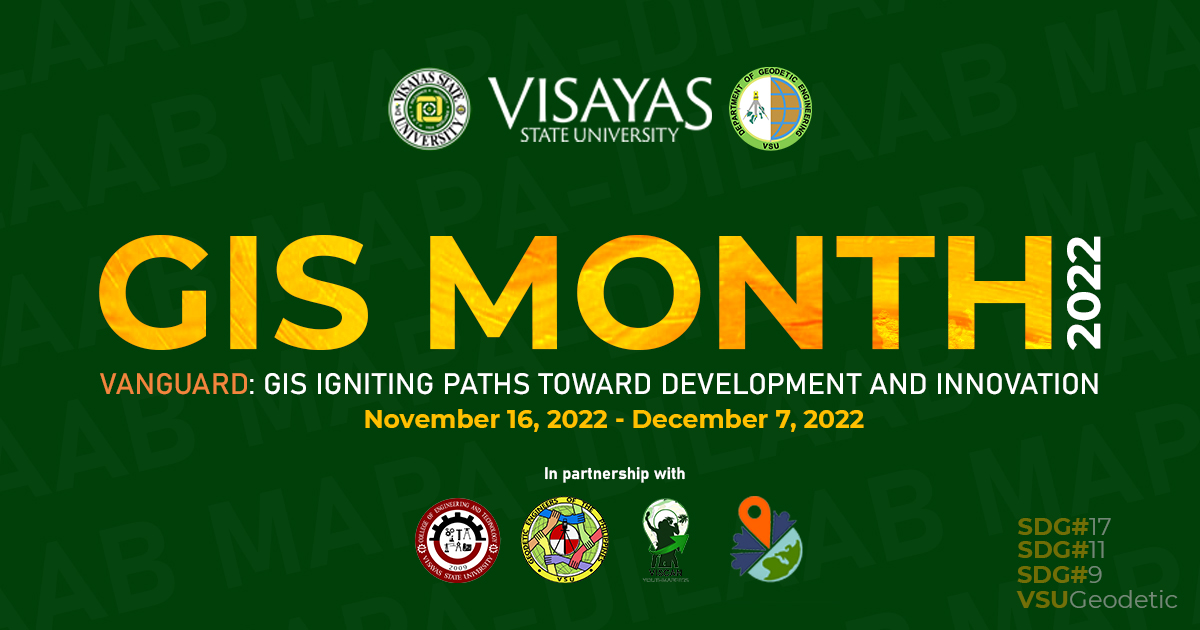 The College of Engineering and Technology (CET) of the Visayas State University, thru the initiative of the Department of Geodetic Engineering, and in collaboration with the Viscan YouthMappers and Geodetic Engineers of the Philippines (GEP) - VSU Student Chapter, will hold its 1st annual GIS Month Celebration from November 16 to December 7, 2022, with the theme, "Vanguard: GIS at the Forefront of Development and Innovation". The event aims to promote awareness among educators, researchers, and students on the use of Geographic Information Systems (GIS) in health science, agriculture, resource management, and disaster response and risk reduction management.
Geographic Information System is a game-changing technology that encompasses mapping, spatial data analysis, and decision support systems. This technology is widely used in different areas from agriculture, mapping, disaster management, risk assessment, and environmental impact analysis, etc.

The global GIS Day movement, which will happen on November 16, 2022, aims to unite universities, government entities, schools, nonprofit organizations, GIS professionals, and schools together to establish the importance of GIS in daily life and understanding of the current world. The GIS Day was started in 1999 by the ESRI president of that time and co-founder Jack Dangermond. The GIS Day events are held worldwide. Together with other institutions, the Department of Geodetic Engineering of VSU partakes in this important event (click this link to view the map). The 4-day event is composed of different activities such as webinars, training, outdoor activities, and quiz-show related to GIS applications. Additionally, the event covers sustainable development goals #9, #11, & #17 of the United Nations.