VSU accords plaques of recognition to 43 individuals for their exemplary performances; Gov. Petilla observes VSU anniversary celebration
Details

Written by JFMBaldos

Published: 30 August 2013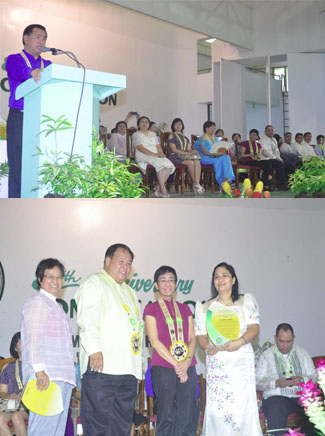 Annually, the Visayas State University gives awards of recognition to some individuals who extremely did outstanding performances in their respective workplaces which contributed to the attainment and fulfillment of its vision as the premier University of science and technology in the Visayas. Likewise, VSU acknowledges the loyalty, faithful and dedicated services rendered by its employees from the time they were hired until their retirement. The awarding of plaques of recognition to some individuals is one of the highlights of the 89th VSU Founding Anniversary celebration held on August 10, 2013 at the VSU Gymnatorium.
The occasion was doubly significant with the presence of two pillars of the province of Leyte—the Honorable Governor Dominic L. Petilla and Honorable Vice Governor Carlo P. Loreto—who showed up for the first time in the University on their official capacity as key officials of the province after they were elected in the May 2013 national and local elections.
Hinged on the theme "Go agriculture for food security", Governor Petilla graced the celebration by giving an inspirational message to the VSU constituents. "As your governor, it is a sin for me not to support the programs of your president as evidenced by the improvement of facilities and surroundings of VSU," the Leyte Governor said.
He even encouraged everyone to think of the things that can improve our lives and increase our value in which the government of Leyte is heading on towards that direction. "Right now, we have been formulating and conducting feasibility studies on certain programs that we want to implement to increase the value of a person. I am very proud to note that VSU has stood for the value of a person for 89 years," Petilla averred.
The newly-elected Governor also revealed some points that can increase the value of a person. He said that the value of a person increases when the person is free, with good health, with good education (just like what VSU has been doing), when it has jobs, businesses, and it accomplishes things.
However, Petilla also pointed out that using drugs, in which the effect is permanent and causes higher criminality, decreases the value of a person.
Gov. Petilla congratulated VSU for 89 years of sowing not only seeds of trees and other plants but most importantly for sowing good people and good students.
On the other hand, the awardees are as follows: Exemplary Academician Award – Dr. Editha G. Cagasan, "In recognition of her exemplary performance in instruction, research, extension, and administration. She is a recipient of an Exemplary Teacher Award in 2002, a Plaque of Recognition for Academic Excellence from the UPLB Graduate School in 2008, and an award by the Phi Delta Honors Society for being an adviser of the Best Undergraduate Thesis Award in Development Communication. In research, she made significant accomplishments in various R and D projects in applied/development communication that won awards in local and regional Best R and D Paper competitions. In extension, she had organized trainings in campus journalism and acted as resource person in various trainings. She had been a recipient of the Exemplary Extensionist Award in 1999. As administrator, being head of the DDC, she had been instrumental in getting Level 1 AACCUP accreditation for the Department of Development Communication (September 2010 to August 2013) and for making the DDC the only Center of Development in Development Communication in the country (December 2012 to May 2014). She had, likewise, generated resources through research and extension projects that translated into improvement of the department's instruction, research and extension functions";
Model Science Research Assistant Award – Luz G. Asio, "For her exemplary performance as Science Research Assistant, first in the Soil Analytical Laboratory of the National Abaca Research Center (NARC), and at present in the Central Analytical Service Laboratory (CASL) of PhilRootcrops. At NARC, her work focused on the utilization of mycorrhiza for increased abaca production and the formulation of fertilizer recommendation for the same crop at the regional level which is one of VSU's contribution to the abaca industry. Ms. Asio is resourceful and a solution-oriented person thus, she was able to come up with new and innovative approaches which contributed so much to the smooth operation and effective delivery of CASL services. She designed the effective work flow for easy tracking of samples from receipt to analysis until the preparation of analytical report. Her skills and willingness to work overtime even without extra compensation have helped CASL increase its income from only more than PhP250,000 in 2008 to more than a million in 2010 and more than half a million for the first six months of 2013. Her diligence, positive attitude towards work, and good interpersonal relationship are worth emulating by other SRAs";
Model Skilled Worker Award – Louis P. Prado, "For his exemplary performance as Recording Technician of Station DYAC and as affiliate Audio-Visual Technician at the Department of Development Communication (DDC). Mr. Prado's dedication to his work could be gauged from his willingness to offer assistance to the faculty and staff of DDC even after office hours to attend to the audio-visual needs in instruction and even during weekends when the department has activities like trainings and other academic-related activities. His special skills as electronic technician had made the DDC saved a lot of money in repair services because even in his first three months as affiliate to the department, he had repaired AVRs, printers, computer CPUs, PC monitors, audio equipment, and other facilities including the maintenance of the air-conditioning units of the department";
Model Job Order Staff Award – Pearl P. Vistal, "For her exemplary performance for five years as a Job Order staff (clerk) at the College of Education. She has admirable personal qualities and character, diligent, and always on time in reporting for work. She is also a fast worker which made her finish the assigned tasks before the deadline, works overtime even during weekends without extra compensation and performs other tasks not in her definition of functions such as facilitating the college's trainings, seminars, in-house reviews, and other academic-related activities";
Family of the Year Award – Mr. and Mrs. Eladio Cachuela, Sr. and Family, "For having shown trust and confidence to the high quality education offered by VSU by sending all their children to study at the University. All of them have already graduated and are gainly employed. The Cachuela family is an exemplar of a family that puts a lot of value on education despite financial difficulties. The family earns a meager income. Eladio Sr., Luzminda's husband, earns income from being a "potpot" driver in Baybay, while Ms. Cachuela is a casual Administrative Aide of the Department of Development Communication. The Cachuela family is God-fearing and she and her husband have instilled and nurtured the good Filipino values to their children. Hence, the Cachuela Family deserves the recognition as Family of the Year"; and
Outstanding Alumna Award – Nilda R. Burgos, "For bringing honor and prestige to her alma mater through her outstanding and meritorious scholastic achievements in the academe as a Professor of Weed Science in the University of Arkansas, USA and a recipient of numerous international awards during the last five years such as the Weed Science Society of America Early Career Outstanding Scientist Award in 2008, John White Outstanding Research Team Award in 2010, and as first recipient of International Education Team Award, University of Arkansas in 2012. She has published 61 articles in refereed journals and is a peer reviewer for 17 scientific journals. She has co-advised 11 Ph.D. students and 16 M.S. students. Most importantly she assisted VSU faculty and alumni to pursue graduate studies in the University of Arkansas by providing them support from her numerous projects amounting to more than 20 million pesos. She, together with her research colleagues in the US, received about 3 million dollars of competitive research grants. She, likewise, provided leadership in various international scientific societies in Weed Science and has established international research collaborations in Brazil, China, Italy, Korea and the Philippines."
Moreover, Dr. Oscar B. Posas was accorded the Mt. Pangasugan Award "For his more than 41 years of faithful and dedicated service to the University - first as Secondary School Teacher of the then Visayas Agricultural College (VAC), now VSU, in July 1971 until he was granted the Professor VI rank in October 1994 which he held until his retirement. Dr. Posas made important contributions to the University as head of the Department of Animal Science and Veterinary Medicine; first designated Director of the Philippine Carabao Center @ VSU and had made impact on the lives of farmer-cooperators by increasing their income through the milk production and processing projects which made him won the Exemplary Extension Award from the University. He became the Director of the Curriculum and Instructional Materials Development Office (CIMDO) before he became the Dean of the College of Agriculture and is instrumental in the development of the ladderized BSA program and through his leadership, the College of Agriculture became the Center of Excellence in Agricultural Education. His other stints were as Vice-President for Academic Affairs, Dean of Graduate School, and Vice-President for Instruction until his retirement."
Likewise, Dr. Lutgarda S. Palomar was also a recipient of the same award "For her more than 36 years of faithful and dedicated service to the University starting as a Research Assistant in 1975 until she became University Professor until her retirement. She made important contributions to the University as head of the Department of Food Science and Technology; generating resources from regional, national, and internationally-funded projects and winning awards for these projects; recipient of the Exemplary Researcher Award from ViSCA, now VSU, in 1998; and her passion for food processing and extension work made her reach out to poor farmers in the region who became food processors and now small-scale entrepreneurs, some of whom are selling their products at the ViCARP-RRDEN TechnoMart and Pasalubong Counter."
The other eight retirees who received the Mt. Pangasugan Award included: Braulio B. Alfaro, Jr. – 15 years of faithful and dedicated service; Dr. Sulpecio C. Bantugan – more than 36 years; Felipe S. Casas – 11 years; Linda N. Mariscal – more than 36 years; Dr. Lolita Z. Orge – 38 years; Dr. Serena L. Sanchez – 37 years; Dr. Perla M. Tan – 36 years; and Thelma C. Zafra – 42 years.
The Service Award was given to 27 VSU faculty and staff after retiring from service in the University. These include: Concepcion V. Arañez – 12 years, Roberto V. Aureo – 31 years, Pedro I. Bandala Jr. – 37 years, Diosdado D. Bandino – 13 years, Adelina B. Bulawan – 33 years, Virgilio R. Bulawan – 33 years, Elena E. Cabilar – 38 years, Rogelio I. Cailing – 32 years, Angelita D. Corpiz – 13 years, Leonarda R. Cueva – 11 years, Fe J. Dagoy – 36 years, Virgilio P. Flandez – 28 years, Aida Luisa T. Godoy – 38 years, Rogelio P. Managbanag – 38 years, Jaime A. Mazo – 36 years, Petronilo B. Nuñez – 38 years, Isidro D. Oclinaria – 24 years, Regalado D. Poliquit – 37 years, Florifina A. Posas – 30 years, Manuel B. Posas – 38 years, Alan L. Presbitero – 35 years, Manuel A. Redula – 28 years, Carmencita S. Reyes – 38 years, Rosita C. Royo – 12 years, Alberta M. Samson – 12 years, Eva S. Subere – 31 years, and Diosdado M. Torrecampo – 37 years