ISRDS and Focus launch DRTS integrative papers
Details

Written by MMCano

Published: 12 March 2012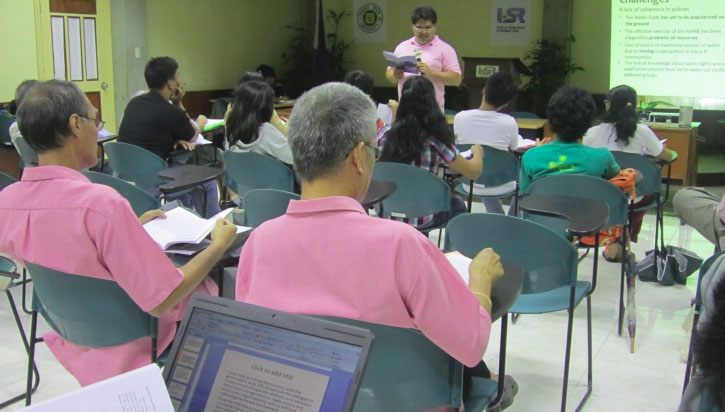 Three Development Roundtable Series (DRTS) Towards Shared Understanding and Common Action integrative papers were launched on February 6, 2012 at the Training Hall of VSU's Institute for Strategic Research and Development Studies (ISRDS).
These include Treading Troubled Waters written by Dr. Buenaventura B. Dargantes, Mary Ann B. Manahan and Cheryl C. Batistel; Philippine Trade Liberalizations: Faith Damns, Losers Can Only Weep written by Atty. Nepumoceno Malaluan; and Electric Power Industry Reform Act (EPIRA) at 10: Failed Assumptions and Unfulfilled Promises written by Representative Lorenzo R. Tañada III and Atty. N. Malaluan.
Ms. Mary Ann B. Manahan, Research Associate of the Focus on the Global South, a development policy and advocacy NGO based in Quezon City with head office in Bangkok, said that the Focus on the Global South have been working with the ISRDS for six years already.
According to Ms. Manahan, DRTS is a venue for different groups to resolve policy issues and work towards common goals, which was formally initiated by the Focus on the Global South in 2004.
She said that the process began with the discussion of basic issues which gave birth to thematic working groups (TWGs), with each one focusing on a particular topic. "Within the TWG, more specific issues were identified and scrutinized paving the way to more realistic discussions of the burning issues at hand. Through research, policy discussions and relevant campaigns, participants in different fields of interest are able to tackle the hard questions to come up with policy alternative that covers a broad range of the development concern," added Manahan.
Manahan also revealed that in 2009-2010, the Focus on the Global South came up with the integrative process to clinch the gains that have been achieved by the process and see the different multi-level work of each of the thematic, and at the same time see the linkages that overlaps in each of the thematic.
She also explained that there are 10 integrative papers and that the Focus on the Global South decided to reproduce them separately because different TWGs have different target audience and people, in general, do not prefer thick reading materials.
In closing, Manahan said, "I think the principle behind this integrative process is that we really wanted to have principled strategic and careful intervention in the sector and come up with a sort of a problem-solving approach, a more comprehensive analysis of where we are; where we stand in terms of development; are we happy with where we are right now. If not, where do we want to go and how do we want to do it?"
The launching of the DRTS integrative papers was attended by the faculty, staff and students of VSU, people's organizations (POs), non-governmental organizations (NGOs) and the media.