SAP staff conduct interviews with VSU experts
Details

Written by JFMBaldos

Published: 30 August 2013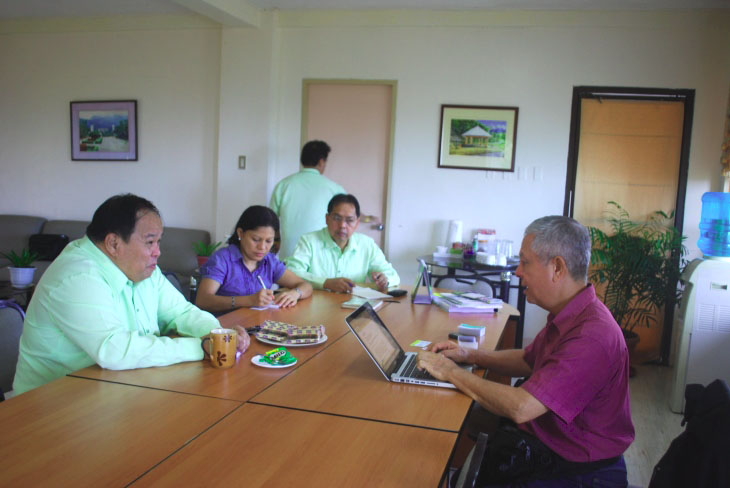 Mr. Nicanor Perlas, Smart Agriculture Program (SAP) Head, together with his staff, Ms. Shiela R. Castillo-Tiangco, conducted interviews on May 8-10, 2013 with some VSU scientists and researchers.
During the interview with Dr. Jose L. Bacusmo, the VSU President clearly discussed the different research activities conducted by the University, especially in mitigating climate change. He mentioned about the Protected Vegetable Production projects jointly initiated by VSU and the Australian Center for International Agricultural Research (ACIAR) that are implemented in some communities in Leyte and Southern Leyte provinces. "We found out that this Protected Vegetable Production initiative is very effective, thus we are expanding this to some strategic places in Samar," Dr. Bacusmo said.
"Although the distance is a major consideration that we are looking into since VSU is very far from Samar, we are not constrained by this. We are doing scooping activities to ascertain the needs and problems of farmers," Dr. Bacusmo mused.
The VSU President also revealed that the University has been helping the City of Ormoc (the vegetable bowl of the province of Leyte) as some of its projects, aside from the Protected Vegetable Production, are being implemented in the area. He mentioned about the OK-Range Project in the mountainous villages wherein groups of vegetable farmers have been given technical assistance by the University.
Mr. Perlas acknowledged VSU's reputation as a state university 20 years ago which the University is trying to uphold up to the present. Together with Ms. Shiela Tiangco, Mr. Perlas visited other research centers and departments of the University and conducted interviews with the center directors/heads.
SAP is an initiative of the Lifebank Group with the support of CORDAID. It aims to empower farmers and agri-based micro-entrepreneurs with a new kind of sustainable agriculture designed to be climate resilient and planned to enhance food security.
SAP aims to harness a social business approach to sustainable agri-enterprises that would give farmers and micro-enterprising poor access to innovative forms of agricultural finance and new business models that would dramatically improve their economic status and eventually help them escape from the poverty trap.
According to Mr. Perlas, excerpts of the interviews they conducted with more than a hundred resource persons throughout the country will be included in the book to be published by SAP at the end of the year. They will also be conducting workshop of outstanding practitioners and experts to draw out the best replicable practices and innovations in the field of climate resilient micro-agripreneurship, which will be implemented in key areas throughout the country.