VSU responds to community's request for assistance
Details

Written by MMCano

Published: 30 August 2013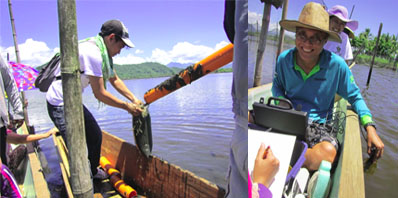 Experts from the Visayas State University (VSU) in Baybay City, Leyte took water and soil samples from Lake Bito in MacArthur, Leyte on April 30, 2013. This is to know the status of the lake because according to the officers and members of the Unahin Natin Lagi Ang Diyos Fisherfolk and Farmers Association (UNLAD-BLFFA), the water in Lake Bito has turned red and they are afraid that the lake is dying.
According to Bernardita Morcilla, treasurer of UNLAD-BLFFA, Lake Bito is the main source of income of the fisherfolk in Barangay Villa Imelda and the nearby barangays. "Our family owns 7.5 hectares of the fish pens in the lake and before, we harvest 3-25 kilos daily. Now, we only harvest 0.6 grams to 3 kilos per day," revealed Ms. Morcilla.
Lito Tiozon, the UNLAD-BLFFA Chairperson, on the other hand, said that out of the 10,000 tilapia fingerlings which the Bureau of Fisheries and Aquatic Resources (BFAR) gave to the members of the Lake Bito Integrated Fisherfolk and Farmers Association, only 2,500 fingerlings had survived.
Thus, they requested VSU, thru Dr. Jose L. Bacusmo, to help them rehabilitate the lake into a sustainable source of livelihood of the fisherfolk in MacArthur.
In response, VSU, thru Assoc. Prof. Maria Aurora T.W. Tabada, organized a team to respond to the request of the UNLAD-BLFFA. The team included Dr. Humberto R. Montes Jr., Director of the Institute of Tropical Ecology (ITE) of VSU; Prof. Jacob Glenn F. Jansalin of the Department of Chemistry (DOPAC); Mr. Ariel Bolledo of the Department of Agronomy and Soil Science (DASS); and Marissa Cano of the Information Office of VSU.
Prof. Tabada said that the team will go back to the community to report the result of the water and soil analysis done by VSU the soonest possible time. "VSU can only provide the data and the information that you need but you will be the ones to decide on what to do," Prof. Tabada told the farmers and fisherfolk.
Dr. Montes believes that the reddening of the color of the water in Lake Bito is caused by the mining operations. "Magnetite is iron and maybe because of the 24 hours operation of the mining company, the iron beneath the lake was stirred which caused the change in the color of the water," Dr. Montes said.
Prof. Jansalin, on the other hand, explained that the iron in the lake might have been oxidized which caused the reddening of the water in the lake. "But the dissolved oxygen in the lake now is very low. The normal is not less than 5 but our reading of the dissolved oxygen today is only 0.4 to 0.8 and this causes the death of the fishes in the lake," he added.