VSU prexy and other DOST officials in Mexico and USA for a government mission
Details

Written by JFMBaldos

Published: 30 August 2013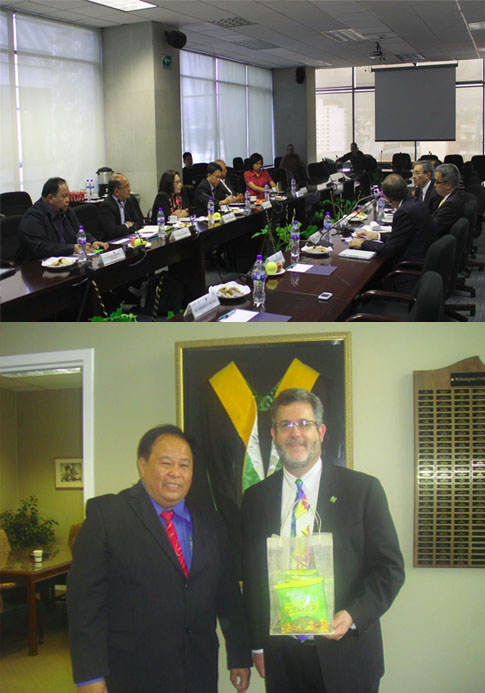 Dr. Jose L. Bacusmo, VSU President, together with some key officials of the Department of Science and Technology (DOST) headed by Secretary Mario G. Montejo, visited Mexico on April 9-14, 2013. The mission visit was part of the project titled, "Reinvigorating the coconut industry through in vitro culture (somatic embryogenesis) and strengthening agricultural biotechnology laboratories using advanced and cost-cutting methods and products" which will be implemented by the Visayas State University.
The other members of the group included: Dr. Amelia P. Guevarra, Undersecretary for Research and Development; Dr. Patricio S. Faylon, Executive Director of the Philippine Council for Agriculture, Aquatic and Natural Resources Research and Development (PCAARRD); Dr. Ponciano A. Batugal, S&T Consultant and Chair of PCAARRD's Coconut and Oil Palm Cluster; Dr. Leah J. Buendia, Director of PCAARRD's Policy Coordination and Monitoring Division; and Dr. Reynaldo V. Ebora, Director and Philippine Coordinator of the Program for Biosafety Systems (PBS), National Institute of Molecular Biology and Biotechnology (BIOTECH) in UPLB.
The Philippine delegation was warmly welcomed by Ambassador George B. Reyes and Consul Jason Anasarias of the Philippine Embassy in Mexico. The visit in Mexico aimed to explore collaborative activities particularly with the Centro de Investigacion Cientifica de Yucatan (CICY) and the Consejo Nacional de Ciencia y Tecnologia (CONACYT), and to negotiate for access of CICY's protocol for in vitro culture of coconut using somatic embryogenesis technology.
According to Dr. Bacusmo, the group had a meeting with the officials of CICY wherein its general director, Dr. Inocencio Higuera Ciapara, gave an overview of CICY and what are their present research thrusts. In response, Dr. Reynaldo Ebora made a presentation on what the Philippine government has been doing as regards biotech researches and developed technologies.
On the other hand, Dr. Carlos Oropeza Salin presented the CICY's coconut researches and technologies and vividly discussed the somatic embryogenesis technology in mass propagating coconuts. The meeting also paved the way to discussing possible collaboration and arrangement on transfer of the somatic embryogenesis technology between CICY and Philippine R&D.
Dr. Bacusmo also said that "Technology transfer agreements such as training + royalty payment and technology trade-off were discussed." The group also visited some laboratories including the tissue culture laboratory and net house where Dr. Salin conducts the somatic embryogenesis.
Moreover, the group had a meeting with Dr. Felipe Sanchez Teyer, CONACYT Director General, together with his Deputy Director Luis Mier y Teran Casanueva, and discussed further the possible arrangements for accessing technologies from both countries.
Dr. Bacusmo explained that Mexico's CONACYT is the counterpart of Philippines' DOST in which it offers 2,000 scholarships each year available to Filipinos. Its research institutes are degree-granting (MS and PhD) to individuals for research devoting 30% of their time for lecture and 70% for research. He further said that the research institutes are working closely with their country's universities and with the SEP (Mexico's Department of Public Education). SEP conducts periodic quality evaluation among those degree-granting research institutes.
The group was also shown to the Science Park, the country's ambitious dream of establishing such kind of a park through the CONACYT, as part of their educational reform (convergence) to push science and technology in Yucatan Peninsula. The Science Park, with a budget of 2-billion US dollars, shall serve as a place where parts/units of some universities and degree-granting research institutes situate and work using common research facilities.
On the other hand, Dr. Bacusmo proceeded to the United States of America on April 15-20, 2013 to study governance of state universities in the state of Ohio, and to review cooperation agreement between VSU and Wilmington College (WC).
The VSU President met with the WC President, Dr. James M. Reynolds, and discussed on governance of state universities and community colleges. He was also toured by Dr. Monte R. Anderson to the WC's agriculture facilities and farms. Likewise, Dr. Alfred Conklin, VSU Visiting Professor who frequently visits the University, spared his time in guiding the VSU President to other facilities of the College. WC in Wilmington, Ohio has a cooperation agreement with VSU involving student and faculty exchange for a number of years.
The VSU President never missed visiting the Ohio State University (OSU) where he was received by Dr. Patrick Woodward, OSU Undergraduate Program Coordinator for Chemistry Department. Dr. Bacusmo had a chance talking with Dr. Woodward how they delivered courses to more than 10,000 to 12,000 students enrolled in Chemistry subjects each semester.
The VSU President was toured to the big classrooms and laboratory facilities for instruction of OSU. He also learned that all lecture classes are being handled by lecturers with PhD degrees in Chemistry while laboratories and recitation classes (small break ups from large classes) are handled by teaching assistants.
While in Mexico and USA, Dr. Bacusmo took chance in visiting other places such as the Mayan Ruins in Uxmal, Virgin de Guadalupe Cathedral, and Mexico City Museum of Anthropology (Aztec Culture).