VSU prof. is SEARCA Professorial Chair awardee for 2013
Details

Written by JFMBaldos

Published: 30 August 2013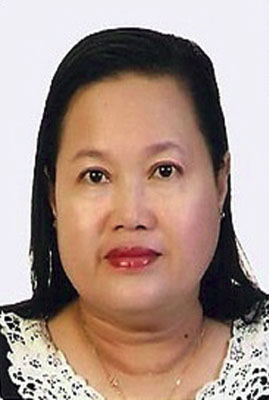 Dr. Annabella B. Tulin, a soil science and plant nutrition professor of the Visayas State University (VSU), has been awarded a Professorial Chair Grant for 2013 by the Southeast Asian Regional Center for Graduate Study and Research in Agriculture (SEARCA).
Dr. Tulin and the other two Southeast Asian academicians who have been recently awarded the SEARCA Regional Professorial Chair Grants—Dr. Felino Lansigan from the University of the Philippines Los Baños (UPLB) and Dr. Nakorn Tippayawong from Chiang Mai University (CMU), Thailand—have been recognized by SEARCA for their academic and research excellence in agriculture and rural development of Southeast Asia.
Dr. Tulin has been connected with VSU since 1980. As a senior scientist, she is actively and significantly involved in various plant nutrition research and extension projects with local and regional partners, specifically for vegetable and root crops.
As SEARCA Regional Professorial Chair awardee, Dr. Tulin will be presenting a public lecture on "Micronutrient Biofortification of Soils from Marginal Uplands for Increased Yield and Improved Nutritional Quality of Vegetables and Rootcrops" within the Academic Year 2013-2014.
The SEARCA Regional Professorial Chair Grant is awarded to institutions and individuals in recognition of their contribution in promoting academic excellence in the fields of agriculture and related sciences.
The Award gives due recognition to outstanding Southeast Asian experts in the academe in specific fields of study relevant to the broad themes of Agricultural Competitiveness and Natural Resource Management. The study areas include, but are not limited to, social sciences, marine and fishery sciences, environmental sciences, economics, and rural development-oriented fields.
The grant is open to any outstanding Southeast Asian academicians, particularly those working in the fields of study relevant to the priority thrusts of SEARCA within its current Five-Year Plan.