VSU lauds 551 honorees and 24 awardees for SY 2012-2013 in a ceremony
Details

Written by JFMBaldos

Published: 30 August 2013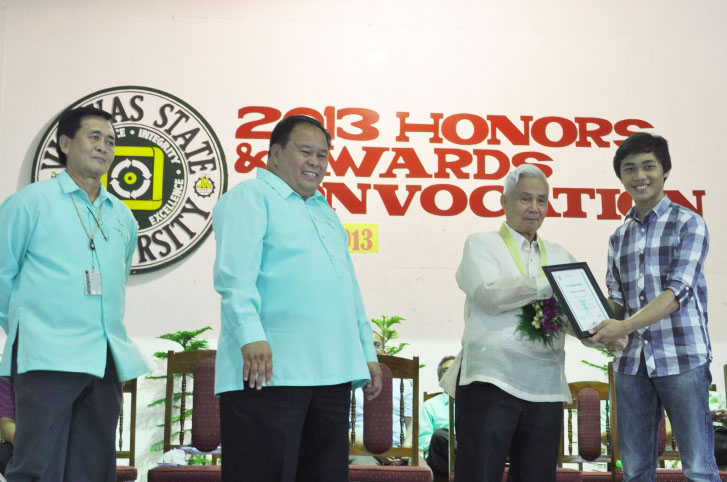 The Visayas State University (VSU) gave recognition to the 551 honor students (both in the undergraduate and graduate levels) and 24 individual and organization awardees during the 2013 Honors and Awards Convocation Program on March 5 at the VSU Gymnatorium.
As elaborated by Dr. Oscar B. Posas, VP for Instruction, the occasion was especially meant to honor VSU students who have distinctly identified themselves in the academic field. Certificates of Recognition were bestowed to both undergraduate and graduate students who were categorized based on the Grade Point Average (GPA) that they obtained during the first and second semesters including summer of the school year and in previous semesters for the consistent honors.
The honorees were categorically identified as: College Scholars – these are the students who have obtained a GPA of 1.750 – 1.451 per semester; and University Scholars – students who have obtained a GPA of 1.450 – 1.00 per semester carrying regular loads as prescribed in the course prospectus.
The University also presented certificates to the consistent college scholars, university scholars, or a combination of being a college scholar and a university scholar.
At the graduate level, honor students were also given certificates for being included either in the Dean's List (1.50 – 1.251) or in the President's List (1.25 – 1.00) depending on their GPA.
This year's Leadership Awardee was Wilfred P. Alfeche, a fourth year BS Biology student and president of the University Supreme Student Council. The recipient of the Endeavor Award was Geraldo S. Galoy, a fourth years BS Agriculture student.
In the same occasion, the Development Communicators' Society (DeCSo) was proclaimed Course-Related Organization of the Year and the Venerable Knight/Lady Veterinarians Fraternity/Sorority was declared Service Organization of the Year.
Students who brought honor to the University by winning in various provincial, regional and national competitions were given Special Awards. Likewise, Special Recognition was also given to some organization and dormitory advisers.
This year's Honors and Awards Convocation was graced by Dr. Angel C. Alcala, former Chairman of the Commission on Higher Education and then Secretary of the Department of Environment and Natural Resources, as guest speaker.