Dr. Bernardo shares insights in building ViSCA on the hill
Details

Written by JFMBaldos

Published: 30 August 2013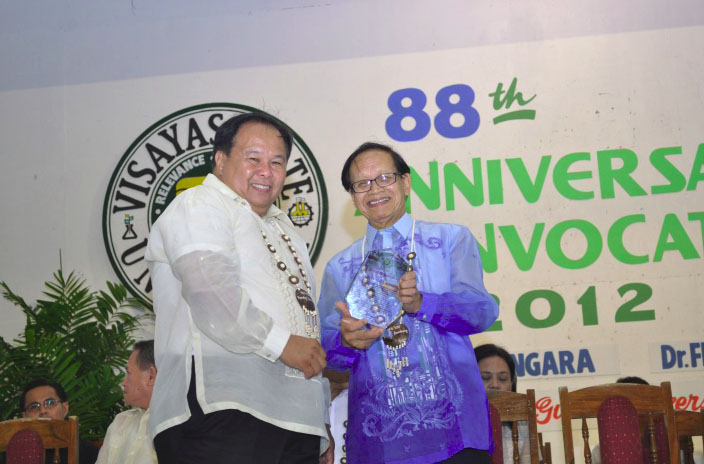 Dr. Fernando A. Bernardo, the first ViSCA President and one of the two speakers during the 88th VSU Anniversary Convocation Program, revealed in his anniversary convocation speech how he successfully built a campus on top of the hill—that is, the Visayas State College of Agriculture (ViSCA), now VSU. When he was assigned as the President of ViSCA, he said to his wife [Dr. Emiliana N. Bernardo], "We will build a large campus here."
To realize his dream, Dr. Bernardo developed four volumes of proposals by working very hard, day and night, within three months. The first proposal was on service area where he studied the environment including the farmers in the locality, the supply of manpower in agriculture, and the institutions;
The second was on how to organize a strong college of agriculture with many departments and focus on instructional programs; The third volume was on research and extension;
And the last was on the experimental high school. Dr. Bernardo said that we were the first one to think about it because there was no science high school yet in Manila.
The government was impressed with the proposals and, in fact, suggested to apply for a World Bank loan to carry out the said proposals. Dr. Bernardo insisted not to go for a World Bank loan but, instead, the government should invest.
In his term as president of ViSCA, he established the VSU Post Office for faster communication, and bought houses in Cebu and Manila to be used as VSU Offices. Dr. Bernardo said, that aside from the fact that resources are in the big cities, the two offices were established to invite donors since they will be accommodated and taken care of by the personnel assigned in the said offices.
Although Dr. Bernardo succeeded in building more than 26 physical facilities in the campus which attracted many people, he said that he also did three things more important than building buildings. These were: 1) created student scholarships to some 50 percent of students in ViSCA coming from poor families; 2) facilitated a massive staff development program every year to at least 25% of the staff on MS or PhD scholarship here and abroad until he left; and 3) developed a culture of research on this campus.
Dr. Bernardo emphasized that development of a culture takes time, thus he stayed at ViSCA for ten years. He created research centers, required theses for students, and even designed the "Search for Truth" monument. He revealed that big and strong universities in the world exist not because of students, not because of the faculty, but because of search for truth, because we must always extend the frontier college. "If professors are not doing research, they will depend on the textbooks which are outdated and teaching students outdated facts and figures," he quipped. "You must do research to teach new knowledge," the first president lamented.
In his 10-year stint at ViSCA, Dr. Bernardo did not regret losing opportunities of holding key positions in the government because of his so much love to ViSCA.
He also narrated some of his unforgettable experiences during those years when he was on the process of transforming the old institution into a renowned college, not only in the country but even abroad. He mentioned that after dinner, he still went to the office and worked until the turn off time of the generator at ten o'clock in the evening. Roads were bad, there was no bridge between ViSCA and the town, and no bridges in seven rivers between ViSCA and Ormoc which his wife described as "the end of the world."
According to Dr. Bernardo, the occasion is very significant to him because his favorite number is 8 considering that his first name has 8 letters and his family name has 8 letters also, thus doubling the number to 88 which coincided with the 88th Foundation Day of the University, and a coincidence again of his age which is 80.
"Many of you do not know that I am an adopted son of Baybay, Leyte, not even Mayor Carmen L. Cari," he mused. Dr. Bernardo revealed that it was during the time of the late Congressman Eriberto "Berting" V. Loreto that the Sanggunian passed a resolution adopting him as a son of Baybay.
He also mentioned that because of his being impatient, hardworking and desire to make things done fast, the first words he learned were "Dugay Kaayo." And when his overworked staff said, "Sir, we have to rest", he would say "Please, while resting finish the work." And some of them got overloaded. The hardworking president also underscored that "the reward for good work is more work." Meaning, if your boss is giving you more assignments, he has confidence in you. If he is not giving you more assignments, maybe you are not doing very well. Dr. Bernardo also said that "Every time there is an alumni homecoming in VSU, I wanted to come. But I am not an alumnus of VSU. But I really have VSU in mind and heart. And maybe when I die, I'll have my heart buried here. But don't worry, I'll not die. Not within 20 years. I'm 80 but I plan to live up to 100, still playing tennis."
According to Dr. Bernardo, when he came to ViSCA, he was known as the president of ViSCA. Many did not know that he was a student, a student of institution building without a professor. "Nobody was teaching me. I simply have to read a lot and think a lot. I was a student on how to rapidly develop this institution from almost nothing. And so I stayed here for 10 years as a student and left in 1984, I felt I graduated," he added.
He also commented that the celebration of the anniversary was well-planned, exciting, colorful, and well-participated which he cannot see at UPLB.
Likewise, he congratulated VSU for being the first-ever university in the country to be awarded with an Institutional Accreditation (Level II) by the AACCUP. He also acknowledged PCAARRD for giving funds to VSU's research undertakings, especially in biotechnology. "This is the first university in the country who produced graduates in BS Biotechnology—the first," Dr. Bernardo said.
Aside from topping in Board Examinations, the convocation speaker also mentioned that many VSU faculty members earned honors and awards. "Only last week, the UP College of Agriculture decided to give awards to outstanding alumni of the College of Agriculture in Los Baños. And these are: Dr. Ruben Gapasin, Dr. Antonio Acedo, Dr. Roberta Lauzon, and Dr. Jose Bacusmo. But when they discussed the case of Dr. Bacusmo, they said, we will elevate this to UPLB Alumni Association Committee for the Most Outstanding Alumnus of UPLB," he divulged.
On the issue of amalgamation or the integration of state colleges and universities, Dr. Bernardo reacted that it is going to be bad for VSU. He firmly believes that "Amalgamation or integration can strengthen the weak but then pull down the strong. It can pull down VSU. Don't agree, strongly fight for exemption. If UP is exempted, why not exempt regional science and technology universities like VSU."
Dr. Bernardo also challenged VSU to strengthen policy studies because there are many government policies that can be corrected based on scientific evidence. The speaker is very optimistic that VSU can help in this regard because the University is apolitical. It only speaks the truth based on science and technology.
The University through its president, Dr. Jose L. Bacusmo, presented a plaque of appreciation to Dr. Bernardo "for unselfishly sharing his precious time and insights with the faculty members, staff, students and other guests of the University as the Anniversary Convocation Speaker during its 88th Founding Anniversary."