VSU to hold its first College Admission Test (CAT) pre-examination forum
Details

Written by Kim Kenneth P. Roca

Published: 23 February 2023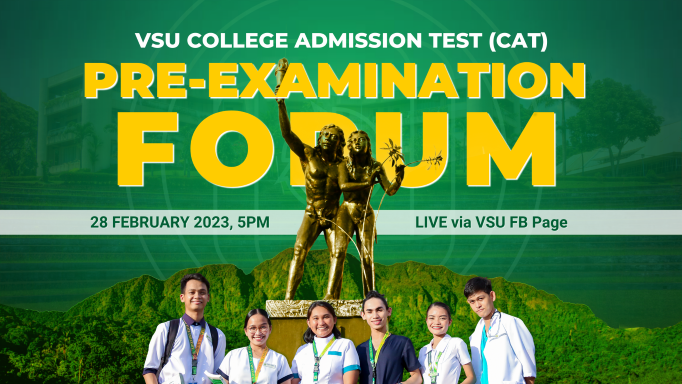 Aspiring Viscans, we want you to join a special online public forum that will hopefully prepare you for the upcoming VSU College Admission Test. Watch us live on Facebook this February 28, 5 PM on the Visayas State University page.
This is the very first pre-examination public forum mainly spearheaded by the VSU Admissions Office together with the Office of the Vice President for Student Affairs and Services (OVPSAS) and the University Integrated Media Center (UIMC).
As VSU will continuously adopt the online examination system for the VSUCAT this academic year, we understand that it's high time that we take in some input from you while also sharing our past experiences of administering this system.
With this, we would like you to send us your questions by submitting them on this Google Form: https://forms.gle/h5kCHeQakNf5ZYWn7.
Our public forum will include key officials of the university including VSU President Dr. Edgardo E. Tulin, Vice President for Academic Affairs Dr. Beatriz S. Belonias, Vice President for Student Affairs and Services Dr. Aleli A. Villocino, our newly designated Head of Admissions Office Mr. Raymund M. Igcasama, VSU Web Team Head Mr. Jed Asaph D. Cortes, Management Information System and Technology Team Leader Mr. Norman O. Villas, and Department of Computer Science and Technology Head Ms. Magdalene C. Unajan.
In this event, we also intend to provide some tried and tested techniques that will be valuable for your preparation for the upcoming VSUCAT. The Head of Admissions will also present important policies and guidelines for the conduct of this online examination.
You can check the full program below: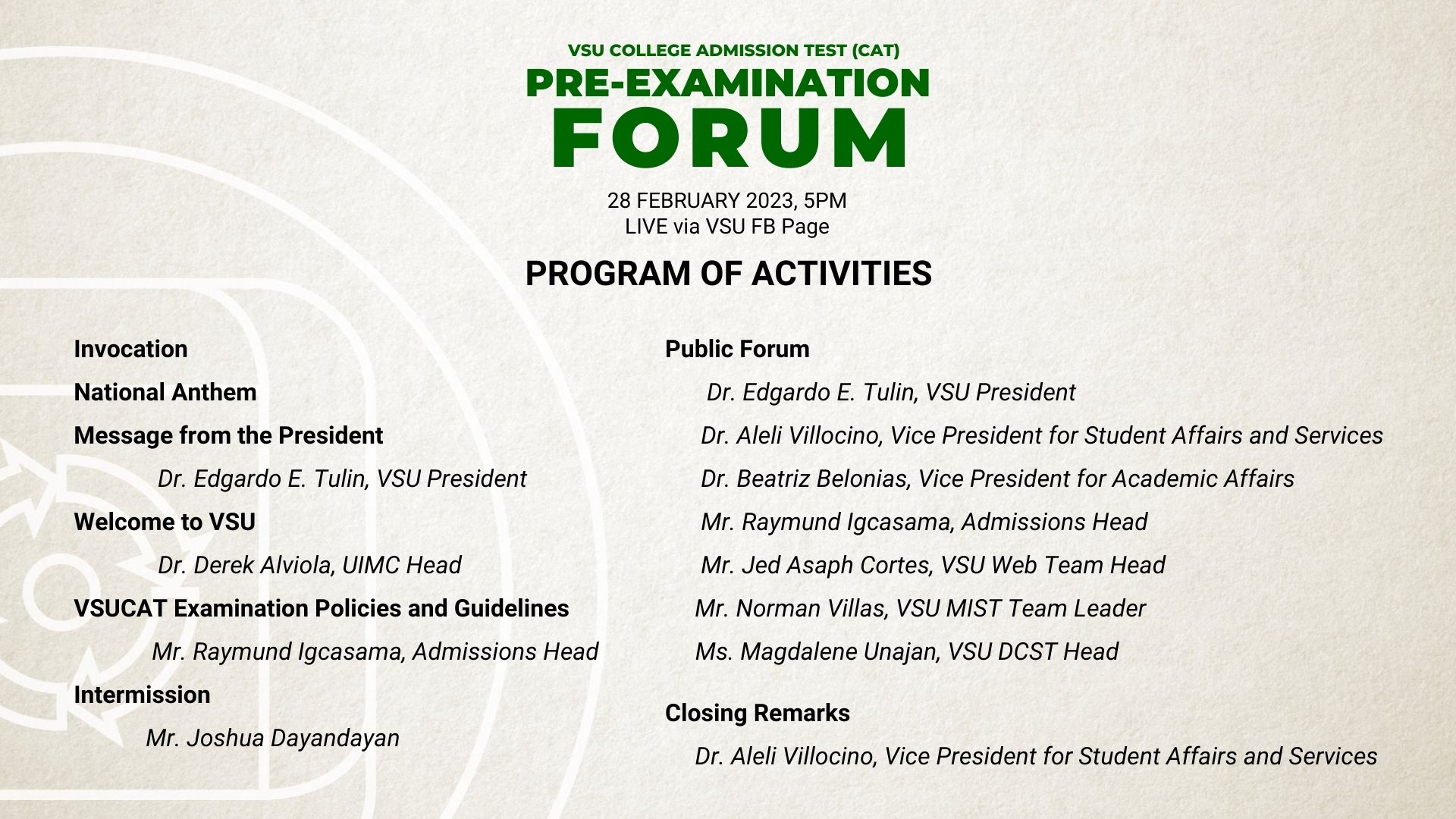 As of the afternoon of February 23, there are about 15,048 applicants for the VSUCAT who will vie for the 5,405 slots all across the VSU system—the biggest is from the flagship campus in Baybay City with 2,895 slots, 780 slots for VSU Isabel, 750 slots for VSU Tolosa, 580 slots for VSU Alangalang and 500 slots for VSU Villaba.
VSU is the first state university in the country to hold an online admission examination that began in April 2020. VSU Villaba, however, will complement this online examination with an in-person test inside their campus to cater to the request of students with no access to gadgets and the internet.
We also encourage all our 15,000-plus applicants to read in advance our updated VSUCAT portal for you to be aware of the procedures, requirements, and other important information about this online examination.
Because of insistent public demand, our application period for the VSUCAT has been extended up to today, February 23, at 5:00 in the afternoon.