BOR appoints current Veep for Admin and Finance as University Caretaker
Details

Written by Ulderico B. Alviola

Published: 08 November 2023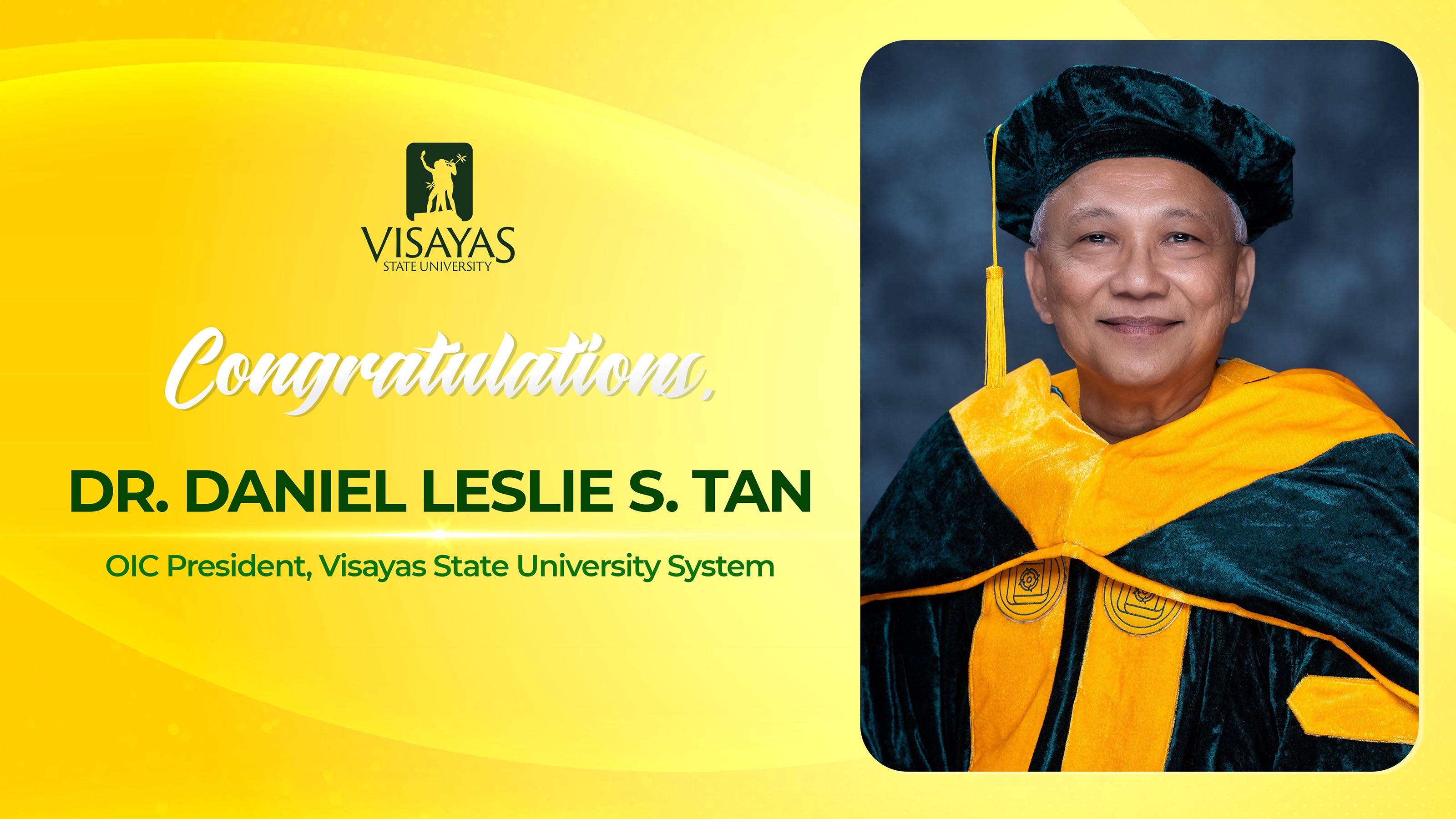 Dr. Daniel Leslie S. Tan, the former Vice President for Administration and Finance, has been appointed by the Board of Regents (BOR) as the Officer-in-Charge (OIC) President of the Visayas State University (VSU) system effective October 29, 2023, until the early months of 2024.
In his last assignment as University President, the VSU-BOR has given Dr. Edgardo E. Tulin the liberty to recommend the OIC President to which he favorably endorsed Dr. Tan as temporary chief steward until a new University President is elected by the Governing Board.
OIC President Tan is a University Professor from the Philippine Root Crop Research and Training Center (PhilRootcrops) who completed his Doctor in Agricultural Sciences degree from the Iwate University in Morioka, Japan.
He is also a #ProudViscan who finished his undergraduate degree in Agricultural Engineering in 1983 while he obtained his Master of Science in Agricultural Engineering in 1993 from the University of the Philippines Los Baños (UPLB) in 1993.
The newly appointed OIC-President of VSU is a multi-awarded researcher, patent inventor and utility model developer for the vacuum frying process of root crop commodities like cassava and sweet potato.
Among his most recent recognitions is the 2023 Regional Lingkod Bayan Award (Group Category) from the Civil Service Commission (CSC), 2nd placer in the 2022 National Invention Contest and Exhibition (NICE) accorded by the Technology Application and Promotions Institute of the Department of Science and Technology (DOST-TAPI), Champion for the 2021 Regional Invention Contest and Exhibition (RICE) by DOST-TAPI, and 2020 Regional Pag-asa Award (Group Category) by the CSC.
Dr. Tan has also been awarded in 2014 as an Outstanding Agricultural Engineer in the field of postharvest technology and food engineering given during the 64th Annual National Convention of Philippine Association of Agricultural and Biosystems Engineering (PSABE).
In 2013, he was a recipient of the Professorial Chair Award of the Philippine Agriculture and Resources Research Foundation, Incorporated (PARRFI).
In an interview, Dr. Tan said that he was overwhelmed to know of his new task considering that he will hold an important transitory function for the next administration of the university.
"I was surprised to be chosen and endorsed by former President Edgardo E. Tulin to take on this crucial role as OIC-President. But I was very grateful to him and the VSU Board of Regents for their trust and confidence in me to perform key leadership roles as we await the official appointment of our next chief steward," the university caretaker explained.
OIC-President Tan expressed his call for all faculty members, staff and students of VSU to actively collaborate with his transitory administration so that VSU can continue its growth momentum in the coming months.
"With all humility, I implore all our stakeholders particularly our current heads of offices including the faculty members, students and our alumni to continue rallying behind VSU as we wait for our next set of leaders. We have many important tasks to fulfill especially that we are months away from commemorating our grand centennial year. We need to continue taking care of our dearest VSU so that we can push for greater growth and development for our beloved university," Dr. Tan concluded.
The Search for the 7th VSU President has not been officially announced as of the moment. Board and University Secretary Dr. Guiraldo C. Fernandez, Jr. said that the call will be made public very soon and it is expected to run for two to three months.
Dr. Raul F. Moyong, former President of the Iloilo Science and Technology University (ISAT-U) was recently appointed by the VSU Board of Regents as the Chairperson of the Search Committee for the next VSU President.