VSU welcomes 1,668 new freshmen and transferees
Details

Written by JFMBaldos

Published: 30 August 2013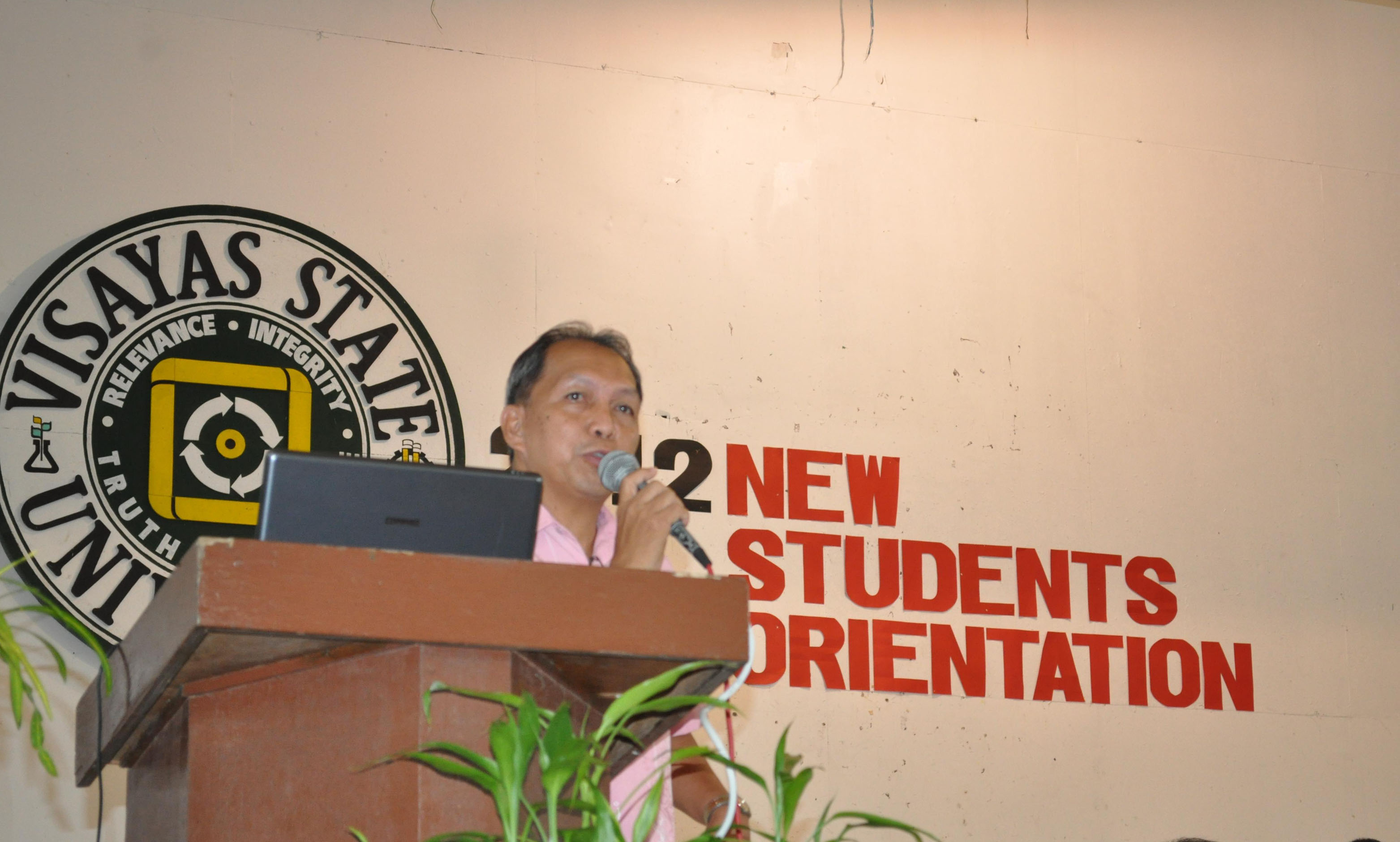 School Year 2012-2013 formally opened as VSU welcomed the 1,668 new freshmen and transferees during the New Students Orientation Program held on June 4, 2012 at the VSU Gymnatorium.
Engr. Manolo B. Loreto Jr., Dean of Students, said that the activity was meant to introduce the different services and programs that the University can offer to the new students and for them to feel the sense of belongingness as they adapt to their new environment and how to cope with the rigors of work expected from them as college students of this institution of higher learning.
In his welcome message, Dr. Jose L. Bacusmo, VSU President, lauded the new students who made the right decision in choosing VSU for their college education. "I guarantee that you will not regret your decision to enrol at VSU," Dr. Bacusmo averred.
The President emphasized that VSU is in the business of changing students' lives. He assured the students that the University will impart the knowledge and skills needed that will mold them to become better persons and prepare them in their chosen career. Dr. Bacusmo gave importance on how a student should behave in the University as it would reflect his character as a person. He also encouraged them to follow rules and regulations observed by the University such as no smoking policy in the campus, no drinking of liquor, no throwing of trashes anywhere, etc. He urged everyone to maintain this "paradise-like campus" in this part of the country.
Dr. Bacusmo also warned the students that studying at VSU is not for faint-hearted, lazy and ambivalent. "VSU education demands your full attention, dedication and doubling your effort in studying and in meeting the requirements. It also demands your agility and stamina as you have to walk from one building to another and climb stairs and slopes," he added.
The students were briefed on the different student services and programs, academic policy, library services, health services, and the anti-sexual harassment. They were also given ample time to meet new friends during the group dynamics and oriented them with the different college departments where they will hold classes.
The day's activity was recapped with the showdown of talents among the new students during the welcome night socials in the same venue.