13 VSU students avail of An Waray Scholarship Grant
Details

Written by SMCLemos

Published: 30 August 2013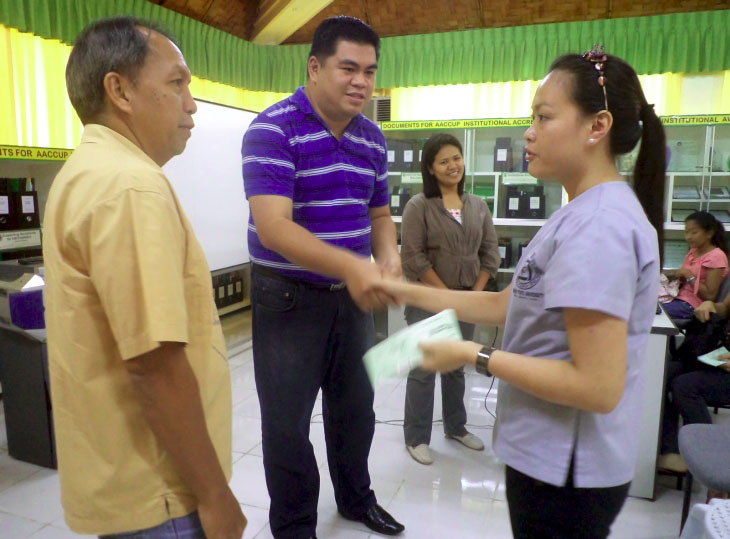 AnWaray Scholarship GrantThirteen VSU students qualified for the scholarship of the An Waray Scholarship Program with the assistance of the University Student Services Office headed by Prof. Manolo B. Loreto, Jr. and Ms. Chona A. Brit, HEI Scholarship Coordinator. They are Cristuto Acompañado, Jr. (BSHRTM-4), Regine A. Alao (BSFT-3), Mary Rose K. Canayong (BSChem-4), Joseph A. Cano (BSA-3), Elfleda S. Clerigo (BEEd-3), Rochelyn E. De la Cerna (BSF-4), Irene B. Feniza (DVM-4), Geraldo S. Galoy (BSA-3), Sarah Mae M. Mullaneda (BSDC-3), Eva Marie P. Oraiz (BSBio-3), Cristina S. Velunta (BSFT-2), Cahrra Joy Wales (BSCE-2) and Clarissa Jean M. Ybañez (BSDC-3).
The scholarship assistance was awarded to the students on March 23, 2012 at the University Accreditation Center by the Chairman for Eastern Visayas and third nominee of the An Waray Partylist, Mr. Philip Jude Acidre, with Ms. Julie Ann Guiron and Ms. Jenifer Padual (in-charge of scholarship).
Mr. Acidre explained to the awardees that the scholarship program is not the solution to their financial problems. It is only a support for them to strive hard in their studies. Likewise, he told them that no scholar can succeed alone, there has to be a support group. In addition, he said that college is not about having a degree. There are things in life that needs to be experienced and established, and that it is their own effort. Further, Mr. Acidre reminded the students that "The best thing people cannot steal from you is knowledge."