VSU launches new university documentary
Details

Written by Jed Asaph Cortes

Published: 11 September 2013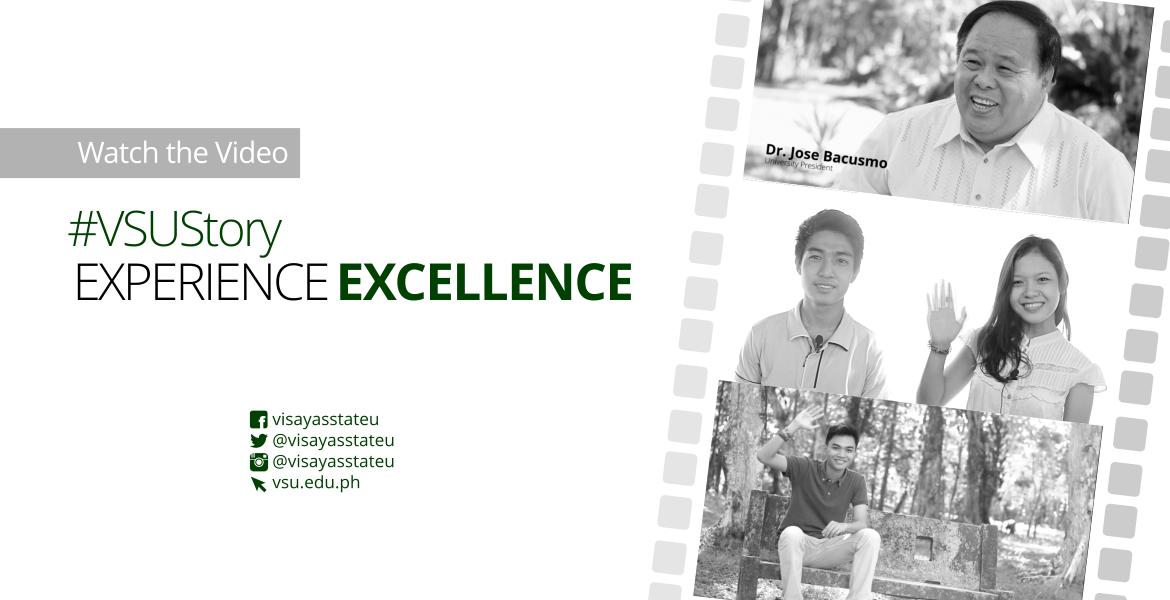 Experience excellence. That's the title of the new school documentary.
The "VSU Story" is an annual narrative about the university. VSU unveils its newest version of the VSU Story as AACCUP Accreditation Week kicks off, September 10, Monday.
VSU Story 2013: Experience Excellence is a 12-minute narrative of personal experiences in VSU, a intimate take on what an institution can offer. In this case, the experience of a product, "excellence" takes center stage.
VSU students, alumni and leaders take turns in narrating the story.
The story starts with a popular adage. "Experience is a great teacher," says Karen Israel, a Development Communication student. "And as I come to class, walk around this campus, I believe more and more on that."
Bethel John Sinon, a computer science alumnus, later adds, "I think the most defining moment in our college life at VSU (was) when we started to experience its excellence."
The story goes on to introduce VSU in many ways: a tourist destination, the most beautiful campus in the country, a "paradise of learning".
Ms. Cherrie Atilano, a social entrepreneur for Gawad Kalinga and an agriculture alumna, looks back on her experience at VSU, "It helped me to discover, what the meaning of excellence is... And to encourage other people to be excellent as well... VSU is secretly demanding you to be an excellent individual."
VSU President Bacusmo says that excellence is not just a quality being appreciated at VSU, it is a "culture" and "tradition." And former ViSCA President Fernando Bernardo recalls his experiences. He emphasizes that it is the "search for truth" that makes a university great.
"But 'search for truth' cannot be developed overnight," Dr. Bernardo argues. "You must develop a culture. A tradition."
VSU Story 2013 also compares your "typical day in any other school" with that at VSU. "I think the word 'awesome' is an understatement. It's undeniable," says an enthusiastic Clyd Descallar, the council president.
VSU Story 2013 is the fourth of a series of narratives about VSU, produced by the VSU Media Team. The team is composed of faculty and student volunteers of VSU.
In 2009, VSU introduced the first story entitled "The Premier University in the Visayas". The VSU administration later adopted the title in its vision for 2010-2015. It was followed by "VSU: Yesterday, Today and Tomorrow" in 2010. In 2012, the story "I Call It Home" was released to accompany the jingle with the same title.
Since 2009, stories gradually avoided straightforward enumeration of accomplishments and awards on video, and moved to lighter personal narratives.
"Have you experienced excellence?" asks Iahleah Besas, a biotechnology student.
"If experience is the best teacher, then, by experiencing excellence, we have the best teacher to teach us the best. And that is that!" she lights up.
---
How do you find VSU Story 2013? Post your comments below.