KOICA commits US$3-million to help rehabilitate VSU-Tolosa Campus
Details

Written by JFMBaldos

Published: 06 March 2014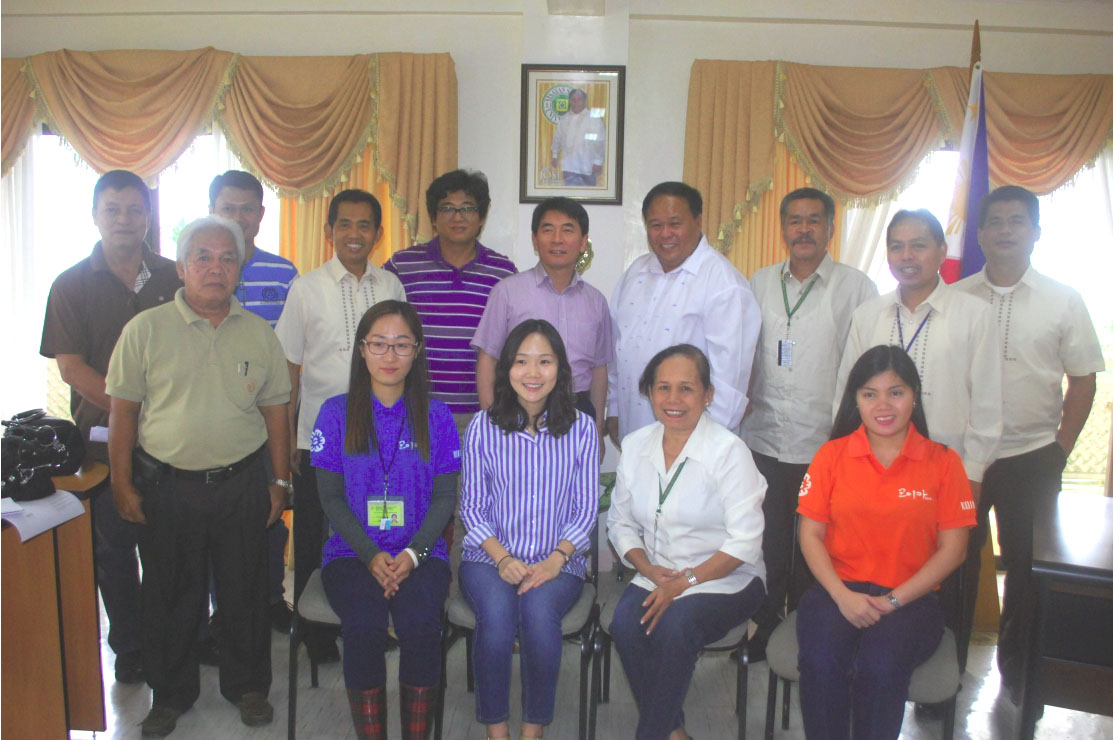 The Korea International Cooperation Agency (KOICA) expressed its strong commitment by allocating US$3-million total fund to rehabilitate the Visayas State University-Tolosa Campus that was totally wrecked by the super typhoon Yolanda on November 8, 2013. This development surfaced after a KOICA Team visited Tacloban City a day after the typhoon, and two weeks later a six-member KOICA Team visited the area where some Korean volunteers were deployed which include the VSU-Tolosa Campus where Miss Juhee (Olive) Kim serves as KOICA Volunteer.
The KOICA Team was met by Dr. Jose L. Bacusmo, VSU President, and Dr. Roberta D. Lauzon, VSU-Tolosa Campus Dean, together with some key officials of the University and deliberated on the extent of damage caused by the super typhoon Yolanda (internationally known as 'Haiyan') in the satellite campus, and considered some possibilities of assistance from KOICA.
Another meeting took place on December 17, 2013 between KOICA representatives and VSU represented by Dr. Roberto C. Guarte, VP for Administration and Finance, and Dr. Lauzon. Dr. Guarte was assigned by the University President to lead the rehabilitation of VSU-Tolosa and other VSU external campuses.
After the said meeting, a project concept paper for the rehabilitation of VSU-Tolosa was prepared by Dr. Guarte and submitted to KOICA-Philippines.
A KOICA Team composed of Ms. Hwang Sunhyung, Deputy Residence Representative of KOICA Philippine Office; Prof. Kim Sang-Tae, Expert on Development and Education of Kyung Hee University; Engr. Cho Duk-Won, Construction Manager of KOICA Philippine Office; and Ms. Eleonor M. Tabing, Senior Program Officer of KOICA Philippine Office; together with Miss Juhee Kim, KOICA Volunteer, visited the VSU Main Campus on January 22, 2014 to finalize the project. The Team had a meeting with Dr. Bacusmo, Dr. Guarte, Dr. Lauzon, together with Dr. Othello B. Capuno, VP for Research and Extension; Prof. Alan B. Loreto, Executive Officer; Engr. Nestor M. Israel, Director of the General Services Division (GSD); Engr. Mario Lilio Valenzona, Mr. Silvestre Cagande, and Mr. Allan Salentes, engineer and draftsmen of GSD, respectively.
Dr. Bacusmo presented to the group the project concept paper on "Rebuilding of the VSU-Tolosa Campus Damaged by the Super Typhoon Yolanda" including the plans, programs, and working drawings of the proposed buildings which will be constructed in VSU-Tolosa to be funded by KOICA. During the visit, KOICA has committed a total fund of US$3-million for the construction of two buildings at VSU-Tolosa—one three-storey building that will house the administrative offices and classrooms, and one three-storey student dormitory building that will house students, computer room, and a canteen.
During that visit, Dr. Guarte and Engr. Cho Duk-Won, together with the VSU engineers and draftsmen, finalized the different components of the two buildings, including the specific dimensions and facilities to be included in the rehabilitation project.
With this development, VSU-Tolosa will soon have a state-of-the-art buildings equipped with advance laboratory and classroom facilities that would enhance learning among students, faculty and staff, and other stakeholders through effective instruction, research and extension activities.