Bloom as the Seeds of Pioneers in a Frontier Land
Details

Written by Visayas State University

Published: 09 May 2014
Full Speech of UPLB Chancellor Rex Victor O. Cruz, Speaker of VSU's 61st Commencement Speaker.
May 9, 2014, VSU Gymnatorium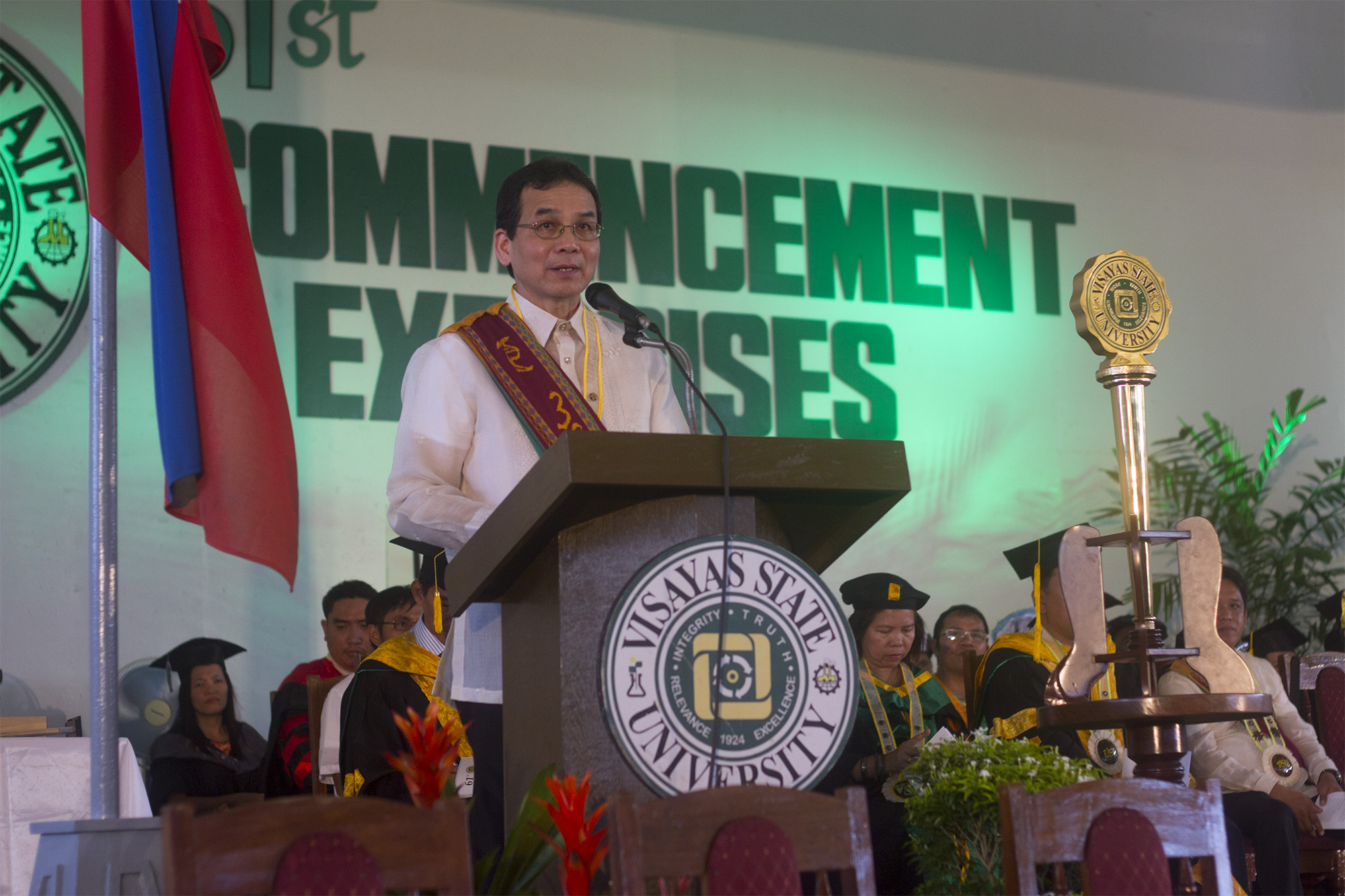 A pleasant morning to all of you, especially the graduates, parents, and mentors gathered here today for the 61st Commencement Exercises of the Visayas State University.
It is my distinct pleasure to share with you this important milestone in your life. It gives me a great sense of pride to be here, and at the same time, a feeling of profound humility. This is because I see a people so infused with hope, optimism, and determination – that not even the recent Typhoon Yolanda – could stop you from pursuing your dreams – as testified by your graduation today. I salute you!
I also stand here in awe at how VSU had developed from its beginnings from agriculture and forestry just like UPLB. These are the program areas that became the ramparts on which our universities have built their academic reputations and track records locally and internationally. And because VSU and UPLB share a common history and strong ties of cooperation, your growth and success is also our pride.
For one, we share an institution builder in Dr. Fernando A. Bernardo. Dr. Bernardo, dean of the then UP College of Agriculture or UPCA in 1973, came to Baybay in 1974 to build what was once a vocational school, the Visayas Agricultural College, into the Visayas State College of Agriculture. In less than 10 years, he accomplished what seemed an impossible feat and put ViSCA on the map of instruction, research, and development in agriculture and forestry.
Today, that pioneering school stands proud as the Visayas State University - a comprehensive state university with 10 colleges, three institutes, and one school. VSU has generated technologies and processes that have helped life in the countryside. More importantly, it has educated legions of successful professionals – now serving in leadership positions - not only in the Visayas but also in Mindanao, Luzon, and in other countries.
Standing on the Shoulder of "Giants"
Yes, you have your "giants" at VSU, who have built the legacy of honor and excellence in this University for you to follow. At this point, let me just acknowledge some of them. For as Bernard of Chartres, a 12th century French philosopher and scholar, said: "We are like dwarves perched on the shoulders of giants, and thus we are able to see more and farther than them."
Let me start with the first giant. He is a local boy who came to the then ViSCA because it was very near his home and a scholarship enabled him to study. Yet, he worked as a student assistant in order to augment his scholarship stipend. Despite the challenges, he finished BS Agriculture in 1978. He went on to work here as a research assistant and did significant work in rootcrop research and development. He faithfully served VSU, and he is still doing so as your fifth president. Dr. Bacusmo is the ultimate giant if you envision life in the academe.
Many of your administrators share Dr. Bacusmo's lifestory in varying ways. Through hard work and discipline, they are now training students from all over the Visayas and Mindanao. Dr. Roberto Guarte, BS Agricultural Engineering 1980, is VSU's vice president for administration and finance. I understand that he is also a local entrepreneur in the manufacturing and fabrication of farm machinery. And Dr. Edgardo Tulin, BS Agriculture 1981, vice president for instruction, came back to VSU from working abroad to serve his alma mater.
In social entrepreneurship, VSU has Cherrie Atilano, BS Agriculture 2007, magna cum laude, and one of the Ten Outstanding Students of the Philippines. Instead of taking further studies in the United States on a Fulbright Scholarship, she stayed in the country after a life changing experience as a volunteer at the Gawad Kalinga. She now mentors 42 young people on academic and leadership development whom Agricool, her social enterprise, is sending to school. Agricool has also empowered farmers of Angat, Bulacan and transformed them into business partners.
Reynaldo Monreal, another ViSCAn who graduated in BS Agriculture in 1981, would have made a fine lawyer, erudite and brilliant as he is. But he went back to Bohol and is now the province's leading playwright and ecotourism advocate.
And in disaster relief and recovery, there is a giant in alumna, Rosalyn Pascual, BS Agriculture 1987. From makeshift headquarters in Cebu, she organized disaster relief for alumni in areas affected by the Bohol 7.2. temblor on October 15, 2013. Barely had she sat down to catch her breath after the series of sea travel to Bohol to deliver relief items for the earthquake victims, when typhoon Yolanda hit Leyte and Samar less than a month later. Again she stepped up, organized fellow alumni, and coordinated the disaster relief operations.
Alumnus Eduardo Zabala, BS Agriculture graduate 1986, is himself a victim of Typhoon Yolanda, with properties and more than 10 members of his family lost forever to the killer storm surge. A family member offered him work abroad to help in his recovery, but he stayed in Palo, Leyte where he now helps provide boats to fishermen.
In banking and finance, you have giants in Bernardo Tocmo, executive vice president of Metrobank; Engr. Sisinio Narisma, vice president of the Development Bank of the Philippines; and Engr. Joseph Lacea, vice president of the First Consolidated Bank of Bohol that has branches in Luzon, Visayas, and Mindanao.
In service to the country as leaders of government agencies, VSU has "giants" in Johnson Canete, regional director of the Department of Labor and Employment; Antonio Gerundio, regional director of the Department of Agriculture; and Isabelo Montejo, regional executive director of the Department of Environment and Natural Resources.
In the international arena, you have Dr. Rex Bernardo, professor and endowed chair of the Department of Agronomy and Plant Genetics of the University of Minnesota. You also have Dr. Dindo Campilan, regional coordinator for Asia of the International Center for Tropical Agriculture, and many others.
You, my dear graduates, are the latest addition to these great men and women of VSU. It is admirable how you have strived to bounce back after the earthquake in Bohol and the horrific typhoon Yolanda. Your graduation today is a testimony to the strength and resilient spirit of each one of you, as well as of your family and mentors. Indeed, it is your indomitable will and spirit that have carried you through many challenges and uncertainties.
The Resilient Seeds of Pioneers Facing New Challenges
True, your forbears were able to survive the 'wildness' of these once uncharted land and the birth pangs of a university. But you are now surviving new and emerging challenges from changes in human and physical systems locally and globally.
One of the challenges we face now is climate change. The United Nations Intergovernmental Panel on Climate Change declared in its Fourth Assessment Report in 2007 that climate change is unequivocal. As we are located along the path of every major typhoon that barrels west from the Pacific Ocean, we have been encountering more and more freak typhoons and unprecedented weather disturbances. Also, because of our location, we bear the brunt of continually rising global greenhouse gas emissions that has caused climate to run out of kilter. Our forests that can help protect us from floods and landslides and absorb carbon in the atmosphere cover only 24 percent of our land area. Indeed, life as we know it has changed and this now, as they say it, is the new normal.
Poverty remains a development concern – and it had been exacerbated with climate change in the equation. As we have witnessed in the many natural disasters that have crossed the country, it is always the poor who are in the path of death and destruction, and who lack the means by which to recover. On top of these is the issue of governance – not only during times of calamities, but in the day-to-day grind of politics in our government.
Amidst all these changes is the convergence in the ASEAN region that will result to the free flow of goods, services, investments, capital and labor throughout the region. Our commitment to integrate with the nine other member countries of the ASEAN by 2015 has its benefits. But we also have to gear up our competitive advantages to thrive in the 'global village.'
How You will Thrive in the New Environment
Despite these global changes, I would like to believe that the seeds of greatness that your bold and visionary pioneers and leaders planted starting from VISCA live on among you. You have that 'genetic inheritance' as well as the environment to fully express those potentials.
I am alluding to the seed because for it to grow, it must 'die' in the soil. Just as we call your graduation "commencement" or beginning because it is not the end of college and of learning. It is actually just a new beginning, a new day. And as new days are, today is full of hope:
•

That each one of you will go off into a future of self-actualization, of accomplishment and achievement, not only for yourself but for humanity.

•

That you will be a more enlightened generation who will become beacons of hope for those that will follow you.
•

That you will be the new generation of leaders - men and women of character and competence that our country badly needs.
We need leaders who are both skillful in strategy and of unassailable character. According to US Military General Norman Schwarzkopf, "leadership is a potent combination of character and strategy, but if you must be without one, be without strategy."
We need men and women of honor and excellence. But be men and women of honor first, then of excellence. Be leaders who lead with conviction and by example.
But what exactly does our country need you to be? Let me cite a number of character traits that I believe you, as our future leaders, must have.
1.First, be a model of submission to and respect for laws and authorities.
Life is often described as a race. In this race, what matters most is not how fast we run the race and if we finished it first or if we finished last, but how well we ran the race. What is important is that we trained and prepared well; that we endured the pains and hurdled every daunting obstacle along the way; and most importantly, that we ran according to the rules.
The key word is observing the rules. And it will take no less than discipline to do it. This is why all those years that you spent in school, you were trained to follow the rules and respect your teachers so that in the school of life, discipline will be your second nature.
Rules define the rights and roles of everyone and authorities are the ones who make sure rules are enforced. You cannot observe laws for convenience or because you will get caught but because it is right and it is your sacred duty. And because it takes discipline, you will have to practice consciously following rules especially when no one is watching you.
Can you keep your litter in your pocket rather than toss them anywhere or observe the STOP sign even when there are no other cars or policeman around? Clearly you have all the rights to a clean and safe environment, but you will have to follow the rules that protect all your rights.
The moment you violate a law is the moment you abdicate your rights to be protected by laws. It only takes breaking one law and getting away with it for widespread and systemic violation of laws to happen. And how quicker it is to happen when the enforcers are the perpetrators.
Do not be a generation who knows only how to demand what their rights are but are willfully ignorant of their duties and responsibilities. If you are to be leaders who later will be the enforcers of our laws, you must consistently display full submission to all instituted rules be it at home, at work or everywhere else.
If we are to cure injustice and violation of human rights in our society, you will have to be models of individuals who know and claim their rights, but more importantly who know and exercise the duties and responsibilities that go with those rights.
2.Second, be a decision-maker who makes science and conscience the foundation of every decision you make.
As VSU graduates, you have been trained in science and in scientific investigation. Make science the key measure of a sound and right decision. Never let the majority that is on the wrong side of truth pressure you to do what is against your conscience and in violation of the principles of science. Do not be afraid to make unpopular decisions for the right decisions are not necessarily popular.
3.Third, be an expert in your discipline who is always conscious of the bigger picture that you are but a tiny part of a whole that is composed of many members whom you need to work with harmoniously.
We are all part of one system that is made up of interconnected physical, biological, and socioeconomic parts. We all live in a system too complex for anyone of us to fully comprehend, that is why we need others to help us understand its workings.
Be humble and realize that no matter how much of an expert you have become in your field, you are still ignorant about many things. Alone, you cannot solve the complex problems of humanity. In the scheme of things, discover your gift and use it as an instrument in harmony with others to make a great symphony of change.
4.Fourth, be a model of resilience who knows how to anticipate and prepare for disasters and adversities; and skillful in turning them into opportunities to get better, to get stronger.
Disasters and adversities are given in life. Do not be surprised but expect disasters and adversities. Without them you would not understand and appreciate what triumph and success are all about. They are necessary to test our faith, our will, and determination. They test our spirit so that it becomes stronger than our bodies.
We go through sorrows and trials, so we might learn how to comfort those who are tested by them. We are taught how it feels to hurt so that we learn how to cure the pains of others.
However, you have been equipped not just to cope and react to disasters and adversities but to anticipate and prepare for them. Be a change maker in your community. Help build it up so that it will be better able to arm itself against disasters and adverse events.
5.Fifth, be a man of your word.
Words are like two-edged swords, they can build you up and they can destroy you. Therefore, do not make hasty and careless decisions and promises just for convenience or to gain favor from others. Before you say yes or no, be sure that you really mean yes when you say yes and no when you say no. The easiest way to lose your credibility and name is not to keep your word.
6.Sixth, be a model of a principled individual, a person of conviction who will stand up for what is right no matter the cost.
Be a vigilant participant in the business of governance. Do not hesitate to assume leadership position when called upon. Remember it only takes apathy of the people for corruption and injustice to prevail.
But when leading, do not hesitate to give up your post when required to give up your convictions.
7.Seventh, be a model of a caring and giving individuals whose deep source of joy is the well-being, success, and triumphs of others and not solely your own.
Care for your family and friends and for others, as well as for the environment.
Caring starts with your families. Do not look beyond your home to care for others if you have not cared for your family, for they are the first 'others' in your life. The family is the first school where your children will learn how to be the caring and loving persons they ought to be. The home is where you establish the foundation of your success in caring for others, and in leading others to a life that will positively affect the succeeding generations and beyond. If you fail in caring for and leading your family, it is hard to succeed elsewhere.
Then, be generous in helping others. As John Maxwell wrote in one of his books on leadership: "A candle loses nothing by lighting another." And how true it is if you are to care for others.
We need leaders who are truly passionate and compassionate in serving others. Who gives freely even to those without means to pay back. Watch out for greed that can grow into a monster called obsession to get rich, for it gives birth to selfishness, dishonesty, and corruption. Do not let money be the overriding measure of your success in life. Beware that money can corrupt your principles, convictions, nationalism, and love of country and people, oftentimes without you knowing it.
We need servant leaders who put the interest of others above their own; who measure success not by how much wealth they have gained but by how much they have given away to those in need. Success is meaningless if it causes others to fail.
Honest work and diligence do not always fill your wallets with cash, but they always fill your hearts with joy. Deep is the joy of those who not only delight in their own success, but moreso in the success of others.
Hence, you must be a leader, who if needed, is not afraid to let go of opportunities for self-development in favor of opportunities to serve humanity. If you are to have a lot of money, let it come as dividends of honest and diligent work for the purpose of enriching others' lives. Serving others is the only purpose worthy of spending all that you have honestly earned without leaving your life and spirit bankrupt.
8.Eighth, be a leader who is not afraid to undergo inward self-transformation to be able to transform what is outside and around you.
Be like seeds that cannot grow into majestic trees without dying as seeds. Like seeds, you have to die unto yourselves, and learn to let go of your dreams and ambitions if only to be stronger and be able to make others stronger and more secure.
It will be not a walk in the park. But as you leave the portals of your alma mater that has nurtured you and lovingly molded you into who you are now, take courage that you will do well in stepping into a new life with its novel challenges. Understand that as you transform, as you must, from being a student of VSU into a professional, the growing pains and doubts are natural and temporal. You are also now more resilient and adaptive than the first time you came into VSU.
I now see in you dear graduates a great hope for our country. While a chosen few may become actual leaders, I see 'giants' in all of you. All of you now have what it takes to be leaders in changing our country's future by becoming the change itself that our country needs.
Conclusion
Your bigger challenge is the need to be brave enough to challenge traditions and the status quo that has restrained our country and people from enjoying a decent quality of life for a long time now.
As citizens of this country and as graduates of a state-funded educational institution, we have a moral responsibility to help our country and contribute in realizing the goals of inclusive and sustainable development.
Through your combined individual endeavors of about more than 1,000 graduates, you have the power to radiate substantial rays of hope for our people and help bring about their redemption from poverty, injustice, corruption, poor governance, and disunity.
Hence, as you go and pursue your dreams, live and lead honorably and excellently, not only for your personal gains but more so for the benefit of many.
Let the seeds of honor and greatness in you grow, bloom, bear fruits, and produce seeds that in return you may also sow in the lives of others.
As Samuel Davis, one of the former presidents of Princeton University said: "Whatever be your place, imbibe and cherish a public spirit. Serve your generation!"
"Tingali ug natingala kamo nganong ako kamong gisang-onan niining manug-at nga hagit aron makab-ot nato ang kabag-ohan nga gimithi natong tanan?" (English: Finally many of you are perhaps wondering why am I laying on you such a heavy load of challenge and responsibilities in bringing the change we all have been longing for?)
Please listen closely to this. It is because not enough people have so far dared to freely and joyfully embrace the challenge to serve their own generation sacrificially. NOW WILL YOU? PLEASE DO SO!
Again, congratulations to the VSU graduates of 2014! Mabuhay ang VSU! Mabuhay kayong lahat…Pagpalain nawa kayo ng ating Panginoong Diyos!