VSU honors farmers and fisherfolks in its 90th Foundation Day
Details

Written by JFMBaldos

Published: 12 September 2014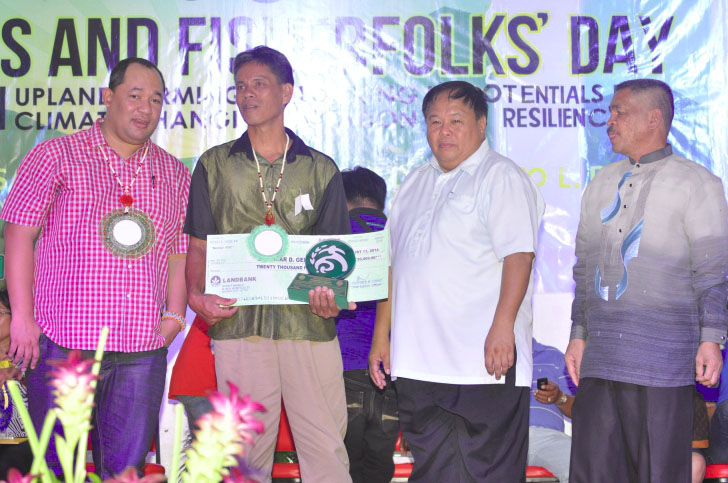 The Visayas State University (VSU) under the administration of Dr. Jose L. Bacusmo devoted a special day to honor the unsung heroes of Philippine agriculture—the farmers and fisherfolks in Eastern Visayas. The tribute was held during the Farmers and Fisherfolks' Day on August 11, 2014 at the VSU Convention Hall on the occasion of the 90th VSU Founding Anniversary as an institution.
Guided by its theme "Upland Agriculture: Unlocking its Potentials for Climate Change Adaptation and Resilience," the ceremony kicked-off with a parade around the VSU Lower Campus. It was participated in by some 2,000 farmers and fisherfolks from various farmers organizations throughout Eastern Visayas and Central Visayas regions, namely: Cabintan Livelihood Community Association in Cabintan, Ormoc City; Cambantog Integrated Green Environment Farmers' Association in Lake Danao, Ormoc City; Lake Danao Community Association, Ormoc City; Lake Danao Farmers' Association, Ormoc City; Patag, Gabas, Guadalupe Farmers' Association in Baybay City; Brgy. Marcos Fisherfolks' Association, Baybay City; Brgy. Marcos Farmers' Association, Baybay City; Brgy. Hipusngo Farmers and Fisherfolks' Association, Baybay City; Baybay Dairy Cooperative, Baybay City; Baybay Farmers' Association, Baybay City; City Agricultural Fishery Council, Baybay City; Brgy. Makinhas Officials and Farmers, Baybay City; Villaconzoilo Community Association in Jaro, Leyte; and Brgy. Tongonan Kananga Community Association in Kananga, Leyte.
Other farmers' organizations who were not able to participate in the parade included those from the municipalities of Silago, Bontoc, Macrohon, San Juan, and Sogod—all in Southern Leyte; Tudela, Pilar, and Poro in Camotes Island, Cebu; Bohol; and Samar Island.
The major highlight of the affair was to give recognition to the 2014 Ugmad Award Outstanding Farmer-Entrepreneur, Outstanding Vegetable Farmer, Outstanding Livestock Farmer, and Outstanding Farmers' Association among the nominees from all over Region VIII.
The University, in cooperation with other government and private companies, accorded plaques of recognition and cash or in-kind awards to the winners of the different categories.
The recipient of the 2014 (Ugmad Award) Outstanding Farmer-Entrepreneur is Mr. Bendicar D. Gerona of Brgy. Buac Gamay, Sogod, Southern Leyte "For his innovativeness, hard work and determination to increase productivity and profitability in his farm. He initially started tilling two hectares which eventually grew to a five-hectare farmstead owing to his entrepreneurship and diligence. A farmer with a knack for planning and entrepreneurship, he participates in agri-aqua fairs and garden shows giving him opportunities to learn and also market his produce. He shows a remarkable concern for the environment by adopting organic farming and ecologically-sound pest management practices. Despite his success as a farmer, he continues to learn and is very willing to share his knowledge with his fellow farmers. As farmer-cooperator for field trials, his farm has become a model for other farmers. Mr. Gerona is a perfect example of the new breed of successful farmer-entrepreneurs who can prove that farming is a highly rewarding vocation."
Mr. Gerona received a plague from VSU and a cash award of PhP20,000 from the provincial government of Leyte through Gov. Leopoldo Dominico L. Petilla.
The East-West Seed Company, Inc. awarded the 2014 Outstanding Vegetable Farmer to Mr. Romeo V. Mazo of Brgy. Kansungka, Baybay City, Leyte "For exemplifying innovativeness, hard work and determination to make his three-hectare land a productive vegetable farm. Concerned about the environment, he started abandoning conventional farming practices and adopted an organic farming system. His hard work and good entrepreneurial skills have brought him enough profits to acquire additional farm plots. His success in vegetable production also paved the way to his election as an officer of the Baybay Farmers' Association where he continuously shares his knowledge and wisdom to other farmers. Mr. Mazo is a highly successful vegetable farmer who continues to innovate and find ways to help his fellow farmers."
Mr. Mazo received a plaque and a cash award of PhP15,000 from the East-West Seed Company, Inc. through its Sales and Marketing Head, Mr. Gerardo P. Domingo.
VSU and the Univet Nutrition and Animal Health Care Company (UNAHCO) presented the 2014 Outstanding Livestock Farmer Award to Ms. Marilyn D. Legaspi of Sitio Manloy, Mapgap, Baybay City, Leyte "For her innovative and environment-friendly farming practices that transformed her small 100-layer egg production venture into a 70,000 broiler farm. Her innovations included transforming the original improvised poultry house that she started with into a huge sturdy air-conditioned building with automated equipment for feeding and watering and an innovative waste management technology that helps control bad smell and flies. The farm wastes are given to fellow farmers for their use. A trained accountant, she acknowledges that her success was achieved with the help of a private corporate partner who encouraged and helped her learn and succeed in poultry farming. Ms. Legaspi is a farmer-entrepreneur who has shown that even with a different professional background one can succeed in poultry farming which makes her a good example to other farmers."
Ms. Legaspi received a plaque and products worth PhP15,000 from UNAHCO through Mr. Glenn L. Ibañez, the Technical Director.
On the other hand, the University and the Plan International bestowed the 2014 Outstanding Farmers' Association to the Villaconzoilo Community Association (VILCOA) of Villaconzoilo, Jaro, Leyte "For outstanding leadership, unity, hard work, and entrepreneurship as an organization which helped raise their productivity and incomes even with marginal resources and minimal initial support from the government. Despite the harsh agroclimatic conditions in the uplands. VILCOA has demonstrated that upland agriculture can be productive and profitable as a solution to poverty through the adoption of sound environmental practices such as use of organic fertilizers and pesticides and soil conservation technologies such as contour farming. In addition, good marketing practices, internal capital formation, member protection through group insurance and organizational development trainings have fostered strong member participation and group cohesion. With only 38 members, VILCOA's financial assets have grown to a million pesos and various external partners who have seen their organizational potentials have started to provide support to their programs and projects.
VILCOA's success is an example of how good leadership, organizational cohesion, hard work and dedication, viable income generating projects and strong government support, can make a farmers' organization become a potent force for rural development. VILCOA is an outstanding model for aspiring farming groups and communities, which capitalizes only on their fortitude and unity to make the best of their marginal resource base. Lately, VILCOA has demonstrated that even after typhoons Yolanda and Glenda devastated their area, a strong organization is able to rise from the devastation and be productive again through unity and cooperation."
VILCOA received two knapsack sprayers worth more than PhP15,000 from Mr. Erwin G. Cachuela, Provincial Coordinator of Plan International.
Nevertheless, all finalists in the different categories received certificates from VSU.
The different awardees were selected based on the following criteria: Innovativeness (30%), Productivity (30%), Community Leadership (20%), and Environmental Concerns (20%), for a total of 100%.
This year's Ugmad Search Committee is composed of Prof. Efren B. Saz, chairperson; Dr. Alfredo B. Escasinas, Prof. Reny G. Gerona, Dr. Milagros C. Bales, Dr. Humberto R. Monters, Jr., Dr. Ana Marquiza M. Quilicot, Prof. Arsenio D. Ramos, and Ms. Adelina O. Carreno, as members.
The awards were distributed by the sponsoring agencies together with the VSU President Jose L. Bacusmo, Leyte Vice Governor Carlo P. Loreto, and VP for Research and Extension Othello B. Capuno.
Prior to the awarding ceremonies, the farmers and fisherfolks forum took place to give way to the farmers and fisherfolks to air their concerns especially on upland agriculture, climate change adaptation and resilience. Dr. Eduardo O. Mangaoang, professor of forestry, had a presentation on Climate Change Agriculture and Natural Resources as a prelude to the open forum. The panel of VSU experts composed of Dr. Victor B. Asio, Dr. Beta C. Ratilla, Dr. E. O. Mangaoang, Dr. Luz O. Moreno, Dr. Lolito C. Bestil, Dr. Zenaida C. Gonzaga, Prof. Tess C. Nuñez, and Dr. Marcelo A. Quevedo responded to some queries raised by the participants.