2 investigative projects of VSULHS students qualify for nat'l science fair
Details

Written by Visayas State University

Published: 02 March 2015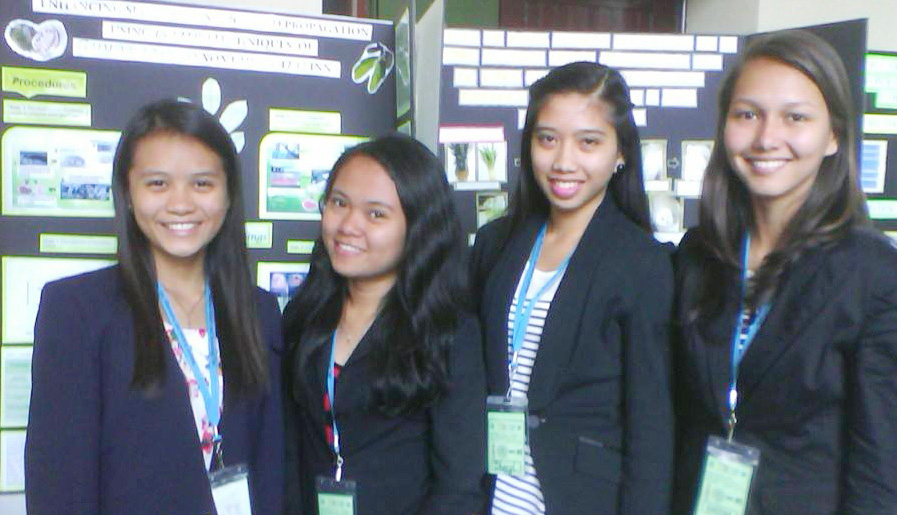 The two research projects of the VSU Laboratory High School (VSULHS) students which won first places during the Regional Festival of Talents and Science Fair last December 20-22, 2014 in Hinunangan National High School, Hinunangan, Southern Leyte were the official entries of Region 8 in the National Science and Technology Fair held on February 9-13, 2015 at the Tagaytay International Convention Center in Tagaytay City.
The project of Sheena S. Wheless, Keren Eunice A. Itumay, and Sheryl Ann Mae C. Bombales with Prof. Tessie C. Nuñez, as adviser, entitled "Effects of Plant Growth Regulators on In Vitro Multiple Shoot Development and Ex Vitro Survival of Regenerated Pineapple (Ananas comosus L. Merr. (Queen))" was selected for the national competition (Life Science – Group Category). The group investigated the possibility for genetic improvement and mass propagation of "Queen" pineapple through the micro propagation technique using different plant growth regulators such as naphthalene acetic acid, dichlorophenoxyacetic acid, and benzyl amino purine. The group was awarded Best Presenters during the national competition.
On the other hand, the project of Stefani L. Bartolabac with Prof. Flora Mia Y. Duatin, as adviser, entitled "Enhancing Seed Germination and Propagation Using In Vitro Technique of a Guyabano Plant (Annona muricata Linn.) was also selected to represent Region 8 in the national competition (Life Science – Individual Category). Miss Partolabac conducted the research to enhance germination of guyabano seeds using pre-treatments, determine the best pre-treatment that would give the highest percent germination of seeds, investigate the performance using in vitro technique, and determine the growth regulators used singly or in combination that would enhance growth of guyabano nodal cuttings.
Aside from the researchers and the advisers, the VSULHS students were accompanied by Mr. Leo A. Mamolo, VSULHS Science Club Adviser, during the said national competition.
Other winning projects and the researchers during the Regional Festival of Talents and Science Fair were: "Guso Seaweed (Gracilaria compressa) Combined with Yeast (Saccharomyces cerevisiae) as a Potential Source of Electrical Energy" by Galileo Gregory Abrasatdo II with Dr. Daniel Leslie S. Tan and Engr. Arthur It. Tambong, as advisers – second place (Physical Science – Individual Category); and "Galvanic Cell: The Association of Badiang (Alocacia macrorrhiza) Plant as a Possible Substitute for Battery" by Reeves Ian Stephane B. Ababat, Jasper D. Dagale, and Mark Jelouh S. Magaddatu with Dr. Daniel Leslie S. Tan, as adviser – second place (Physical Science – Group Category). JFMBaldos