DOE Secretary Petilla inspires 1,062 graduates as VSU commencement speaker
Details

Written by Jesus Freddy M. Baldos

Published: 18 May 2015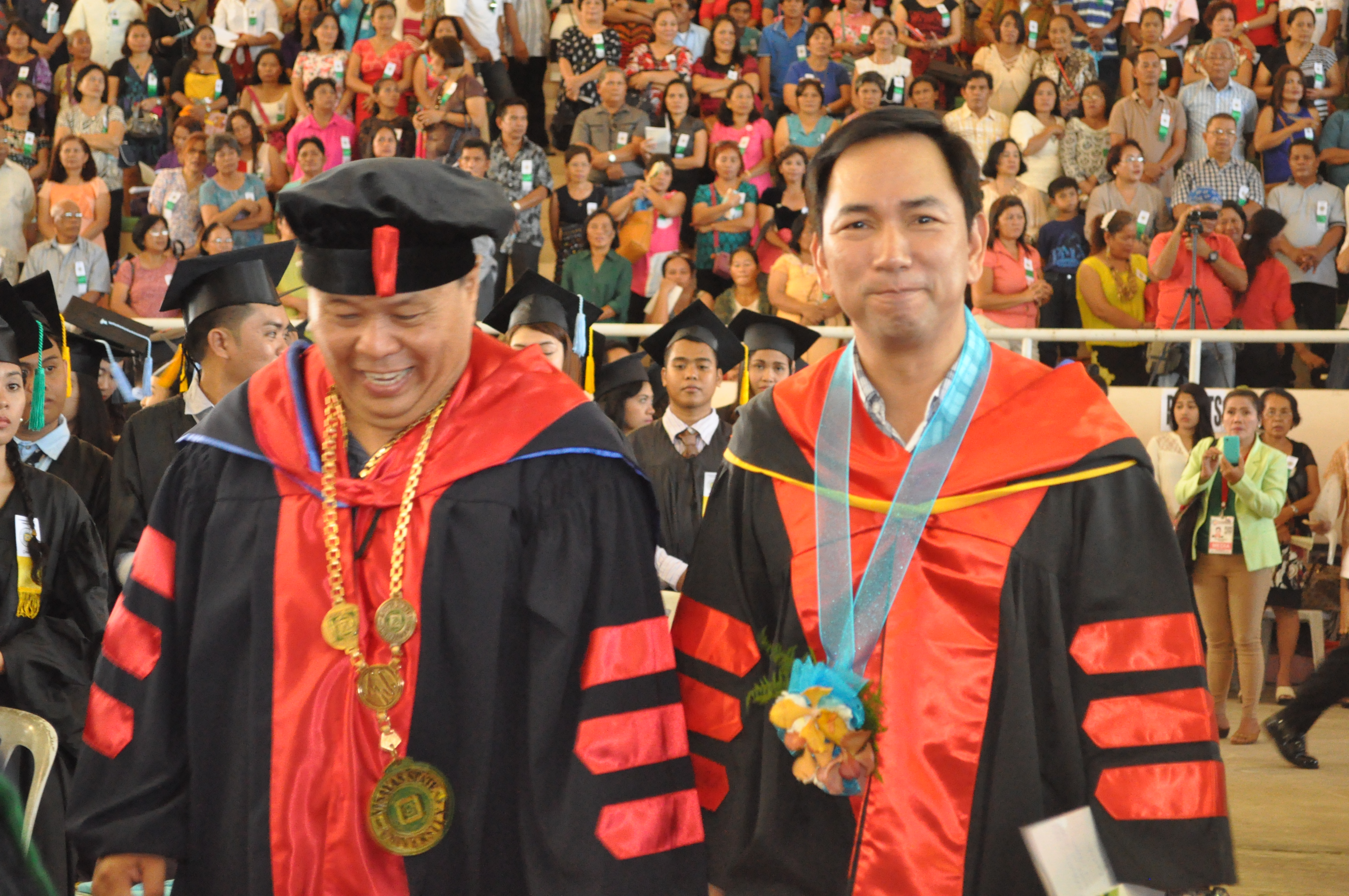 Honorable Carlos Jericho "Icot" L. Petilla, Secretary of the Department of Energy (DOE) of the Philippines, inspired the 1,062 graduates of the Visayas State University (VSU) as the Commencement Speaker during the 62nd VSU Commencement Exercises in the morning of April 22, 2015 at the VSU Gymnatorium.
In his message, Sec. Petilla expressed his appreciation to the University President, Dr. Jose L. Bacusmo, and the rest of the VSU constituents for inviting him as this year's Commencement Speaker. Petilla exhorted that the graduates shall be facing new challenges in their respective careers and the different up-hill struggles that the world has to offer. He, however, stressed that the world awaits and supports them only if they have the courage and eagerness to venture into the unknown.
Though the speaker was confident of the kind of education he received from his Alma Mater—the Ateneo De Manila University (ADMU), he said that somehow he was uncertain of how he can achieve his dreams. But it did not stop him in pursuing his dream. After he graduated, he was first employed as a professor of ADMU and at the same time a consultant in several companies. "At first, it was really challenging but we should not surrender or be complacent on what we have. We must be proactive in all our pursuits and guided in all our decisions, most especially in dealing about how we can achieve our future," Secretary Petilla mused.
Petilla revealed to the graduates that the country needs enough professionals to support its development programs. At DOE alone, they are in need of young minds who can continue what they have started. "I believe that only through young Filipinos can we achieve the preservation and sustenance of the sector," DOE Secretary enthused. He added that we, Filipinos, have the moral obligation to join the fight in answering a higher call for the country whose strength is stirred by both love of country and its people.
Sec. Petilla also encouraged the new graduates to instill in their minds the values they learned from their parents and from the University as they will serve as their weapons in achieving their goals in life. Lastly, he hopes that the graduates would aim high not only for themselves but for the country that inspired them to dream. JFMBaldos