Bacusmo turns over VSU's Key of Responsibility to President-elect Tulin
Details

Written by Jed Cortes

Published: 29 October 2015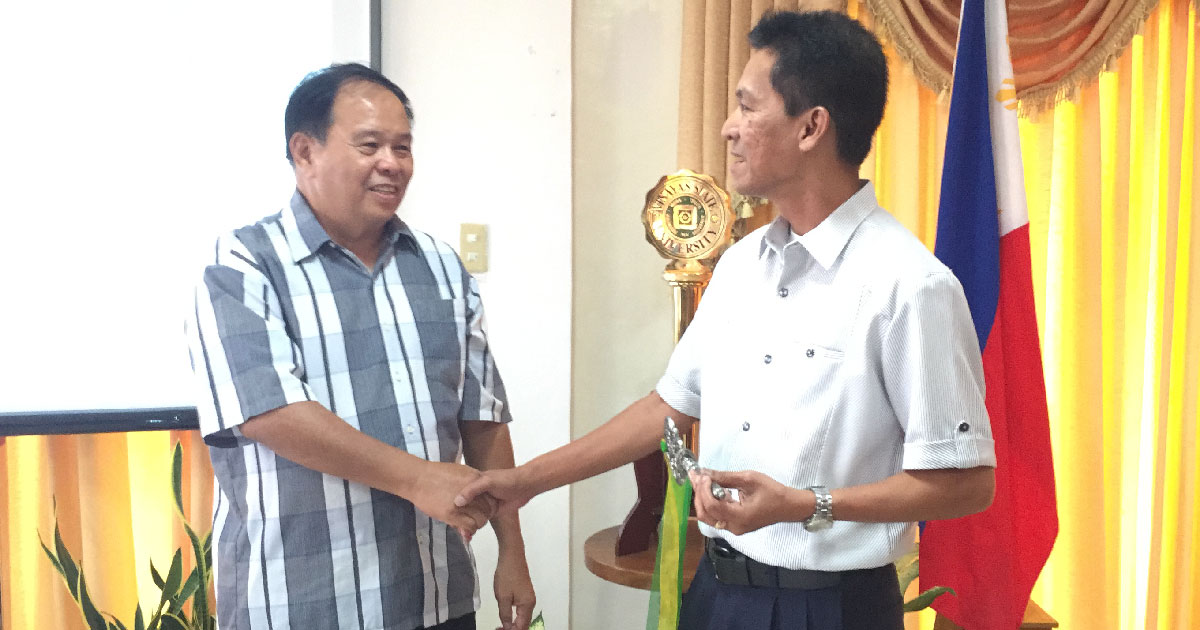 BAYBAY CITY, Leyte — Outgoing University President, Dr. Jose L. Bacusmo, hands over the Key of Responsibility to incoming President Dr. Edgardo E. Tulin, in a simple ceremony at the Office of the President on October 29, 2015, Thursday.
In attendance were Vice Presidents, Deans, and other university officials. The deans also met with Presidents Bacusmo & Tulin—who is the outgoing Vice President for Instruction—earlier in the Council of Deans meeting.
"This is a good handover of responsibility because we are sure that the current administration's programs will continue," says Dr. Bacusmo. "And the one who will take charge, take care of the university after my term is competent to really bring a university to a greater height."
"And all of us should help. We need to work together in order to take care of the university. I gladly hand this key of responsibility to Dr. Edgardo Tulin, our next VSU President."
Acceptance Speech
"I humbly accept this responsibility," responds Dr. Tulin. "Tomorrow is a start of a new adventure, a start of a new journey towards where VSU will be going."
"And of course, I am very grateful, we are very grateful for the outstanding contributions of our president Dr. Bacusmo: for all the efforts, for all the initiatives, and for all the things that we are today."
"VSU has really grown and has really prospered a lot. And with the administration which I am actually one of the lieutenants of the administration, I'm sure everyone of you will agree that VSU now is really one of the best universities, maybe not only in our country, but we are known outside."
"And we can also see what's happening around us. In fact, we are actually, the other campuses, the other schools, are actually envious of us, what we are at the moment. And with your help, I hope and I wish that all of us will join me once again to make this university a globally comparable university that we all aspire (for). And I know that you are with me. I know you can count on your support. The president is with us for guidance for the vision that all of us will achieve in the future."
"And I know (this key) is not so heavy, but the load I'm carrying is actually heavy. I am very sure and I am very confident that with all the talents and skills of our vice presidents, our deans, our directors and department heads, and of course our administrative support personnel, who are very active in doing all their best, and our students, and, of course, our stakeholders, we'll really make our school stronger than ever."
"And again, from the bottom of my heart, thank you for your support. Thank you for electing me as your next president. And I know that there are sacrifices. I dedicate my life to this institution. And you know, before I applied, I really thought it a lot. And since I have applied, then I think this is the time I will dedicate myself to this university, with all that I have. And thank you, sir (Bacusmo), for your outstanding contribution to VSU. We will not be here if not actually with your support to us. Thank you so much, and also to everyone, thank you, thank you, thank you."