IHK celebrates 40th year, promotes drug-free lifestyle among youth
Details

Written by VSU Web Team

Published: 03 March 2016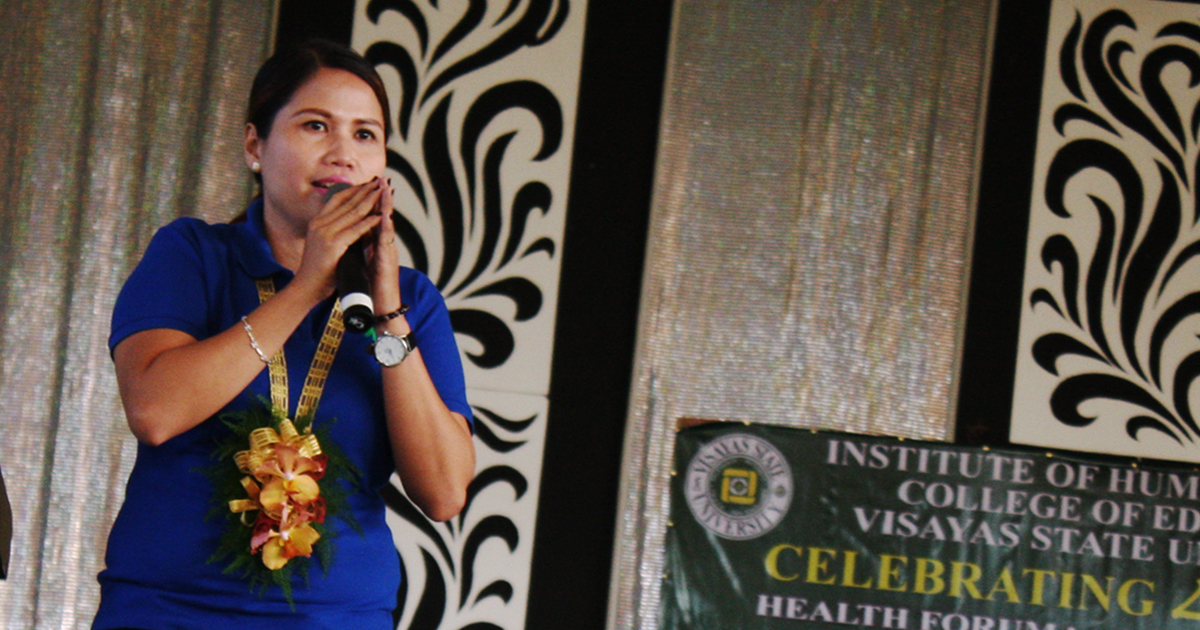 In the celebration of its 40th year anniversary, VSU's Institute of Human Kinetics (IHK) conducted a health forum against drug abuse among students, March 3, at the VSU gymnasium.
IHK Head Dr. Aleli A. Villocino said the Institute is taking the initiative to help develop healthy, successful young adults in a drug-free community. In her opening speech, Dr. Villocino expressed her worries as a mother of two kids about reports on rampant drug abuse among the youth.
"According to a health channel, there are no parenting skills or behavior that guarantees that a young person will never touch drugs," said Dr. Villocino. She is nevertheless hopeful, Dr. Villocino said, that parents and guardians can help reduce chances of access to drugs.
Rogelette T. Urgel, chief of the Preventive Education and Community Involvement (PECI) section of the Philippine Drug Enforcement Agency (PDEA), said the victims of drug abuse are mostly 15-25-year-old males, single, and are out of school. These young adults are usually reported to be poly drug users.
Most abused drugs, Urgel named, include shabu or methamphetamine hydrochloride, marijuana or cannabis sativa, and inhalants such as glue and sealant.
In her lecture, Urgel listed the several damaging effects of dangerous drugs including malnutrition, mental and behavioral disorders that often induce crimes such as burglary, prostitution, and murder.
PECI staff Maria Lenor Amago explained the penalties for sale, trading, delivery, unlicensed administration, possession, and use of dangerous drugs as well as cultivation and culture of plants classified as dangerous drugs. Based on Section V of RA 9165, drug pushing and cultivating plants classified as dangerous drugs are penalized with life imprisonment and a fine ranging from P500,000 to P10,000,000.
Drug users will be rehabilitated for a minimum of six months in a government center for the first offense, and will suffer imprisonment for the second, ranging from six years and one day to twelve years.
Minors who will be caught drug pushing, Urgel said, will be detained under the Department of Social Welfare and Development until the offender reaches 18 where he or she will serve the charges. Moreover, Urgel explained that drug addicts will undergo treatment by the Department of Health.
IHK invited high school and college students to the forum to help develop a drug-free lifestyle among the youth through healthy and fun activities.
More fun, healthy physical activities
IHK invites everyone to more fun and healthy activities next week:
Varsity Sports Awards 2016, March 8, 3pm at the VSU Gymnasium
Paligsahan sa PE, a sports competition among PE 14 students, March 10
Mugna sa MAPEH, a stage musical drama by Music, Arts, Physical Education and Health majors, March 11, 7pm at the VSU Gymnasium
Balik-IHK, an alumni homecoming event, March 12, 7pm at the VSU Convention Center