Undergraduate Degree Programs
DVM• Doctor of Veterinary Medicine
---
At a glance
Program
Doctor of Veterinary Medicine
Duration
6 Years
College
College of Veterinary Medicine
Department
Department of of Veterinary Basic Sciences
Department of Veterinary Paraclinical Sciences
Department of Veterinary Clinical Sciences
Campus
VSU Main Campus, Baybay City, Leyte
Majors
Compliance
Certificate of Program Compliance (COPC) No. 20, Series of 202 dated May 6, 2020
---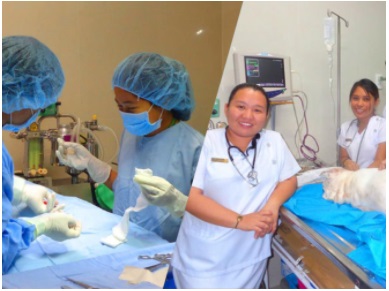 About the Program
The College of Veterinary Medicine is proud of its colorful history, beginning in 1978 as the Department of Animal Science and Veterinary Medicine (DASVM) when Visayas State University (VSU) was then the all-time famous Visayas State College of Agriculture (ViSCA). DASVM started with its 4-year degree program, the Bachelor of Animal Science (BAS) with two majors: Animal Production and Animal Health. The subsequent years saw a number of revisions culminating in the offering of the 6-year Doctor of Veterinary Medicine degree program in 2001.
Having undergone various accreditation reviews of no less than the Commission on Higher Education (CHED), Accrediting Agency of Chartered Colleges and Universities in the Philippines (AACCUP), and the Professional Regulation Commission (PRC), our College is dedicated to producing highly qualified and competent veterinarians equipped with skills in the practice of veterinary science and medicine. Our graduates excel in both public employment and private practice including academe, research, veterinary clinics, livestock farms and professional consultancy among others. Our DVM program is compliant with the pertinent provisions of CMO No. 01, S. 2018 and CMO No. No. 20, s. 2013 per Certificate of Program Compliance (COPC) No. 20, Series of 202 dated May 6, 2020. Our College is also a member of the Asian Association of Veterinary Schools (AAVS).
Located at the foot of Mount Pangasugan, Baybay City, Leyte, the College of Veterinary Medicine, Visayas State University (CVM-VSU) has several to boast about its Doctor of Veterinary Medicine degree program. It is second to none in the Visayas; it ranked third in the country in the National Veterinary Licensure Exam in the last two years; it has produced at least 14 topnotchers in the National Veterinary Licensure Exam (VMLE); it has consistently averaged above the national passing percentage, and a graduate employability of about 100% either locally or abroad, with some occupying top management positions or having their own clinical practice. All of these are because of CVM's strong commitment to Policies, Standards, and Guidelines for Doctor of Veterinary Medicine (DVM) Program set by CHED. In addition, the college is firm in its desire to give the best education possible to its graduates, equipping them with 21st century and Industry 4.0 knowledge and skills to be able to carry out the duties of safeguarding animal health, public health, and the environment in both local and international settings. This is why from its humble beginnings of having only three enrollees, today the second to the youngest veterinary college in the Visayas has grown exponentially to more than 450 students. Together with its 16 passionate and enthusiastic faculty, who obtained their respective graduate education in top schools in the Philippines and across the globe in countries such as Australia, Austria, Belgium, Croatia, and Sweden, and seven competent staff, we await you to be part of our elite graduates in the college we consider CVM Family.
Program highlights
The new DVM curriculum features one year of general education courses and five years of professional veterinary medicine courses with a total of 243 units
The courses include 50 units of general education courses, 14 units of basic science courses, 25 units of zootechnics courses, and 154 units of veterinary medicine courses
It consists of 16 strong and top-level faculty, four of which have PhDs, one PhD candidate, and a majority being MS degree holders
University Student Regent
Home to Venerable Knight Veterinarians (VKV) Fraternity and Venerable Lady Veterinarians (VLV)Sorority and Dog Owners Club (DOC), renowned student organizations notable for their dynamic community services. The DOC is a consistent recipient of Interest Group of the Year award given by the University Student Services Office
Celebrates annually the National Veterinary Week, which is a week-long celebration comprising of a series of exhilarating activities, a celebration exuberance, and learning experiences
Participates in the Annual National Congress of Veterinary Medicine Students, an initiative of gathering veterinary students in both private and state universities from across the Philippines
Conducts free anti-rabies vaccination and spay and neuter activities for dogs and cats annually during the VSU Anniversary and World Rabies Day
Partners with LGUs in promoting responsible pet ownership and helps in the control of dog population as a means to control rabies
Career Opportunities
Graduates of this program can be
National Veterinary Service (Bureau of Animal Industry, National Meat Inspection Service)
Local Veterinary Service (Provincial and City Veterinary Office)
Academe
Private Practice
Public Health
Technical consultancies
Livestock and poultry industry
Fisheries and aquaculture
Zoo, exotic animals and wildlife practice
Laboratory animal
Animal feeds and nutrition
Professional and non-government organizations
Uniformed personnel
Research and marketing
Public and private administration
Notable Alumni
The following Viscans who graduated in this program have made a name in their field:
Dr. Johdel S. Ty - Class of 1999; Veterinarian II, Tacloban City Veterinary Services Office and Owner, Eastern Veterinarians Dog and Cat Clinic, the 1st Companion Animal Clinic in Tacloban City and currently, Veterinarian II, Chief Animal Control Division and Services
Dr. Francisco B. Cabarrubias - Class of 2002 - Head, Provincial Veterinary Services Office, Southern Leyte
Dr. Rey C. Alinsub - Class of 2002; Head, City Veterinary Services Office, Maasin City, Southern Leyte
Dr. Adrian P. Ybañez - Class of 2003 - Vice-President for Research and Development, Cebu Technological University; Proprietor of GPY Veterinare Animale Veterinary Clinics; Lead Innovator of VetTreat Lines for Essential Vet Company; Council on Education Officer of the Philippine Veterinary Medical Association (PVMA); Past President of PVMA-Central Visayas; Council Member of Tropical Council for Companion Animal Parasites
Dr. Jhufel R. Fernandez - Class of 2003 - Co-owner and Resident Vet, Regalado Veterinary Medical Clinic, Quezon City
Drs. Nemesio Rynel and Genalyn Senabre-Esguerra - Class of 2004 - Owners and Resident Veterinarians, San Roque Veterinary Clinic and Services, Carcar City, Cebu
Dr. Zandro O. Perez - Class of 2004; Campus Director, Cebu Technological University - San Francisco Campus, Camotes, Cebu
Dr. Gladwin Senase - Class of 2011, Technical Support Manager East and Southeast Asia, Hypor
Dr. Ma. Bonissa V. Amodia-Ole - Class of 2007, Deputy Commander, CG Veterinary Service and Acting DCS for Logistics (F4), CGK9 Force, Philippine Coast Guard
Dr. Lemuel A. Espinazo - Class of 2011; Veterinary Services and Technical Specialist, Pilmico Foods Corporation
Drs. Irish and .Christine Van Hanalie D. Datwin - Class of 2010; Owners and Resident Veterinarians, Baybay Pet Lovers Clinic
Drs. Cyrene Cuenco, Mary Ann Escarlos and Nikki Joan Oppus - Owners and Resident Veterinarians, Vet Spot Animal Clinic, Ormoc City
Dr. Lalaine Anne Mamanao-Angeles - Class of 2014, Head, City Veterinary Services Office, Bogo City, Cebu
Dr. Zeam Voltaire E. Amper - Class of 2013; Regional Livestock Banner Program Coordinator, DA-RFO7
Dr. Jesa Ken Loayon Polinar - Class of 2017; Veterinarian, Ministry of Fisheries, Marine Resources and Agriculture.
Contact
College of Veterinary Medicine
Visayas State University
Visca, Baybay City, Leyte
Philippines 6521
Phone: +63-53-5650600 (Local 1038)
Email:
This email address is being protected from spambots. You need JavaScript enabled to view it.
Facebook:
fb.com/vetmedvsu
Download Course Checklist PDF Browse Other Programs
    To learn more about College of Veterinary Medicine. Please visit CVM Website